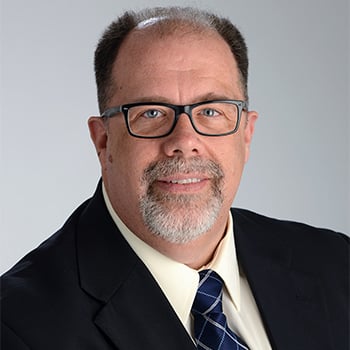 Jay Vivian, PhD
Director, Rare Disease Model Research Program; Associate Professor of Pediatrics, University of Missouri-Kansas City School of Medicine; Research Associate Professor of Pediatrics, University of Kansas School of Medicine
Full Biography
Jay Vivian, PhD, Children's Mercy Research Institute, recently received a 1-year, $25,000 Institute for Advancing Medical Innovation (IAMI) Trailblazer Award from Frontiers Clinical and Translational Science Institute at the University of Kansas.
Dr. Vivian's project, "A Cell-Based Platform for Screening for Therapeutics for Vici Syndrome and Other Diseases of Autophagy," furthers Dr. Vivian's research on potential effective therapy for the devastating pediatric genetic disorder Vici Syndrome.
Vici Syndrome is a rare autosomal recessive congenital disorder. Vici Syndrome children exhibit profound developmental delay, seizures, hypotonia, immunodeficiency, cardiomyopathy, and loss of motor function. The disorder is relentlessly progressive, with a median age of survival of only 42 months. Vici Syndrome is caused by deleterious variants in the EPG5 locus. This gene encodes a critical component of the intracellular machinery that controls autophagy, a critical cellular process that processes degraded cellular material. In the absence of EPG5 function, autophagy is impaired, which his team believes results in selective and progressive neuronal and other cellular damage leading to the complex phenotypes of Vici Syndrome.
There are essentially no treatment options for children with this genetic disorder. Dr. Vivian and his team hypothesize that small molecules that enhance the defective autophagy in Vici Syndrome could be an effective therapy for this disorder. In this project, his team are using engineered patient specific induced pluripotent stem cells in the lab for use in discovering drugs that may be used for treatment. The funds provided by the Frontiers Trailblazer award will allow his team to further study the initial candidate molecules identified in a screen of FDA approved compounds. This grant is a close collaboration with clinical colleagues in the Division of Clinical Genetics at Children's Mercy and researchers at the University of Kansas Medical Center and the University of Kansas-Lawrence. Ultimately these studies will advance their ongoing transdisciplinary efforts for therapeutic discovery for this devastating disorder.