GOLDILOKs® ADHD and Atomoxetine Study
Atomoxetine is an FDA-approved medication that is used for children with Attention Deficit Hyperactivity Disorder (ADHD). Researchers at Children's Mercy Kansas City want to find ways to better use atomoxetine (Strattera®). Some children behave better in school and pay attention in class while taking this medicine. However, for other children, atomoxetine does not seem to help with their ADHD symptoms. This study focuses on understanding how genetic differences impact how well atomoxetine works in an individual child. The goal of this study is to learn how to ensure that a dose of atomoxetine is not too big, not too small, but just right for every child with attention deficit/hyperactivity disorder (ADHD).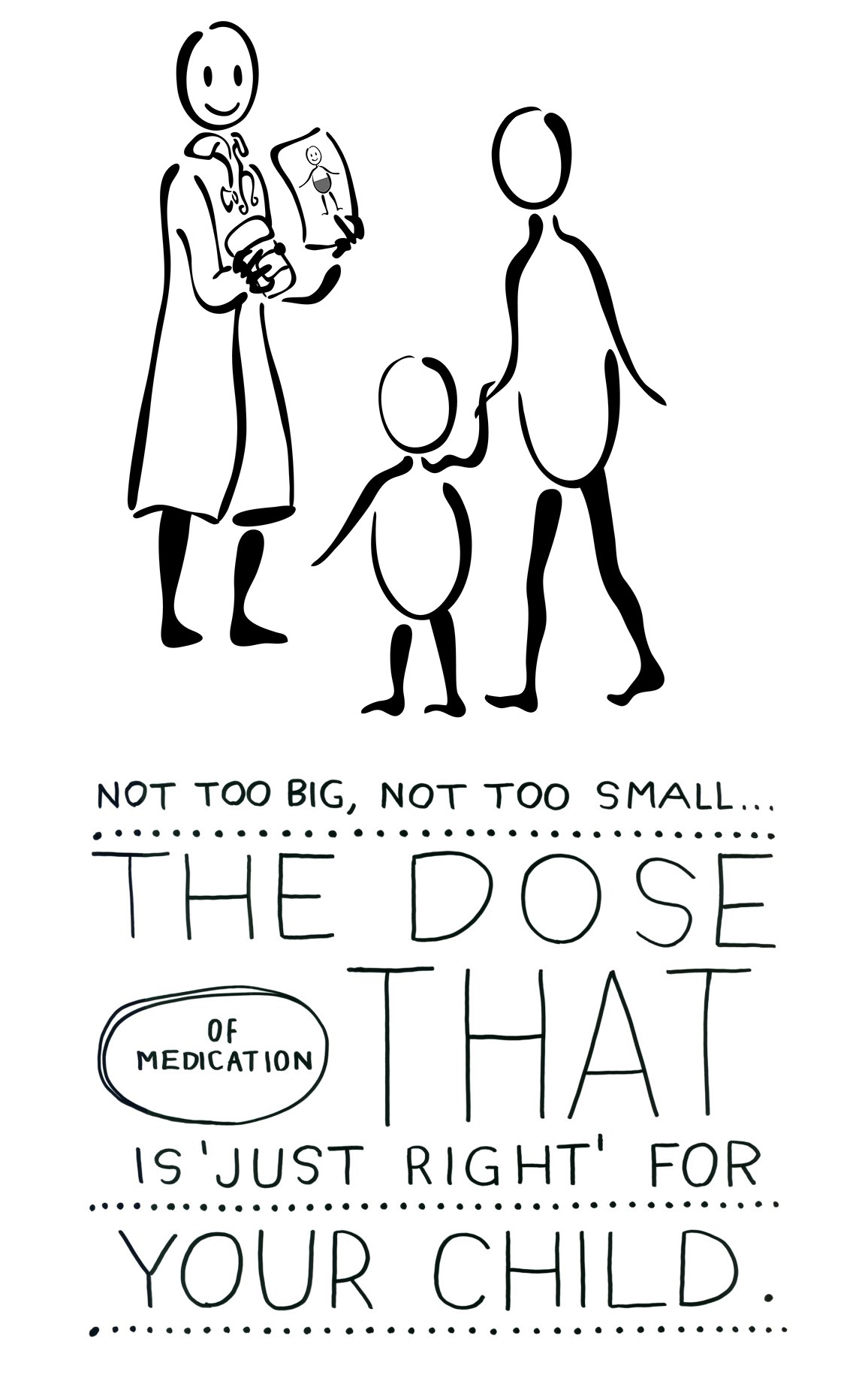 Children between 6 and 18 years old with ADHD are eligible to participate in this study. Children with heart problems, intellectual disability, or autism spectrum disorder are not eligible for this study. Children who are currently taking medication to treat ADHD may be eligible. Please call the study team if you think your child may be eligible for this study but does not have a formal diagnosis of ADHD.
For more information, contact the study team at Children's Mercy at ADHDStudyTeam@cmh.edu or (816) 359-2963. Also, review the FAQs for Patients and Families! We may already have an answer to your question.
For providers who think their patient may qualify, we have a special FAQ page for you. You may also reach out to the study team using the email or study number above.
FAQs for Patients and Families
This study would involve your child taking atomoxetine for about 6-8 months. Your child would have 4-5 research visits at Children's Mercy Hospital and 4 clinic visits so that our Study physician can check in on how your child is doing and adjust the dose of medicine if needed. Below is a timeline to help you see how all these visits fit together.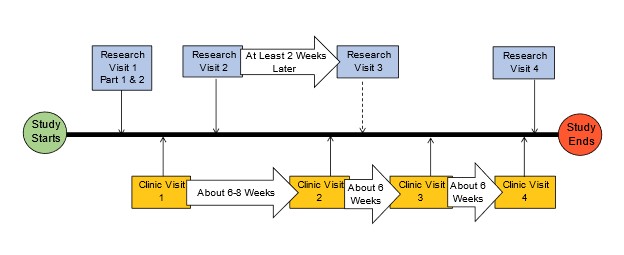 No. To participate in this study, your child must stop his or her other ADHD medications. Please talk to your child's doctor and carefully consider whether stopping your child's ADHD medication to participate in the study is in your child's best interest. After stopping his or her medication, we will test your child's ADHD symptoms. There is a small chance that he or she might not qualify.
Your child may miss a few days of school during the study. However, we are happy to work with you and your child's school schedule to try to minimize these disruptions and schedule visits on days when school is not in session. If your child does need to miss school, we are happy to provide school excuse notes.
Clinic visit lasts about 1 hour. Research visits will be longer to collect all the necessary information. The first research visit lasts about 5-6 hours, and the other 3 visits usually last about 14 hours. It is possible that these research visits may last longer, but we will notify you of this prior to any visit.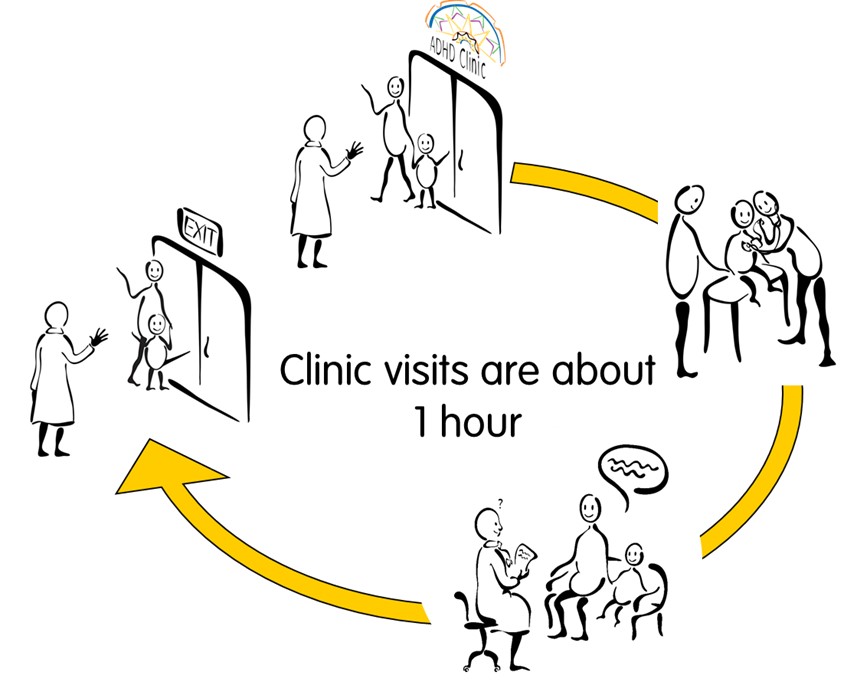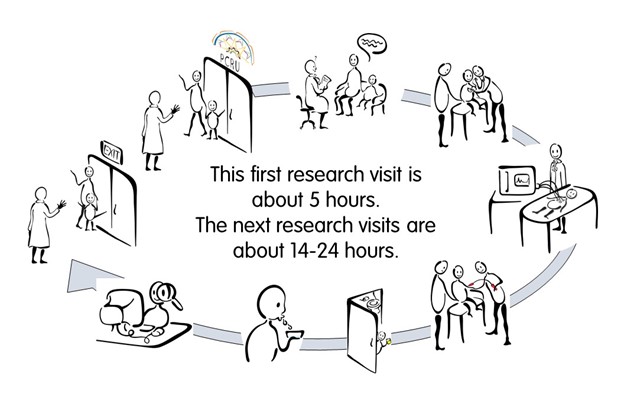 The clinic visits in this study are part of the regular treatment children receive for ADHD who are not in this study. The costs for these visits will not be paid for by the study and will be billed to your child's insurer. You will be responsible for any costs your child's insurer does not cover. If your child is uninsured, you will be responsible for these costs. You will not have to pay anything that is not part of regular ADHD care, such as cost of medication or any of the research visits.
Your child will have blood drawn at each of the 4 research visits. Even though there are multiple blood draws at the long research visits, your child will mostly likely only have one needlestick. A nurse will insert an intravenous catheter (IV) into your child's arm to easily and painlessly draw a small amount of blood throughout the day. There is a chance this may need to replaced.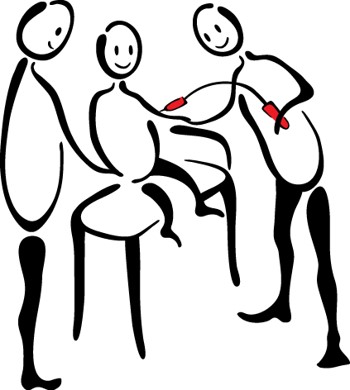 FAQs for Healthcare Providers
Patients who enroll will receive care for ADHD from a Developmental and Behavioral Health clinician at the Adele Hall campus for the duration of the study, about 6-8 months. After the patient completes the study, the patient's ADHD care will be transferred back to you.
Yes. We want to avoid challenging patients and families who are interested in the study by disrupting school and work schedules. Therefore, we try to work with families to schedule research visits over breaks and days off of school. If patients and families would like to delay starting the study until summer break, we are happy to do so.
We want to help any patient interested in the study be successful. We work closely with Child Life with all participants, particularly our younger participants. Child Life helps teach pill swallowing techniques, explain blood draws and IVs to patients, and provide distraction techniques. In addition, we offer topical lidocaine to all participants to reduce pain/discomfort with needlesticks.