The Sports Medicine Center at Children's Mercy
Specialized care for growing athletes (even if they look like adults)

Children's Mercy is the best in the game when it comes to pediatric sports medicine. At the Sports Medicine Center, we help student-athletes maintain and increase strength and speed through performance conditioning.
When injuries occur, we have the specialized care your student-athlete needs to maximize their healing potential and get back to the competition they love.


Schedule an appointment




Safely getting them back to the game they love

When a sports-related injury sidelines your athlete, Children's Mercy has the pediatric-trained specialists to get them back to the game they love as soon as safely possible.
For some injuries, surgery may be recommended. Children's Mercy is a Verified Children's Surgery Center, as designated by the American College of Surgeons. This means your student-athlete will receive the highest level of surgical care available.


Strengthening student-athletes: mind, body and spirit

Sports performance services can help your athlete become stronger. From sports medicine-focused primary care to nutrition to injury prevention to mental wellness, we will work with your child in meeting their personal goals.


Sports-related conditions we commonly treat include:
Ankle injuries
Concussions—baseline testing, diagnosis and treatment of concussions in children
Growth plate fractures or injuries
Knee pain
Knee injuries including torn ACL
Shoulder and elbow injuries
Sprains and fractures related to sports participation
Sports physical therapy

Your athlete will receive one-on-one care with a licensed sports physical therapist in a facility designed for athletes first. Our expert physical therapists are trained to meet your child's needs from middle school through their college career, regardless of their sport.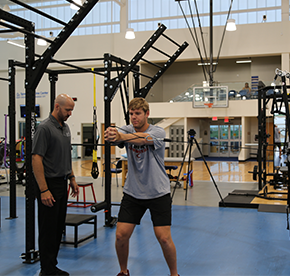 Tour the state-of-the-art facilities
Children's Mercy offers state-of-the-art facilities where student-athletes can work out using the latest equipment and techniques. Recover from injury using the HydroWorx therapy pools, AlterG anti-gravity treadmill, professional-grade batting cage, turf area, human performance motion lab and more.
ACL Injury and Recovery: Michael's Story
When Michael Shultz experienced a season-ending knee injury while wrestling, he turned to the experts at the Children's Mercy Sports Medicine. After surgery to repair his ACL and extensive rehab, he's back in action for his senior year, suiting up as No. 30 and playing middle linebacker and tight end for the Sabres.
Meet Michael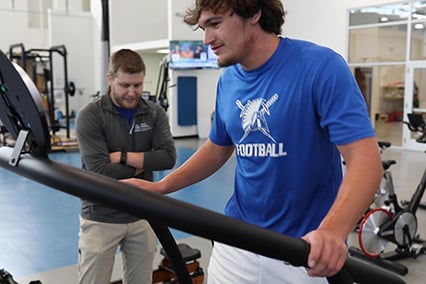 Schedule an appointment today
Let's get you back in the game. Call to schedule an appointment at one of our six locations.