Gender Pathway Services
Nationally ranked by U.S. News & World Report
Gender Pathways Services is a pediatric multidisciplinary approach to provide gender affirming care after a diagnosis of gender dysphoria is made by a licensed mental health provider (licensed counselor, therapist, psychologist, psychiatrist). This can be obtained from a community mental health provider or in very specific situations, from a psychologist at Children's Mercy. For more information or questions call (913) 696-5880 and a list of community resources can be provided.
Gender Pathway Services at Children's Mercy provides interdisciplinary, family-centered services for transgender and gender-questioning children. Our services support the physical, mental and social health of young people and their families as they navigate the process of gender identity development.
As specialists in pediatric and adolescent development, we recognize that each person has a different "pathway," so we provide care that is unique to each family. Our goals are to keep families informed of their treatment options and to provide them with medical and emotional support, advocacy and community resources.
Our team of pediatric specialists cares for people with any gender variance. Our specialists work together to provide evidence-based care consistent by with the Endocrine Society Clinical Practice Guidelines and Standards of Care proposed by the World Professional Association of Transgender Health (WPATH).
Who we serve

Patients who come to our clinic usually fall within one or more of the following groups:
Gender questioning youth: Children and adolescents who are questioning their gender identities.
Transgender, gender non-binary or gender-fluid youth: Children and adolescents whose gender identity is different from their assigned birth sex.
Please note that services will only be provided in compliance with applicable law.
Appointment cancellations
If you need to cancel your GPS appointment, please call (913) 696-5880. We appreciate you calling in advance if you need to cancel, so we can try to keep our waiting list for Gender Pathway Services appointments as short as possible. Thank you for your help and consideration.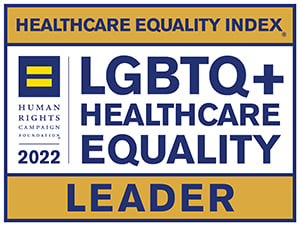 Healthcare Equality Index
Children's Mercy has earned "LGBTQ Healthcare Equality Leader" designation by receiving a top score of 100 on Human Rights Campaign (HRC) Foundation's Healthcare Equality Index (HEI).
HEI is the national LGBTQ benchmarking tool that evaluates healthcare facilities' policies and practices related to the equity and inclusion of our LGBTQ patients, visitors and employees.
Additional resources


For tips on how you can talk with your child about gender and sexual orientation, please read our Parent-ish articles below: