Developmental and Behavioral Health
Developmental and Behavioral Health
The Developmental and Behavioral Health team at Children's Mercy helps children and teens with developmental, psychiatric, or psychological needs.
We provide mental, emotional, and behavioral health services that lead to healthier children and stronger families.
What we do
Assess for:

ADHD
Anxiety and Depression
Autism
Eating Disorders

We have outpatient care for children with anorexia nervosa, bulimia nervosa, or other eating disorders.

Learning problems other than dyslexia
Tourette Syndrome

We have the only care center designed for children with Tourette Syndrome in the United States.

Psychological testing for concerns with:

Attention
Thinking, reasoning, and remembering
Emotions and behaviors
Social interactions

Guidance for families with children who have developmental delays or disabilities
Manage psychiatric medications for children with autism or developmental disabilities.
Therapy for children with chronic illnesses
The care we give in the Developmental and Behavioral Health program is made possible by the donations of the Robert and Karissa Alumbaugh Family.
I have a concern, where do I start?

If you feel your child may have a developmental or behavioral health concern, it can be difficult to know what steps to take next. Review the list of services offered below to get started.
Assessment services

The goal of these clinics is to evaluate your child's development, skills and behaviors. The clinical team will share information with you about any diagnoses they make, and they will provide you with resources for care and treatment.
The Autism Clinic team provides developmental evaluations for children ages 1 to 17 who may have an autism spectrum disorder or other neurodevelopmental differences.
Developmental pediatricians provide a medical assessment and developmental evaluation of children under 6 years old with suspected developmental delays in more than one area. Families come for periodic follow-up visits to monitor their child's development.
Outpatient clinical psychology services focus on evaluation and treatment of complex mental and behavioral health concerns. In most cases, we see children who have mental health needs that require additional support beyond the scope of their primary care provider or school district.
Medication management clinics

Finding the right combination of medications and dosages can be complicated. Our experts work together with you, your child and your child's health care providers to find what works for your child.
Developmental pediatricians provide medical evaluation and specialty care for children with developmental disorders such as autism and intellectual disability. Children's Mercy providers partner with your child's primary care provider to manage medication and other treatments for symptoms such as impulsivity, inattention, anxiety and agitation.
The psychiatry clinic provides medication management for mental health conditions in youth who also have medical or developmental disorders. We primarily work with children who are actively receiving treatment in other medical clinics at Children's Mercy.
Specialty centers and clinics

Children's Mercy is home to nationally recognized care centers for children and teens with Eating Disorders and Tourette Syndrome. In addition, Children's Mercy has a clinic to treat depression and anxiety, the hospital's first program dedicated to treating these conditions.
The Eating Disorders Center at Children's Mercy provides specialized outpatient services to children, adolescents, and young adults with all types of eating disorders. We use a family-based approach tailored to each individual to evaluate and treat their eating disorder.
Children with Tourette syndrome receive the highest level of care in the Midwest at the Children's Mercy Tourette Syndrome Center of Excellence — the nation's only center of excellence devoted exclusively to kids.
Parent coaching programs

Parenting a child with developmental differences can be challenging. We provide training and coaching programs for parents of children with ADHD or autism.
Children's Mercy offers training for parents of children ages 3.5-5 years of age and students 6-12 years of age with known or suspected ADHD.
We offer a group and individual coaching program for parents and caregivers of children with autism and other developmental disorders to decrease problem behaviors and teach skills.
Comprehensive care for children with medical and mental health concerns

Our pediatric psychology team helps patients throughout Children's Mercy's hospitals and clinics who are learning to manage their health and wellbeing.
Pediatric Psychologists work with medical teams throughout the hospital to provide psychological care to patients with medical conditions and concerns.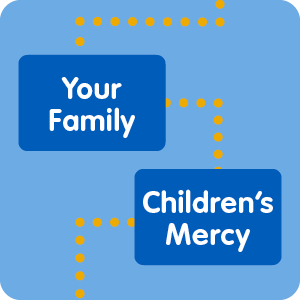 Making an Appointment
There are several steps between your initial phone call and first appointment in a Developmental & Behavioral Health clinic at Children's Mercy. Learn more about what to expect.
Find the right support for your child


At Children's Mercy, we strive to care for as many children and families as possible. Sometimes, that care happens in our hospitals and clinics. Other times, we connect you with community providers to help your child get the services they need as quickly as possible.
Before you call us for an appointment, please see the information below about some common conditions that we typically do not see at Children's Mercy unless your child's condition is complex or requires additional specialized care.
Mental Health Patient Family Advisory Council
The Mental Health Patient Family Advisory Council (PFAC) supports the highest standard of excellence in care at Children's Mercy through meaningful collaboration between families and hospital staff.
The inspiration behind our program
The transformative care in the Developmental and Behavioral Health program is made possible thanks to the generosity of the Robert and Karissa Alumbaugh Family.