Child Life Clinical Internship Program
The Child Life Clinical Internship Program has been Accredited by the Association of Child Life Professionals. The Child Life Department at Children's Mercy Hospital offers a 16-week, 640 hour, comprehensive, competency based child life internship program at the undergraduate and graduate level. Students are given opportunities to develop clinical skills in assessment, intervention, and play for the hospitalized child, and professional skills with interdisciplinary staff. The program goal is to equip students with a solid foundation to begin a career in Child Life.
Program Highlights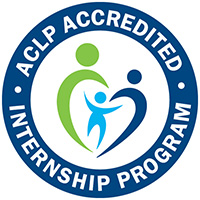 The internship consists of 40 scheduled hours per week. Our department accepts a minimum of one intern each semester (spring and fall). Included in each internship will be educational modules, clinical projects, case studies, charting experience, and direct patient-family care contact.
Interns will have the opportunity to develop skills in:
Assessment

Health care play

Pre-operative and pre-procedural preparation

Coping Facilitation

Charting

Planning and supervising developmentally appropriate activities

Working with individuals and groups

Interacting with parents and caregivers

Prioritizing needs

Supervising volunteers
In order to ensure an optimal internship experience, it is required that the applicant be competent in their knowledge of child development, age-appropriate play, family dynamics and the hospitalized child (refer to Coursework Requirements and Suggestions). In addition, applicants should have an ample amount of supervised experience with children, (i.e., work experience, practicums, or volunteer experience).
Application process and expectations