June 29, 2020
7 ways to keep pools safe this summer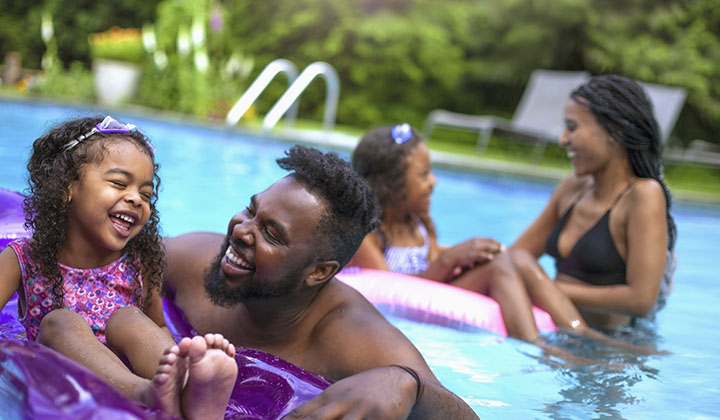 Summer is here! For me, it felt like summer would never come this year after such a cold winter, and the start of stay-at-home orders. But now, some city pools are opening and lakes and all types of fun water activities are an option!
Before you dive in, let's make sure we review some water safety tips so everyone stays safe and has fun. Drowning remains the leading cause of death for children aged 1 to 4 years and children are more likely to drown in home swimming pools. Drowning is also a top cause of death among teenagers. Parents need to remember that young children can drown in as little as 2 inches of water. Regardless of where children are swimming, the following information is important to remember.
Teach kids to swim. This is extremely important. Most children are ready for swim lessons by 4 years of age.
Wear life jackets. Children who are not proficient swimmers should wear Coast Guard approved life jackets when in and around water.
Watch the water. Active supervision is required for all children in pools and other bodies of water. Develop a "water watcher" system where adults take turns making sure at least one adult is watching and is within arm's length (touch) of children in the water. Remember - this adult needs to be alert and free of any distractions. To avoid becoming distracted or complacent, water watchers should switch frequently. Try every 20 minutes or something that works for your group. Having a water watcher lanyard is a good idea so parents can easily identify who the current water watcher is and reminds the watcher of their responsibilities. Pick up a lanyard like this; available for free to caregivers at Children's Mercy Adele Hall by the security desk.
Fence the pool. Pools should be surrounded by a four-sided climb proof fence that is at least 4 feet high. The fence should also have a self-closing and self-locking gate. According to the American Academy of Pediatrics, appropriate fencing around pools can reduce the drowning risk by up to 50%.
Cover the pool. Make sure pool covers completely cover the pool and are secure to avoid children from crawling under the covers.
Get CPR certified. Parents and guardians should learn CPR. Most cities provide training. Try visiting your city or county website to find training in your area.
Install door alarms. To alert parents of children going outside unsupervised, connect alarms on your exterior doors. Doorknob covers on doors that lead to the outside could also help.
---