Community Garden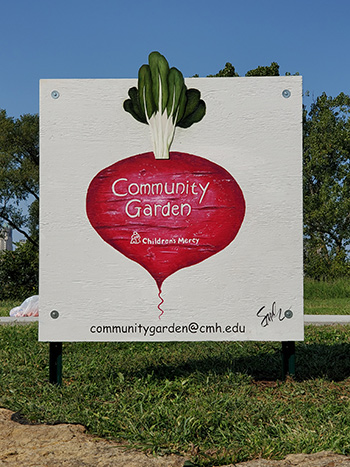 In March of 2018, Children's Mercy established a community garden to improve the health and well-being of our patients and community by increasing access to fruits and vegetables, and to provide opportunities to engage with nature. The garden is located on what was once a vacant lot at the northeast corner of 22nd Street and Gillham Road.
From March to November, volunteers can be found most days watering, harvesting, pulling weeds and improving the soil. The volunteers from Children's Mercy, University Health, the UMKC School of Medicine and other Kansas City businesses and organizations have invested thousands of hours and harvested over 1000 pounds of vegetables.
Produce is distributed to Children's Mercy patients and families and to local community partners such as the UMKC Kangaroo food pantry, the Kansas City Missouri Health Department pop-up food pantries and Kanbe's Food Market.
Like all gardens, this one is ever-changing as the plantings change from season to season and new opportunities arise. In 2020, MO Hives KC was able to add a beehive to support pollination of garden plants. We look forward to each season as beds are expanded, new fruits and flowers are planted, and additional infrastructure is added to better meet the needs of the people we serve.
The garden would not be possible without our partnership with Kansas City Community Gardens and the generosity of Fiskars, the Harley-Davidson Foundation, and Brent and Karen Wolke.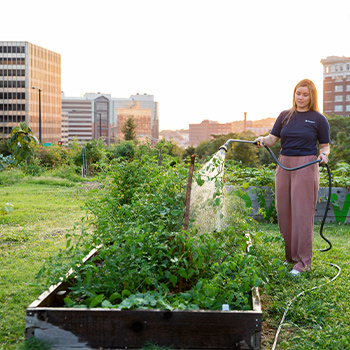 Interested in getting involved?
For more information about volunteer opportunities or produce distribution, email communitygarden@cmh.edu.
If you have volunteered in our community garden, we'd like to get your feedback. Please fill out our volunteer survey.