Create an Endowment
Make a gift that grows
You have the power to transform pediatric healthcare and help safeguard the future of Children's Mercy with a generous, rewarding endowed gift that guarantees a vast array of programs for children will always be available.
Endowments are one of the simplest, most effective ways to make a difference and help kids in need of care.
Your endowment can start at a meaningful and accessible level of investment beginning at $25,000, and will support the Children's Mercy programs and services you care about most.
Learn more about how you can ensure that children in our community receive the best possible treatment and care at Children's Mercy — in your lifetime and for generations to come.
Have questions about creating an endowment?
Reach out to Phil Watson, the Managing Director of Philanthropic Gift Planning, to learn more about how meaningful an endowment gift can be for you and your family!
Endowments at a glance
Endowments are permanent funds designed to last in perpetuity and often are set up to honor a loved one or special caregiver. The principal gift is invested and a portion of the fund is distributed every year to support a donor's area of interest. The beauty of endowments is that they provide both short-term support and long-term stability for Children's Mercy.
Endowed funds immediately begin generating revenue to support clinical programs, research and education. A steady and reliable stream of resources year after year allows us to focus on what we do best — providing the highest level of pediatric care to patients throughout the region.
By creating an endowed fund at Children's Mercy, you are protecting the programs and services that make our hospital special, while securing a bright future for children. Over time, an endowed gift can transform lives and communities in ways we can only imagine!
Your impact
Zibbie's Birthday Surprise
In 2015, Elizabeth Ferrell, better known as "Zibbie," celebrated her birthday at Children's Mercy. It was a surprise party, and many of the kids in attendance were born in the Fetal Health Center that bears Zibbie's name. Zibbie's husband, Jim, had a birthday surprise of his own – a $2 million gift in Zibbie's honor to fund an endowed chair in maternal fetal medicine at Children's Mercy! The new chair will help even more babies born with severe anomalies have the chance to achieve greatness.
Read Zibbie's Story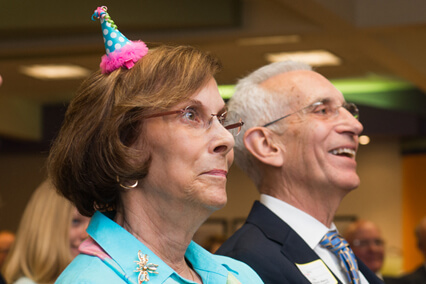 Philanthropic Support Powers Collaborative Transformational Research in Kansas City
Taking a big step toward making Kansas City a premier global pediatric research innovation hub, Children's Mercy and The University of Kansas Cancer Center today announced four first-of-their-kind endowed chair appointments that will help eliminate childhood diseases around the world. The endowed chair positions focus on Genomics, Health Outcomes, Hematological Malignancies and Immunotherapy. Made possible by $10 million in philanthropic support from four individual donors and four foundations, including unique gift matches from Donald J. Hall and the Hall Family Foundation, these Children's Mercy leadership positions will have joint University of Kansas (KU) faculty appointments.
Read more