Wise Use of Antibiotics
December 2019
Pearls and Pitfalls in the Diagnosis and Treatment of Community-Acquired Pneumonia in the Ambulatory Setting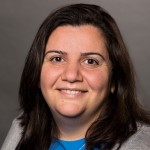 Rana El Feghaly, MD, MSCI | Associate Professor, UMKC School of Medicine
With the cold weather, we are now in the midst of respiratory season. Community-acquired pneumonia, or CAP, seems like a great topic to discuss in this issue of The Link to remind you of some important measures you could take to appropriately diagnose and treat children presenting to your office with concerns for a lung infection.
CAP is the most common cause of childhood mortality worldwide. The World Health Organization estimates 156 million cases of pneumonia each year in children younger than 5 years of age. In the developed world, incidence approaches three to four cases per 100 children <5 years of age.1 Children can present with CAP at different stages of illness and with clinical features that are difficult to discriminate from other common pediatric diagnoses, particularly upper respiratory infections.
What are the most common etiologic agents of CAP in children?
Studies of the etiology of CAP are complicated due to the low yield of blood culture, and the difficulty of obtaining adequate sputum studies; and often, an etiologic agent is not identified.
Viruses, including respiratory syncytial virus (RSV), influenza, parainfluenza, human metapneumovirus, adenovirus, coronavirus, bocavirus and rhinovirus are the only organisms detected in many patients with CAP. In fact, some studies have identified viruses as the etiologic agent in up to 80% of CAP cases, particularly in children <2 years old.1,2 Even in adults, viruses are detected more frequently than bacteria in CAP.3
Streptococcus pneumoniae is assumed to be the most common bacterial cause of CAP, although the introduction of conjugate pneumococcal vaccinations, particularly PCV13, have decreased the rates of invasive pneumococcal infections, and may contribute to a shift in bacterial etiologies of CAP. Other bacteria that have been implicated in children are Haemophilus influenzae and Moraxella catarrhalis. Streptococcus pyogenes and Staphylococcus aureus may cause more severe disease and require hospitalization and intensive care admission. Atypical bacteria, such as Mycoplasma pneumoniae, are more commonly seen in older children and adolescents who typically present with a more insidious onset and lower grade fevers.1,2
What clinical exam features are suggestive of CAP?
Children with CAP may present with fever, cough, chest pain, difficulty breathing or tachypnea. Some children have abdominal pain as their presenting symptom. The British Thoracic Society guideline recommends considering bacterial CAP in patients with persistent fever >38.5 with chest recession and tachypnea, and excluding it when patients present with wheezing and upper respiratory symptoms.2 The Children's Mercy Office of Evidence-Based Practice reviewed the literature and identified patients more likely to have bacterial pneumonia as those who have fever, specifically longer duration of fever, focal auscultatory findings, tachypnea and no wheezing on auscultation.4 Pulse oximetry should be performed on all children with pneumonia, as the presence of hypoxemia would guide decisions on site for care and further diagnostic testing.
What tests should I get when I suspect CAP in a child in my office?
In the ambulatory setting (this includes offices, emergency departments, urgent care clinics and retail clinics), aside from rapid viral testing (RSV/influenza or respiratory viral panel) which may help rule out bacterial CAP, published guidelines recommend against performing any diagnostic work-up on children with suspected CAP.1,2,4

• Complete blood count and inflammatory markers are unlikely to change management in the outpatient setting, and should not be routinely obtained.
• Blood cultures have very low yield in nontoxic fully immunized children, but could be obtained on children who do not show clinical improvement or who worsen, despite antibiotic therapy.
• Routine chest radiographs are not necessary for the confirmation of a suspected CAP diagnosis, but should be considered in patients with respiratory distress, hypoxemia, and in those who fail initial antibiotic therapy to check for the presence of complications. These include parapneumonic effusion, empyema, necrotizing pneumonia and pneumothorax.
• Tuberculosis testing should be considered in high-risk individuals.
• It's important to recognize that urinary antigen testing (for Pneumococcus and Legionella) which is often recommended in adults with CAP5, should not be done on children with CAP because false positives for pneumococcus are common, and Legionella is extremely rare in children.
What is the best management plan for a child with CAP?
Despite the presence of clinical guidelines, there is significant variability in antibiotic prescribing for CAP in the community, and a high rate of unnecessary macrolide use.6

• Supportive measures are all that can be provided for patients with viral pneumonia.
• Fully unimmunized patients with uncomplicated bacterial CAP can be treated with five to seven days of high-dose amoxicillin (80-100 mg/kg/day divided in twice-a-day dosing). We use a high dose to reach an appropriate concentration in the lung parenchyma for an adequate amount of time.
• For patients with mild/moderate penicillin allergy, alternatives include cefuroxime, cefpodoxime and cefprozil. Cefdinir is not a good alternative because it is less effective against Streptococcus pneumoniae. Clindamycin could be an alternative, as the above cephalosporins may have limited availability or be cost-prohibitive; it is also recommended for severe penicillin allergy (e.g., anaphylaxis).
• Azithromycin is ONLY recommended for atypical pneumonia, as resistance among typical bacterial pathogens, particularly pneumococcus is elevated.

What resources do I have when evaluating a patient with CAP?
In addition to the IDSA guidelines1 and the British Thoracic Society guidelines2, the Children's Mercy Office of Evidence-Based Practice has developed a clinical practice guideline for CAP that can be accessed at: https://www.childrensmercy.org/health-care-providers/evidence-based-practice/clinical-practice-guidelines/community-acquired-pneumonia-algorithm/.

The outpatient antibiotic handbook developed by Children's Mercy is also available online at: https://www.childrensmercy.org/contentassets/59dfc1fe7b684157b4ebbf4ec1ff7b29/outpatient-antibiotic-handbook-v3-final-9.6.2013-ready-to-print.pdf

References:
The Management of Community-Acquired Pneumonia in Infants and Children Older than 3 Months of Age: Clinical Practice Guidelines by the Pediatric Infectious Diseases Society and the Infectious Diseases Society of America. Bradley, J.S., et al., Clin Infect Dis, 2011. 53(7): p. e25-76.
British Thoracic Society Guidelines for the Management of Community-Acquired Pneumonia in Children: Update 2011. Harris, M., et al.,Thorax, 2011. 66 Suppl 2: p. ii1-23.
Community-Acquired Pneumonia Requiring Hospitalization among U.S. Adults. Jain, S., et al., N Engl J Med, 2015. 373(5): p. 415-27.
Children's Mercy Kansas City Evidence-Based Practice. Community-Acquired Pneumonia Algorithm. Available from: https://www.childrensmercy.org/health-care-providers/evidence-based-practice/clinical-practice-guidelines/community-acquired-pneumonia-algorithm/.
Diagnosis and Treatment of Adults with Community-Acquired Pneumonia. An Official Clinical Practice Guideline of the American Thoracic Society and Infectious Diseases Society of America. Metlay, J.P., et al., Am J Respir Crit Care Med, 2019. 200(7): p. e45-e67.
Variability in Antibiotic Prescribing for Community-Acquired Pneumonia. Handy, L.K., et al., Pediatrics, 2017. 139(4).