The Wide World of Vaccines
October 2019
TB Vaccines—Good News and Good News—What? No Bad News?



Christopher J. Harrison, MD, FAAP, FPIDS | Director, Vaccine and Treatment Evaluation Unit | Professor of Pediatrics, UMKC School of Medicine
Good News #1—Short Note: Less Lung Cancer as Adults if BCG as Infant
A retrospective 60-year follow-up of a clinical trial of BCG in 1935 among 2,963 American Indian and Alaska native school children1 showed that a single intradermal BCG vaccine was associated with less risk (18.2 versus 45.4 cases per 100,000 person-years; hazard ratio, 0.38; 95%CI, 0.20-0.74; P = .005) of lung cancer. American Indians and Alaska natives have a relatively high lung cancer rate. This contrasts with data that BCG as part of lung cancer treatment has no effect. So, something about BCG's stimulation of cell-mediated immunity in childhood protects the lungs later in life.
Good News #2—Promising Candidate Vaccine for All Ages
Multidrug resistant M. tuberculosis (MTB) in the U.S. would be a major health emergency.2 Untreatable tuberculosis would be a throwback to the 19th century. We need a better vaccine (BCG is not protective against pulmonary TB).
A new live-attenuated TB vaccine (MTBVAC) is a weakened genetically-engineered MTB strain with two independent stable deletion mutations in known virulence genes (phoP and fadD26). Otherwise, it has the same proteins, lipids and carbohydrate antigens as wild type MTB, i.e., the 75% of antigens in BCG plus 25% of MTB target antigens missing from BCG. The absence of 25% of MTB antigens explains BCG's suboptimal effectiveness.
This "designer vaccine" lacks two virulence genes so it can induce better protection, but with minimal adverse effects (AEs). It is crucial for the MTB vaccine to work in infants (less T-cell capability than normal adults). The beauty of live vaccines is that antigens engage the immune system "naturally," enhancing chances for the cell-mediated (T-cell) responses that are critical to protection from MTB disease.3
MTBVAC preclinical studies show safety and T-cell responses in guinea pigs and mice (normal pups, BALB/c adults with relatively low cell-mediated capability). Pilot trials show it to be safe and immunogenic across several doses (up to 5×10⁵ colony-forming units (CFU)) in healthy MTB- and BCG-naïve adult humans.
A new South African randomized, double-blind, BCG-controlled trial3 in 38 healthy term BCG-naïve infants (>96hrs old, >2.45 kg, 5-min Apgar scores >7) compared standard BCG (2.5×10⁵ CFU) or MTBVAC (3 different intradermal dosages - low-dose (2.5 × 103 CFU (N=9), mid-dose (2.5 × 10⁴ CFU (N=9), or high-dose (2.5 × 10⁵ CFU (N=10)). High-dose MTBVAC or BCG was also given to 117 healthy pregnant women. Investigators measured AEs and T-cell subset responses.
The frequency/severity of local and systemic AEs was similar for BCG and high MTBVAC dose groups, but lower in low- and mid-dose MTBVAC groups. Figure 1. In pregnant women, MTBVAC-specific Th1 CD4 cells, but not other T-cells subsets, were enhanced. In infants, a dose-dependent increase in specific CD4 cells was found on days 70-360 (Figure 2). The highest MTBVAC dose also produced quantitatively more MTBVAC-specific CD4 cells out to 360 days versus the same BCG dose.

Figure 1.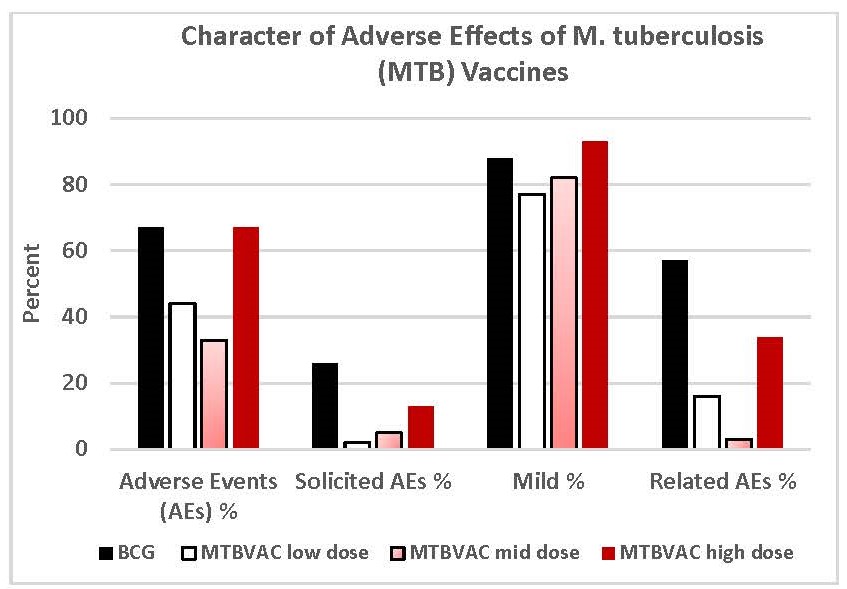 IGRA Results
Of interest, no BCG-immunized infant had a positive IGRA test (as expected); but 38% of low-dose, 75% of mid-dose and 78% of high-dose infant vaccinees had positive IGRAs at day 180. Note: all were borderline (0.2-0.99 units). Figure 2. IGRA reversion to negative occurred in all low-dose, 2/3 of mid-dose and 43% of high-dose infant vaccinees by day 360.

Figure 2.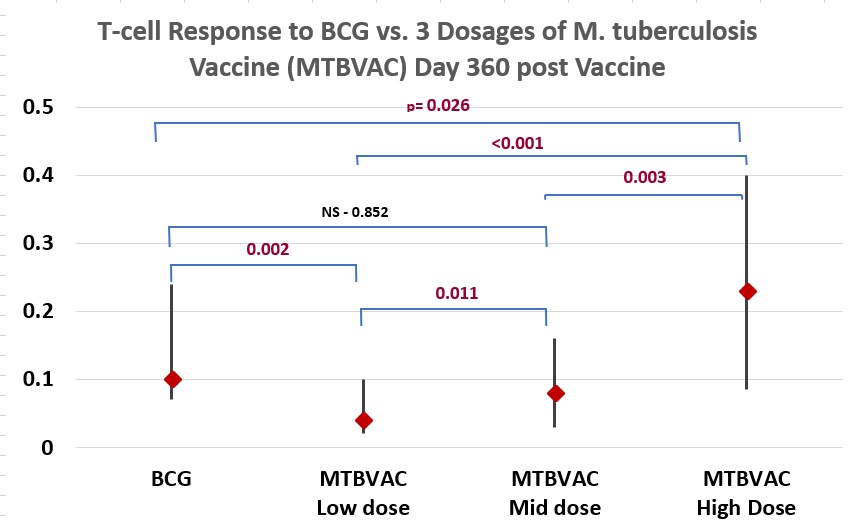 The unexpected dose-related MTBVAC-induced IGRA conversion indicates that MTBVAC induces a better T-cell response than BCG, but the downside is it compromises IGRA interpretation. Infant MTBVAC recipients could end up in limbo if tuberculin skin testing, or even IGRA, was used during post-MTB-exposure workups in the first-year post vaccine. New guidelines would be needed if additional data confirm IGRA conversions in larger vaccinee numbers. Note: <1% of patients with borderline IGRA values actually have MTB.4
But the good news is that this first clinical trial of a live whole-cell MTB vaccine in BCG-naive infants showed similar safety/reactogenicity, but better T-cell response than BCG up to 360 days post vaccine.

References
Association of BCG Vaccination in Childhood With Subsequent Cancer Diagnoses: A 60-Year Follow-up of a Clinical Trial. NiT Usher; S Chang, RS Howard, et al. JAMA Network Open. 2019;2(9):e1912014.
Drug-Resistant Tuberculosis Predicted to Increase in High-Burden Countries. M.J. Friedrich. JAMA. 2017;318(3):231. doi:10.1001/jama.2017.9086.
Live-attenuated Mycobacterium Tuberculosis Vaccine MTBVAC Versus BCG in Adults and Neonates: A Randomized Controlled, Double-blind Dose-escalation Trial. Tameris M, Mearns H, Penn-Nicholson A, et al. Lancet Respir Med 2019; 7: 757–70.
A Borderline Range for Quantiferon Gold In-Tube Results. Jonsson J, Westman A, Bruchfeld J, et al. PLOS ONE | https://doi.org/10.1371/journal.pone.0187313 2, 2017 1 / 10.