The Wide World of Vaccines
November 2019
National Progress Reports on Vaccine Uptake in Pregnant Women (Implications for Young Infants) and Kindergarten Children



Christopher J. Harrison, MD, FAAP, FPIDS | Director, Vaccine and Treatment Evaluation Unit | Professor of Pediatrics, UMKC School of Medicine
Report I: Pertussis and influenza can be particularly severe in infants <5 months old. Figure 1 and 2. Both are vaccine-preventable, if national recommendations for administering both vaccines during pregnancy were implemented. Yet there does not seem to be universal buy-in from providers to make firm recommendations for these vaccines. We learned that a firm recommendation and readily available vaccine increases rates of HPV vaccine uptake. The CDC recently analyzed data to see if the same could be true for Tdap and influenza vaccine in pregnancy.1
Authors analyzed influenza-associated hospitalizations in both pregnant women 18 to 49 years old and infants, as well as infant deaths associated with influenza or pertussis. They evaluated rates of disease in mothers and infants that could be prevented by administering intrapartum Tdap and influenza vaccine. Tdap adherence during pregnancy was also assessed in 817 women who delivered during the survey timeframe.
Vaccine-Preventable Disease: It is striking that pregnant women made up 24 to 34% of all influenza-associated hospitalizations for 15 to 44-year-old females during the seven years for which data were analyzed (2010-2017). In the same years, 3,928 infants <2 months old were hospitalized for pertussis, ranging from 262 to 743 admissions per year.
The disappointing news is that a one-year sampling of mothers showed suboptimal uptake (53.7% for influenza vaccine and 54.9% for Tdap). The good news is that the numbers were better for women of all races, ethnicities and ages if their health care providers offered vaccine in their practice or referred to a specific clinic for vaccine administration (65.7% for influenza vaccine and 70.5% for Tdap). Our recommendations and easy availability of vaccines can make a significant difference.
Major reasons for moms not getting influenza vaccine are the belief that influenza vaccine is not effective (18% of respondents) and perceived safety issues (16%); whereas for Tdap, major reasons were lack of knowledge that Tdap is recommended for each pregnancy (37.9%) and perceived safety issues (17.1%).
When one drills down on the demographics of mothers who were offered or referred directly for vaccines, non-Hispanic black mothers had improved uptake, but still had significantly lower uptake than other racial/ethnic groups, as did those who were unmarried, younger in age, below the poverty line, uninsured and of less than college education. So prospective mothers in these categories deserve extra effort on our part.
As pediatric providers, we are not directly responsible for maternal pregnancy-related care or vaccines, but as advocates for the fetus/infant we can still firmly recommend to prospective mothers that they receive Tdap and when seasonally appropriate, influenza vaccine. Both are safe and provide protection for mother (particularly important during pregnancy) and for the infant in the first months of life before the infant's own vaccines have had time to generate a protective response.
Report II:2 The MMWR recently reported on state immunization programs' annual kindergarten vaccination assessments. The goal is for states to have a 95% age-appropriate immunization rate in kindergarten. For Kansas, the rates were a bit disappointing. Rates were 90.8%, 91.0%, and 89.2 % for MMR, TDaP and VZV vaccines respectively. For Missouri, the rates were reasonably close to the 95% goal, being 94.8%, 94.8%, and 94.5% respectively (nearly matching the national average of 94.7%, 94.9%, and 94.8%).
Somewhat encouraging was that the national rates for exemption are holding steady at ~2%. That said, it will be interesting to see if the exemption rates drop over the next few years due to several states, notably California, having laws against providers giving unjustified exemptions.
The authors again remind us that state averages can be a bit deceiving due to enclaves/pockets of higher densities of under/unimmunized children where uptake is not even close to what is needed for herd immunity.
Action items:
Talk to prospective mothers.
Educate them on the safety of Tdap and influenza vaccines during pregnancy.
Encourage them to talk to the clinician(s) caring for their pregnancy about getting Tdap and seasonal influenza vaccine.
Take advantage of every immunization opportunity to catch up those children who, for various reasons, are behind schedule.
These are situations where the evidence says we make a big difference.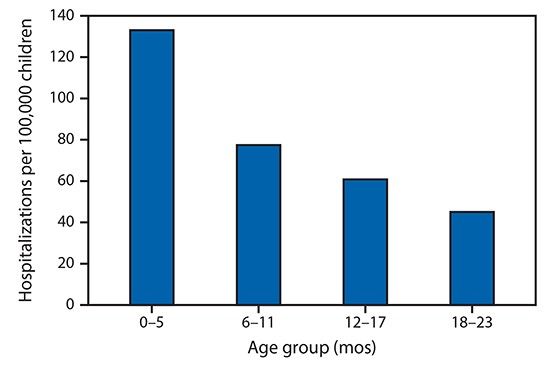 Figure 1.Influenza-associated hospitalizations per 100,000 0 to 23 months old, United States, 2010–11 through 2017–18 influenza seasons.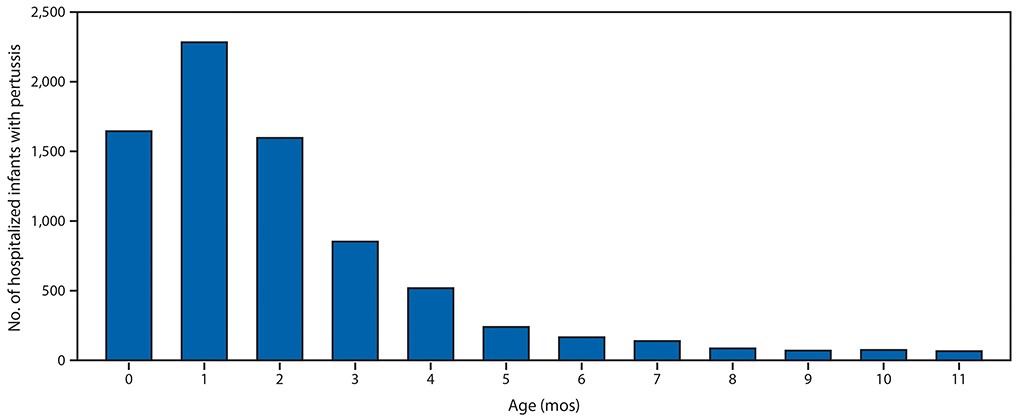 Figure 2. Infant pertussis hospitalizations by age in months (N = 7,731) — National Notifiable Diseases Surveillance System, United States, 2010–2017.

References
Vital Signs: Burden and Prevention of Influenza and Pertussis Among Pregnant Women and Infants — United States Weekly / October 11, 2019 / 68(40);885–892. Lindley MC, Kahn KE, Bardenheier BH, D'Angelo DV, Dawood FS, Fink RV, Havers F, Skoff TH.
Vaccination Coverage with Selected Vaccines and Exemption Rates Among Children in Kindergarten — United States, 2018–19 School Year Weekly / October 18, 2019 / 68(41);905–912. Seither R, Loretan C, Driver K, Mellerson JL, Knighton CL, Black CL.