What's the Diagnosis?
September, 2018
Visual Diagnosis

Madeline Summers, MD | Pediatric Resident, Children's Mercy

Kristin Johansen, MD |General Pediatrics, Children's Mercy | Clinical Assistant Professor of Pediatrics, UMKC

A previously healthy, 12-month-old female presents with a rash. Parents first noticed red papules and vesicles on her trunk two days ago which have now spread in a clustered pattern to her face, back and extremities. The rash seems pruritic to the patient and she has had decreased appetite. She has been afebrile with normal urine output. There are no other household or daycare contacts with a similar rash. She received routine vaccines 10 days ago at her routine 12-month visit.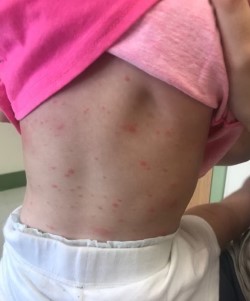 The most appropriate next step in management is:

A. Refer patient to allergy/immunology for immune deficiency
B. Contact avoidance with immunocompromised individuals until lesions have crusted
C. Prescribe topical mupirocin ointment for the lesions
D. Avoid future live-attenuated vaccinations

Correct answer: B.

The rash described in the above vignette is consistent with varicella-zoster virus (VZV), a highly contagious herpes virus that causes typical chickenpox disease in children, but may cause more severe disease in adults and immunocompromised individuals. The patient experienced breakthrough disease following her routine VZV vaccination.

The average incubation period of VZV ranges from 10-21 days and infectivity lasts from 48 hours prior to rash onset through crusting of lesions. VZV typically causes a benign, self-limited illness with fever, malaise, loss of appetite and generalized, pruritic vesicular rash that progresses from macules and papules to characteristic "dew drop on rose petal" vesicles that eventually rupture and crust. Complications include bacterial skin infections, pneumonia, shingles and, more rarely, encephalitis and Reye's syndrome.1

Since the introduction of the VZV vaccine in 1995, there has been a decline not only in the number of "chickenpox parties" across the country, but also in the rates of infection, hospitalizations and mortality due to chickenpox.2 The CDC recommends the VZV vaccine at 12-15 months and then again at 4-6 years.3 The vaccine is very safe, however, it contains a live virus and should only be given to immunocompetent individuals.

Up to 20% of VZV vaccine recipients may develop localized pain, swelling or redness at the injection site, and less than 5% will develop a localized or generalized varicella-like rash five to 26 days following vaccination.4There have only been eight documented reports of vaccinated people spreading the vaccine virus to other immunocompetent individuals, and in all cases, those spreading the infection had demonstrated a rash after vaccination.3 If a patient experiences breakthrough disease after their first vaccination, they do not need a second dose. However, it is safe to give a subsequent dose and this should be done if breakthrough disease is in question.4


References:
The Epidemiology of Varicella and Its Complications. Choo PW, Donahue JG, Manson JE, Platt R. J Infect Dis. 1995;172(3):706.

Decline in Mortality Due to Varicella after Implementation of Varicella Vaccination in the United States. Nguyen HQ, Jumaan AO, Seward JF. N Engl J Med. 2005;352(5):450.

Vaccines and Preventable Diseases. Centers for Disease Control and Prevention, Centers for Disease Control and Prevention, 22 Nov. 2016, www.cdc.gov/vaccines/vpd/varicella/hcp/recommendations.html.

Varicella (chickenpox). Immunization Action Coalition, www.immunize.org/askexperts/experts_var.asp.