What's the Diagnosis?
August, 2018
Visual Diagnosis

Angela Myers, MD, MPH, FAAP, FPIDS |Interim Director, Division of Infectious Diseases | Associate Director |Pediatric Infectious Diseases Fellowship Program | Associate Professor of Pediatrics UMKC School of Medicine

A 17-year-old male with a history of right leg hemi-hypertrophy and lymphedema presented with a history of vomiting followed by headache the next day. His symptoms progressed to include retrosternal chest pain and fever over the next two days. He was seen in an Emergency Department and then transferred following a chest X-ray (CXR) that revealed cardiomegaly and an electrocardiogram (ECG) that showed ST segment elevation in several leads.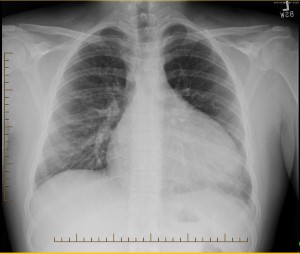 Of the following the most likely organism responsible for this patient's infection is:
A. Streptococcus pyogenes
B. Staphylococcus aureus
C. Salmonella enterica
D. Bacteroides fragilis

Correct answer: B.

The patient in the above vignette had a chest radiograph showing cardiomegaly. The echocardiogram demonstrated a large pericardial effusion, which was drained. Evaluation of the fluid revealed nearly 5,000 white blood cells (94% neutrophils), and culture revealed methicillin-susceptible S. aureus. Therapy was transitioned from empiric vancomycin and cefepime to oxacillin.

Staphylococcus aureus is the most common cause of purulent pericarditis, accounting for ¼ to 1/3 of cases. Overall, gram positive organisms are responsible for nearly half of the cases, including Streptococcus pyogenesand Streptococcus pneumoniae. Other organisms that have been reported include Salmonella spp., anaerobic organisms (e.g., B fragilis, Fusobacterium spp.) and Candida spp. in patients with risk factors for invasive candidal infection (e.g., chronic steroids, hyperalimentation or prolonged antibiotics).

Purulent pericarditis is a rare diagnosis in children and prior to widespread antibiotic use, purulent pericarditis was most often a complication of pneumonia, followed by endocarditis, with only a small percentage having a non-infectious diagnosis as a predisposing risk factor. In contrast, the majority (78%) of patients today with purulent pericarditis have an underlying non-infectious risk factor (e.g., chronic renal disease).

Patients typically present with high fever, tachycardia, chest pain and cough. While fever is nearly universal, pericardial friction rub is noted in <50%, and ECG findings may be normal in up to 35%. In the setting of purulent pericarditis, the incidence of cardiac tamponade ranges from 40% to >70%, leading to sudden cardiac decompensation and potential mortality. Additionally, constrictive pericarditis occurs in up to 30% of cases of purulent pericarditis. This highlights the importance of maintaining a high index of suspicion in order to make a timely diagnosis, which reduces mortality and improves outcomes.

Echocardiography has the ability to detect and quantify the pericardial fluid, while also determining heart function. Echocardiography cannot distinguish between purulent fluid and fluid collections from other etiologies (e.g., oncologic). Thus pericardiocentesis is necessary to establish the diagnosis. Fluid should be sent for cell counts, glucose, protein levels, and routine, anaerobic, AFB and fungal cultures.

In addition to his lower extremity malformation, this patient is suspected of having a thoracic lymphatic malformation with chronic chylous pericardial effusion, which is presumed to be the risk factor for this infection.

References:

2015 ESC Guidelines for the Diagnosis and Management of Pericardial Diseases: The Task Force for the Diagnosis and Management of Pericardial Diseases of the European Society of Cardiology (ESC) Endorsed by: The European Association for Cardio-Thoracic Surgery (EACTS). Adlar Y, Charron P, Imazio M, J, European Society of Cardiology (ESC) et al. Eur Heart J. 2015;36(42):2921.