What's the Diagnosis?
May 2019
Visual Diagnosis

Kristin Johansen, MD | General Academic Pediatrician | Assistant Professor of Pediatrics, UMKC School of Medicine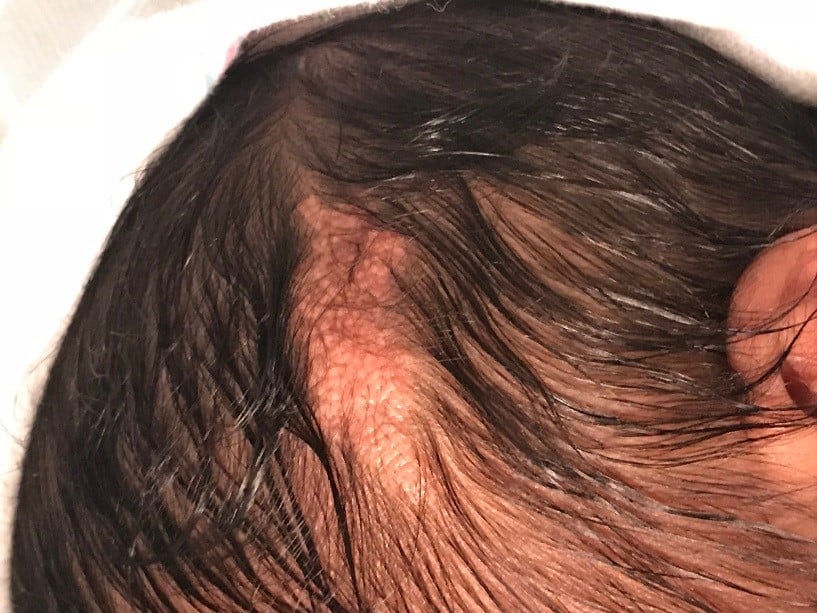 Soon after birth, a newborn male is noted to have a scalp lesion. He was born full term without any pregnancy complications. Parents deny any trauma to the area and no scalp probes or vacuum assistance was used during the uncomplicated vaginal delivery. Mom does not have a history of herpes simplex virus infections. There are no other abnormal skin findings.

Which of the following would be the most appropriate management?

A. Refer to surgery for immediate excision
B. Provide reassurance to parents
C. Prescribe Ketoconazole shampoo
D. Refer to dermatology prior to adolescence

The correct answer is D.

The lesion is most consistent with a nevus sebaceous.

A nevus sebaceous is a hamartoma of sebaceous and apocrine glands that is usually present at birth and seen in approximately 0.3% of newborns.1 It is usually diagnosed clinically based on the classic appearance. The lesions are typically solitary, well-demarcated, hairless and have a waxy/smooth texture. They can be tan to yellowish colored, ovoid to linear shaped and are mainly found on the face and scalp. During adolescence and adulthood, the appearance may become rougher and more verrucous as the sebaceous glands mature.1 Skin biopsy can be diagnostic if the diagnosis is in question, but is not routinely performed.

In the past, it was thought that 10-15% of these lesions could develop secondary malignancies.2 However, recent literature shows a much smaller malignancy potential and it is estimated to be less than 1 percent.3 If there are malignant changes, it most commonly develops into a basal cell carcinoma.4

Definitive treatment is full thickness dermal and epidermal excision. There is controversy in the literature as to the need for prophylactic excision; however, there is a consensus that lesions should be monitored regularly for changes that would be concerning for malignancy, such as color changes or rapid growth. Some families choose to have them excised for cosmetic purposes, but decisions are made on an individual patient basis, weighing the risks/benefits of a surgical procedure and malignancy potential.4 Dermatology referral is warranted prior to adolescence in order to discuss risks/benefits and possible excision.
References
1. Pediatric Dermatology A Quick Reference Guide (3rd ed.). Mancini, A. J., Krowchuk, D. P. (2016). American Academy of Pediatrics.

2. Dermatology. Zitelli, B. J., McIntire, S. C., & Nowalk, A. J. (2012). In Zitelli and Davis' Atlas of Pediatric Physical Diagnosis (6th ed.). St. Louis, Mo.: Elsevier Health Sciences.

3. Management of Nevus Sebaceous and the Risk of Basal Cell Carcinoma: An 18-Year Review. Rosen, H., Schmidt, B., Lam, H. P., Meara, J. G., & Labow, B. I. (2009). Pediatric Dermatology, 26(6), 676-681.

4. Nevus Sebaceous Revisited. Moody, M. N., Landau, J. M., & Goldberg, L. H. (2012). Pediatric Dermatology, 29(1), 15-23.