What's the Diagnosis?
June 2019
Visual Diagnosis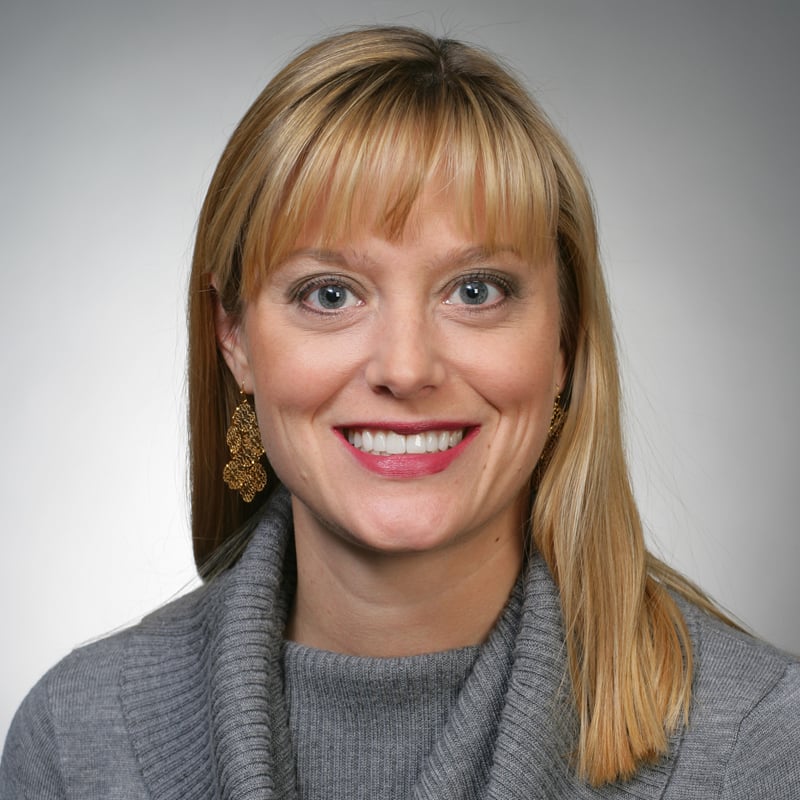 Angela Myers, MD | Director, Division of Infectious Diseases | Associate Director, Infectious Diseases Fellowship Program | Associate Professor of Pediatrics, UMKC School of Medicine
A 12-year-old girl presents with fever, chills, headache, abdominal pain and intermittent cough of one week in duration. Additional history reveals new onset non-bloody diarrhea and emesis associated with nausea. Her social history includes recent immigration on foot from Central America. There are no other ill family members. She is immunized for age. A CBC revealed pancytopenia (WBC 3.2 x103/mcL, Hgb7.8, g/dL, platelets 17 x103/mcL). Inflammatory markers were elevated with ESR 145 mm/hr and CRP 16.4 mg/dL. Her basic metabolic profile was normal; liver function tests only revealed a low albumin (2.8 gm/dL); and urinalysis showed 5-15 RBC. CXR was unremarkable, and blood culture was obtained. Peripheral smear from the CBC revealed the diagnosis.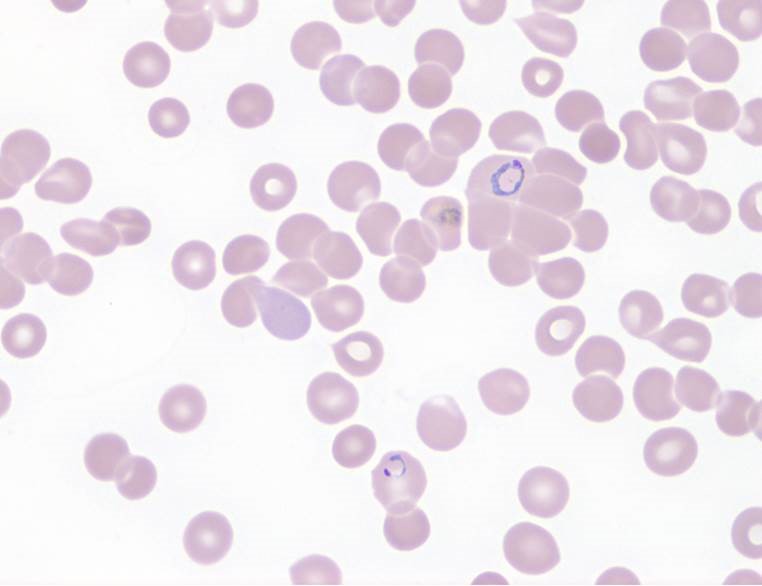 Which of the following is the most likely cause of infection in this patient?

A. Chikungunya
B. Dengue
C. Plasmodium vivax
D. Salmonella Typhi

Answer: C. Plasmodium vivax

The patient in this scenario was diagnosed with malaria suspected to be caused by P. vivax based on parasite morphology within the red blood cell, which was confirmed by PCR. In order to provide optimal treatment for a patient with malaria, knowledge of the Plasmodium sp., degree of parasitemia, and drug susceptibility in the region the infection occurred are critical.1 It is important to determine the species of malaria, as patients who are infected with either P. vivax or Plasmodium ovale are at risk for relapse after initial treatment due to hypnozoite forms of the parasite that may remain dormant in the liver.

The degree of parasitemia helps to categorize the patient as having uncomplicated or severe disease. Severe disease is defined as one or more of the following: impaired consciousness or seizures, Hgb <7 g/dL, acute kidney injury, acute respiratory distress syndrome, hypotension, disseminated intravascular coagulation or spontaneous bleeding, acidosis, hemoglobinuria, jaundice, and/or ≥5% parasitemia.2 Our patient had 2.1% parasitemia found on thin smear, and her repeat urine was negative for RBC. Thus, she was diagnosed with uncomplicated malaria.

While there is is little to no chloroquine resistance in Central America, there is in many other areas in the world. Chloroquine is not readily available for treatment of malaria in the U.S.; thus, hydroxychloroquine was provided for 48 hours.2 Following completion of hydroxychloroquine, the patient received primaquine for 14 days to treat liver hypnozoites. Testing for glucose 6-phosphate dehydrogenase (G6PD) deficiency is necessary before starting primaquine, as patients with G6PD deficiency are at risk of hemolytic anemia.

Chikungunya and dengue are mosquito-borne viruses that are endemic to Central America and many other countries around the world. There is no vaccine available for primary prevention of either infection, although there is a new Dengue vaccine available for use in those with pre-existing dengue antibody in endemic regions in the U.S. (e.g., Puerto Rico).3 Both chikungunya and dengue virus present with fevers, malaise, body aches and bone pain in the setting of dengue; and polyarthralgia in the setting of chikungunya. There is no specific therapy other than supportive care for either infection. Repeat infections with dengue may lead to hemorrhagic fever. Both infections are confirmed by serology. Infection with the intracellular bacteria Salmonella Typhi results in Typhoid fever, characterized by fever, malaise, abdominal pain and bacteremia that may be difficult to clear, even with adequate therapy. Typhoid fever is diagnosed via blood culture.
References
1. American Academy of Pediatrics. Malaria. In: Kimberlin DW, Brady MT, Jackson MA, Long SS, eds. Red Book: 2018 Report of the Committee on Infectious Diseases. 31st ed. Itasca, IL: American Academy of Pediatrics; 2018: 527-537.

2. Treatment of Malaria: Guidelines for Clinicians (United States), Nov. 15, 2018. https://www.cdc.gov/malaria/diagnosis_treatment/clinicians2.html.

3. First FDA-approved Vaccine for the Prevention of Dengue Disease in Endemic Regions, May 1, 2019. https://www.fda.gov/news-events/press-announcements/first-fda-approved-vaccine-prevention-dengue-disease-endemic-regions.