The Wide World of Vaccines
October 2018
Is Cell-Based Inactivated Influenza Vaccine (cIIV) More Protective Than When Egg-Based (eIIV)?


Christopher J. Harrison, MD, FAAP, FPIDS | Director, Infectious Diseases Research Laboratory | Director, Vaccine and Treatment Evaluation Unit | Professor of Pediatrics, UMKC School of Medicine
Last year's vaccine effectiveness (VE) was disappointing (overall 40% protection), particularly for influenza A-H3N2 strain (25%) compared to A-H1N1 (65%) and influenza B (49%).
Figure 1. Final calculation of Vaccine Effectiveness (VE) for the USA overall, for A subtypes and for all B strains.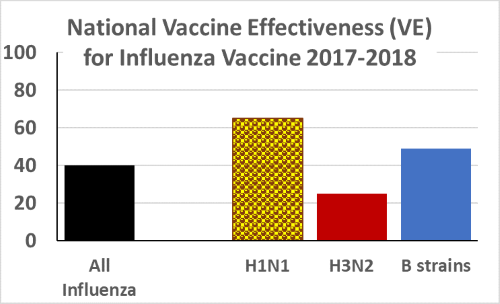 VE measures the reduction in needing medical care for influenza. One concern was that small mutations noted in vaccine viruses grown in eggs might have made eIIV3 slightly mismatched for circulating wild type influenza. In contrast, vaccine viruses in the FDA-approved cIIV4, Flucelvax® did not seem to have these mutations.


Data at June 2018 ACIP: Indeed, cIIV4 seemed to have better 2017-18 VE in one recent report about national hospital outcomes among U.S. elderly (>65 years old).1 Dr. Lu reported that cIIV4 was 10.7% (95% CI 7.5, 13.7) overall more effective than eIIV3 in this difficult-to-protect vulnerable population.

Data from California: However, other 2017-2018 preliminary Kaiser Permanente data2 did not confirm this. Among approximately 5,800 documented influenza cases in non-elderly (4 to 64-year-old) patients, approximately 72% were unimmunized, approximately 25% got eIIV3 and 2.4% got cIIV4.

A strains: Both cIIV4s and eIIV3s VE compared against any A strain was significant (cIIV4=31.7%, 95% CI 18.7%-42.6%; IIV3=20.1%, 95% CI 14.5%-25.4%, P<0.0001 for both). However, an 8% relatively higher VE in cIIV4 than eIIV3 (relative VE, r-VE) was not significant, (95% CI = -10% to +23%, P=0.36). This 8% less chance to need medical care for influenza A in cIIV4 vaccinees compared to eIIV3 vaccinees could have been a fluke.

B strains-uneven playing field: Both vaccines' VE was significant compared to no vaccine (cIIV4=40.9% (95% CI 30.0%-50.1%, P<0.0001), and IIV3= 9.7% (95% CI 3.5%-15.6%, P=0.0028). But cIIV4 appeared superior (r-VE = 39.6% better protection; 95% CI 27.9%-49.3%, P<0.0001). However, IIV3 did not contain B-Yamagata strain that was in cIIV4. Given that B Yamagata dominated (83% of B strains) in California last year, the 39.6% difference appears due to cIIV4 having two B strains, not necessarily because cIIV4 viruses were cell-grown versus IIV3's being egg-grown.

Take-away caveats:


Don't rely too heavily on one set of preliminary data regardless of source.

A 10% higher r-VE in the elderly was significant, but the 8% r-VE in non-elderly was not. This suggests caution about egg-based perhaps being inferior to cell-based vaccines. We need final analyses of more 2017-18 data and another year's data.

What could have affected significance in each study? The California cIIV4 VE against A-H3N2 (dominant California strain last season) was lower (approximately 25%) than the ACIP report.1 And the ACIP data also did not separate out strain-B VE.

We don't know how many elderly IIV3 recipients got high-dose IIV3 (8% more protective than standard dose IIV3).


Bottom line

Should cIIV4 be preferred? Despite a hint that cell-based vaccines may be superior in some populations for A viruses, particularly A-H3N2, neither the CDC nor the AAP preferentially recommended cIIV4.

This season so far seems an A-H1N1 and Yamagata B-dominant year. Note that both vaccines performed well against these viruses and so far circulating strains match the vaccine strains.

My take is that the biggest difference between cIIV4 and eIIV3 VE last year was the extra B strain, not some possible mild effect of the method for growing vaccine viruses. My preference is any age-approved quadrivalent vaccine because two B strains lessens chances of vulnerability to the second B circulating strain (like last year).

But don't postpone immunizing if only IIV3 is available. Hopefully, another year to evaluate cIIV versus eIIV will clarify whether cIIV adds extra protection or not.
References:
Relative Effectiveness of Cell-cultured Versus Egg-based Influenza Vaccines, 2017-18 Analysis by the FDA, CMS, and Acumen Team Office of Biostatistics and Epidemiology (OBE) FDA/Center for Biologics Evaluation and Research (CBER). Lu Y, et al. ACIP Meeting, June 20, 2018.

Vaccine Effectiveness of Flucelvax Relative to Inactivated Influenza Vaccine During the 2017-18 Influenza Season in Northern California. Klein NP, et al. Presentation LB15.