The Wide World of Vaccines
August, 2018
HPV Vaccine – Don't Delay – Plus More Safety Data


Christopher J. Harrison, MD, FAAP, FPIDS | Director, Infectious Diseases Research Laboratory | Director, Vaccine and Treatment Evaluation Unit | Professor of Pediatrics, UMKC School of Medicine

A common theme among human papilloma virus (HPV) vaccine-hesitant families is to delay HPV vaccine with the misguided thought that preteens and young teens "do not need that vaccine until they go to college." Because we unfortunately do not all know when our children will become sexually active, it seems best to be "safe rather than sorry" where HPV-induced cancer is concerned. Remember, the vaccine only works if a person receives it before acquiring the HPV types at which the vaccine is targeted. If HPV vaccine is given after the types in the vaccine have already been acquired, there is no described benefit in preventing cancers. That's why delaying the vaccine prolongs the vulnerability window during which the types that can lead to cancer (years or decades later) can be acquired.
HPV vaccine is known to be more immunologic when given as early as possible within the recommended window for immunization, i.e., antibody responses are higher and more durable when the series is initiated at a younger age. This fact was made even clearer by a recent study that reported catch-up HPV vaccine after age 21 years is much less effective than if catch-up occurs before 21 years of age.1

Investigators described 10 years of experience with "catch-up" dosing of HPV (case control study) from a northern California health care system. They describe risks of cervical intraepithelial neoplasia cancer (CIN2+ and CIN3+) in groups based on their HPV vaccination catch-up status, i.e., age at first dose plus number of doses. They evaluated 4,357 incident CIN2+ cases with 21,773 matched controls, and 1,849 incident CIN3+ cases with 9,242 matched controls. Their adjusted analysis considered co-factors such as smoking, hormonal contraceptive use, race or ethnicity, sexually transmitted infections, immunosuppression, parity, and health care utilization. Age groups were 14–17 years, 18–20 years, and ≥21 years old when the catch-up series was initiated.

Including all age groups, catch-up dosing reduced CIN2+ by 18% and CIN3+ by 23%. However, the most protection against CIN2+ (48% reduction) and Cin3+ (73%) occurred after three catch-up doses were first initiated at 14-17 years of age. Protection was still detected for three doses initiated at 18-20 years of age (35% for Cin2+ and 41% for Cin3+). But there was no detectable protection for either Cin2+ or Cin3+ if the catch-up series started at 21 years of age or later.

Figure 1. Lack of protection vs HPV-induced cancers if catch-up HPV vaccine series started >20 years old.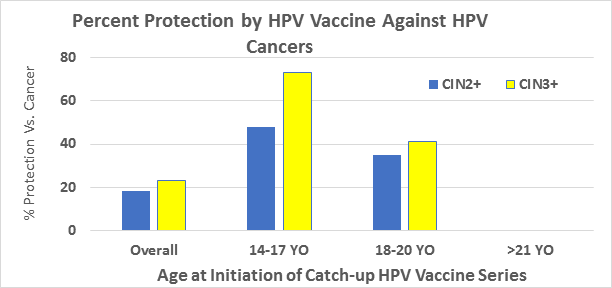 One can only guess how this would play out if there had been data on vaccines with the series started <14 years of age, given that antibody titers are higher and more durable when the series is begun at this earlier age. The message seems clear. Start HPV vaccine as soon as is feasible to maximize protection and don't wait until college age or later.

Another concern sometimes raised by HPV vaccine-hesitant families relates to reproductive health. Whether spontaneous abortion might be caused by HPV4 vaccine if inadvertently given early in pregnancy was also recently addressed.2

Investigators reviewed spontaneous abortions (2008 through 2014) after 4vHPV that was administered during three exposure windows:
Group 1 (4-5 months pre-pregnancy)
Group 2 (within 6 weeks pre-pregnancy)
Group 3 (during 6-20 weeks of gestation)

They excluded multiple gestations and episodes detected after use of medications known to increase spontaneous abortion risk. The 2,800 included pregnancies were nearly equally distributed: 919 (33%) Group 1; 986 (35%) Group 2; and 895 (32%) Group 3, with no differences in mean age of 21-22 years. Spontaneous abortion was not significantly different between groups: group 1, 96 (10.4%) vs. 110 (11.2%) for Group 2 and 77 (8.6%) for Group 3.

Figure 2. HPV vaccination in early pregnancy or just prior to pregnancy does not increase rate of spontaneous abortion.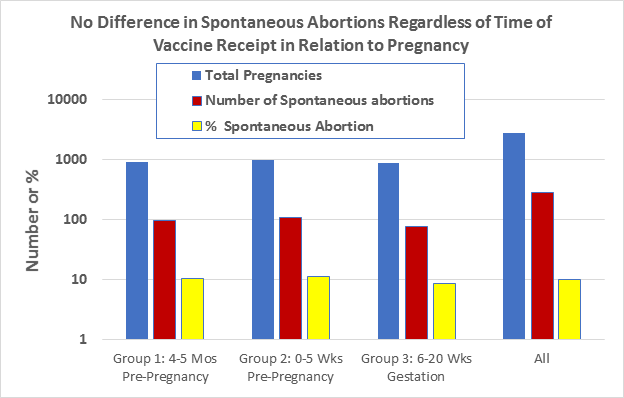 Taken together, these data provide added confidence to those who provide care for an HPV vaccine candidate within the recommended age window to make a strong recommendation for HPV vaccine whenever an opportunity for immunization occurs.

References:
Effectiveness of Catch-up Human Papillomavirus Vaccination on Incident Cervical Neoplasia in a US Health Care Setting: A Population-based Case-control Study. Silverberg MJ, Leyden WA, Lam JO, et al. Lancet Child Adolesc Health 2018. Published Online August 7, 2018.

Risk of Spontaneous Abortion After Inadvertent Human Papillomavirus Vaccination in Pregnancy. Kharbanda EO, Vazquez-Benitez G, Lipkind HS, et al. Obstet Gynecol 2018;132:35–44.