State-of-the-Art Pediatrics
December 2018
Bruising – Bleeding Disorder or Abuse?


Authors:
Shannon L. Carpenter, MD, MS |Section Chief, Hematology | Director, Kansas City Comprehensive Hemophilia Treatment Center | Professor of Pediatrics UMKC - School of Medicine
Amy Terreros, DNP, RN, APRN, Section on Child Abuse and Neglect
Column editor: Amita R. Amonker, MD | Pediatric Hospitalist | Assistant Professor of Pediatrics, UMKC School of Medicine

The types of bruising seen in children as a result of congenital bleeding disorders or inflicted trauma can be nearly identical.1 Bruising on certain areas of the body should always raise the concern for inflicted trauma. However, the studies determining the high-risk nature of these bruising patterns excluded patients with bleeding disorders. Subsequent studies of children with bleeding disorders have shown that the presence of bruising with a high correlation with abuse is uncommon. 2 A study by Collins, et al., followed 105 children with bleeding disorders and compared them to 328 without a bleeding disorder. While children with bleeding disorders had more and larger bruises, they rarely had bruising on the ears, neck, cheeks, eyes or genitalia, all areas known to be highly correlated with inflicted trauma.

Bruising in pre-mobile infants is almost always abnormal, and should lead to prompt and simultaneous evaluation for both inflicted trauma and bleeding disorders. In a longitudinal study of preschool children without bleeding disorders, < 5% of pre-mobile children had bruising.3 [Fig]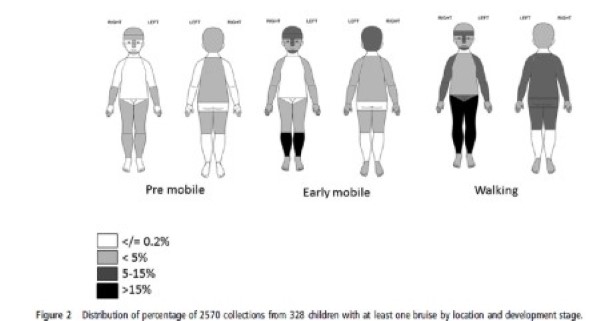 Fig: Distribution of percentage of 2,570 collections from 328 children without congenital bleeding disorders with at least one bruise by location and development stage. Patterns of Bruising in Preschool Children- A Longitudinal Study. Kemp AM, Dunstan F, Nuttall D, Hamilton M, Collins P, Maguire S. Arch Dis Child 2015; 100: 426-431. Figure page 429.
In the Collins study, only children with severe bleeding disorders had >5% bruising in the pre-mobile age ranges, while those with mild to moderate bleeding disorders bruised in a similar way to those without a congenital bleeding disorder.

The initial evaluation for inflicted trauma should include a skeletal survey in infants and computed tomography of the head to investigate for fractures. Pictures of the bruises should be obtained, with special attention to any patterns that may be present. Other evaluations that may be necessary include ophthalmologic exam and blood samples for liver function tests. It is important to coordinate these investigations with a child abuse pediatrician.
Most providers screen for bleeding disorders with the prothrombin time (PT) and activated partial thromboplastin time (aPTT) along with a complete blood count. Von Willebrand disease (VWD) is the most common bleeding disorder, affecting approximately 1:1,000 people, and may not be detected with the PT/aPTT. Diagnosis of mild VWD can be problematic, particularly in the setting of acute stress, as von Willebrand factor is an acute phase reactant, and therefore rises in response to stress, leading to a falsely normal result in some cases. Patients should be retested once the period of stress has passed. Hemophilia A and B, deficiencies of factors VIII and IX respectively, usually result in a prolonged aPTT. However, in mild forms, the aPTT may be normal, and it should be remembered that factor VIII is also an acute phase reactant. Guidelines have been published for the initial evaluation for bleeding disorders in patients where abuse is a concern.4
Any bleeding disorder may present with bruising. The work-up for congenital bleeding disorders is best completed by a pediatric hematologist. In addition to VWD and hemophilia A and B, rare bleeding disorders requiring specialized testing have also been shown to present with bruising, such as deficiencies of factor XI, X, VII, II, and disorders of fibrinogen. Likewise, platelet function abnormalities present very similarly to VWD and require specialized laboratory evaluation.
Since both a bleeding disorder and inflicted trauma are possible in a child that presents with bruising, it is important to proceed with the evaluations for both with equal intensity, and provide a safety plan if necessary while the diagnoses are sorted out. The presence of a bleeding disorder does not rule out abuse. Therefore, those individuals with high-risk findings should be evaluated for inflicted trauma, even in the presence of a bleeding disorder.


References:
Bruising in Children: Practice Patterns of Pediatric Hematologists and Child Abuse Pediatricians. Jackson J, Miller M, Moffatt M, Carpenter S, Sherman A, Anderst J. Clin Pediatr 2014; 54: 563-569.

Patterns of Bruising in Preschool Children with Inherited Bleeding Disorders: a Longitudinal Study. Collins PW, Hamilton M, Dunstan FD, Maguire S, Nuttall DE, Liesner R, Thomas AE, Hanley J, Chalmers E, Blanchette V, Kemp AM. Arch Dis Child 2016; 102: 1110-1117

Patterns of Bruising in Preschool Children- A Longitudinal Study. Kemp AM, Dunstan F, Nuttall D, Hamilton M, Collins P, Maguire S. Arch Dis Child 2015; 100: 426-431.

Evaluation for Bleeding Disorders in Suspected Child Abuse. Anderst JD, Carpenter SL, Abshire TC. Pediatrics 2013; 131; e1314-e1322.