State-of-the-Art Pediatrics
October 2019
Fatal Attraction: Why Swallowing Tiny Magnets Can Have Dangerous Consequences for Children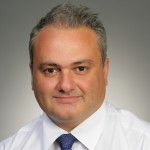 Author: Thomas M. Attard, MD, FAAP, FACG | Consultant in Gastroenterology | Medical Director, Gastroenterology Procedures | Director, Hereditary Polyposis Multidisciplinary Clinic | Professor of Pediatrics, UMKC School of Medicine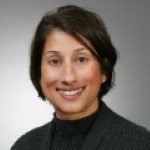 Column editor: Amita R. Amonker, MD | Pediatric Hospitalist | Assistant Professor of Pediatrics, UMKC School of Medicine

Several times a week, children present to the Emergency Department at Children's Mercy with a history of witnessed or suspected magnet ingestion. In some cases, on average once a week, what follows is radiologic confirmation and urgent endoscopy in an attempt at retrieval. Or, if delayed in presenting or symptomatic, either inpatient observation or laparoscopy and surgical removal of the potentially harmful objects.
Endoscopy in these circumstances is technically more difficult and more likely complicated. There is increased aspiration risk, bleeding and trauma inherent to removing embedded objects from the stomach in an inadequately preoperatively prepared patient. The risk of complications in these circumstances is unknown, but presumed significantly greater than routine diagnostic endoscopy.
Between 2002 and 2011, an estimated 16,386 children and adolescents were treated in hospital emergency departments in the United States for suspected magnet ingestions,1 with an over eightfold increase observed in the same period.2 Males younger than 5 years of age were at higher risk. Although there has been at least one reported mortality in the U.S.,3 the vast majority of patients (96%) were not admitted. Nevertheless, this is not altogether reassuring, as many of these patients require special observation even if at home with the consequent anxiety, disruption and cost borne by the parents. In addition, many of the patients require follow-up abdominal X-ray and additional primary care contact.
Legislative efforts by the Consumer Product Safety Commission (CPSC) to ban or limit children's access of rare-earth magnets through toys have been largely reversed; and the stronger, particularly dangerous magnets continue to be featured as candy-like magnetic beads in toys, as well as several kitchen gadgets.
Injuries related to the ingestion of magnets may include bowel obstructions and perforations, intestinal fistulas, volvulus, peritonitis, necrosis and sepsis. The mechanism is attraction between magnets and between magnets and metallic objects in different parts of the intestine, resulting in necrosis of the entrapped bowel wall and eventually fistula formation and peritonitis.
The symptoms of magnet ingestion complicated by fistula formation can be very subtle and nonspecific, more so in younger children and those with developmental delay who are at higher risk of ingestion of nonfood items in the first place. Perforation can, of course, present dramatically with peritonitic signs, but fistula formation may be a veritable diagnostic challenge as the magnets eventually join and are eliminated with stool. The persistent fistula can manifest with malabsorptive diarrhea, failure to thrive and intestinal ischemia from volvulus.
In the event of suspected or witnessed magnet ingestion, urgent referral to a local emergency department with pediatric gastroenterology and round-the-clock endoscopy support is warranted. The child should be immediately placed nil-by-mouth and, if possible, similar magnets to the one(s) ingested should be taken for comparison with X-ray visualized foreign bodies that will influence management.
What You Need to Know:
Talk to patients about magnet safety.4 As part of regular anticipatory guidance, discussions with patients and their parents should address safe toys and other household products. Pediatricians can discuss the serious health impact of ingesting magnets.
Adolescents should be informed of the serious dangers associated with using magnets to mimic piercings in their mouths, ears or noses.
Pediatricians who care for children with magnet-related injuries are encouraged to report the incidents to the CPSC.
​Know the symptoms of magnet ingestion. Early symptoms of magnet-related injury can be very nonspecific and pediatricians may include inquiry on the child's access to products with powerful magnets in clinic intake screening questions.
On Cyber Monday, Leading Pediatric Organizations Warn Parents Not to Buy Dangerous Magnet Sets (Joint AAP, NASPGHAN letter to CPSC).
Below, laparotomy correction of gastroenteric fistula associated with symptomatic delayed presentation of magnet ingestion.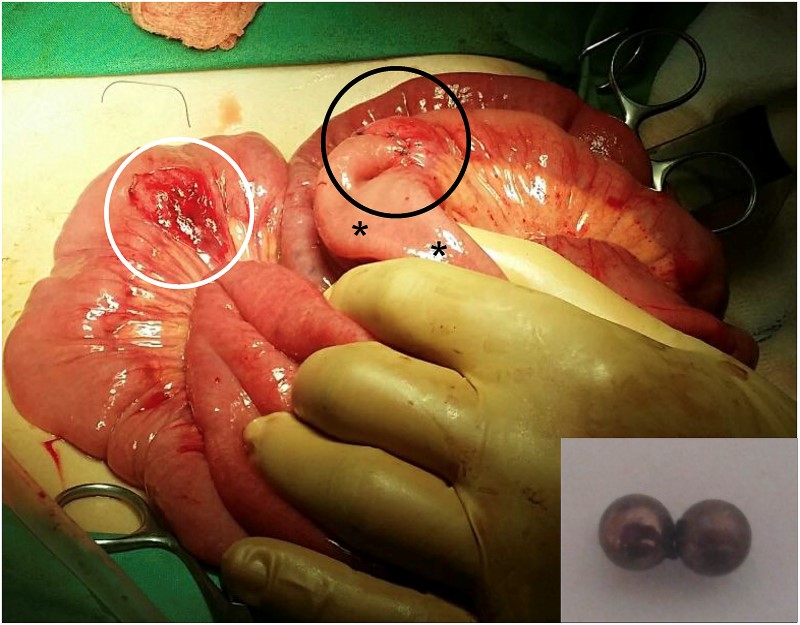 References
Magnet Ingestions in Children Presenting to U.S. Emergency Departments, 2002-2011. Abbas MI, Oliva-Hemker M, Choi J, Lustik M, Gilger MA, Noel RA, Schwarz K, Nylund CM. J Pediatr Gastroenterol Nutr. 2013 Jul; 57(1):18-22.
Increase in Pediatric Magnet-related Foreign Bodies Requiring Emergency Care. Silverman JA, Brown JC, Willis MM, Ebel BE. Ann Emerg Med. 2013 Dec; 62(6):604-608.e1.
Gastrointestinal Injuries from Magnet Ingestion in Children—United States, 2003-2006. Centers for Disease Control and Prevention (CDC). MMWR Morb Mortal Wkly Rep. 2006 Dec 8; 55(48):1296-300.
https://www.aap.org/en-us/advocacy-and-policy/federal-advocacy/Pages/AAP-Alerts-Pediatricians-to-Dangers-of-Magnet-Ingestions.aspx.