The Link: Special Issue
November 2020
Amid COVID Surges, Influenza Activity 2020-2021 Season Begins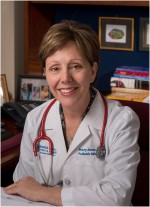 Mary Anne Jackson, MD | Interim Dean and Professor of Pediatrics - UMKC School of Medicine | Medical Editor, The Link Newsletter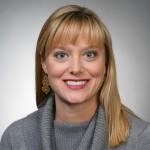 Angela Myers, MD | Director, Division of Infectious Diseases | Associate Director, Infectious Diseases Fellowship Program | Associate Professor of Pediatrics, UMKC School of Medicine


The Status of COVID


As of November 11, 2020, we are seeing hospital systems overwhelmed by the surge in COVID cases across the U.S. The Midwest continues to be the epicenter for surges and the entire state of Missouri has seen full ICUs, including in our local hospitals. The challenges we are seeing include insufficient ICU beds and PPE supplies, but most importantly, we are facing a shortage in nurses. The result will be that hospitals will be forced to shut down non-emergent surgeries again. While we have news that a vaccine may be ready to distribute in the coming weeks, we need to confront the situation that a vaccine solution is not going to be possible near soon enough to offset what we are facing in terms of COVID-19. On top of that, the influenza season is upon us.
Influenza is predictable in that disease occurs every year without fail. What is less predictable is the onset, duration and severity of infections. The effectiveness of a vaccine also varies year to year depending on whether the vaccine formulation has matched up well against the circulating viruses.
Onset of Influenza Season


Most of the time, influenza viruses start circulating around the holiday season to late December or early January. Less often, we see an early onset that begins in October or November.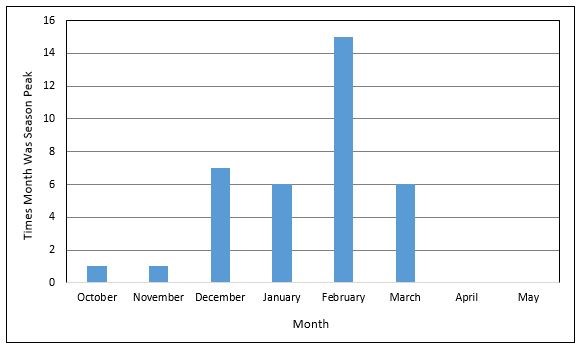 Peak and Duration of the Season


The peak of the season is typically in the month of February and the season lasts 12 or more weeks, usually ending in March or April; rarely extending out to May.
Influenza Surveillance


Influenza surveillance data is reported by the Centers for Disease Control (CDC) and here is an update for the week ending Oct. 31, 2020, which is week 44. Nationally, 1.3% of outpatient visits were due to influenza-like activity as reported by the U.S. Outpatient Influenza-like Illness Surveillance Network and is consistent with low-level activity. Amid all of the COVID-19 cases that continue to dominate across the U.S., two states reported influenza cases. Iowa reported moderate activity and Indiana recorded low levels of infection. This raises concern that influenza viruses will be more widely circulating in the coming weeks—and that we will not see the paucity of cases reported by countries in the southern hemisphere where recommendations for masking and distancing have been more widely followed. So far, the CDC has tested nearly 60,000 specimens and has identified 35 positives, 57% influenza A (50% each H1N1pdm09 and 50% H3N2) and 43% influenza B-all Victoria lineage—though in the last week, the majority of those tested were influenza B viruses.
Pediatric Influenza Deaths


During week 44 of this year, the CDC did record a pediatric death; the child died in January 2020. That brings the total deaths in children attributed to influenza for the last 2019-2020 influenza season to a total of 195 deaths, with 121 deaths caused by influenza B. This is quite unusual, but not surprising based on past experience. On average, there are 100 pediatrics deaths each year caused by influenza. Generally, influenza B cases occur late in the season and represent ~20% of cases, though up to 30% of deaths are due to influenza B. You may recall that last season, we saw an initial large peak in cases caused by influenza B viruses and the second later, and smaller peak, were due to influenza A H3N2 viruses. Influenza B has a predilection for severe disease in children and last year 61% of deaths were caused by influenza B. This is concerning as we see what appears to be the start of this season, and in the last week, an uptick in influenza B viruses. It is small numbers we are dealing with, but concerning, and underscores the importance of continuing to aggressively support influenza vaccine receipt for all who are 6 months of age and older.
Masks, Distance, Limiting Travel and Gatherings and Vaccine


There is no question that masks and distancing work to curb COVID-19 and that spread occurs in community venues where masks are removed for eating and drinking, either in restaurants or within family or other private friend gatherings. These mitigation strategies have effectively curbed the spread of other viruses in our community, including everything from enteroviruses to parainfluenza viruses. For those exposed to COVID-19, we need to continue to quarantine if anyone is unmasked, but newer data suggests the duration, if coupled with negative testing on days 1 and 7, can be shortened. Time will tell if the CDC and local and state health departments will use this data to revise quarantine recommendation in communities that have effectively controlled and reduced spread of SARS-CoV-2 infection. Bottom line, schools appear to be safe and not the source for community SARS CoV-2 transmission. A news release from Governor Parson's office allows for the following algorithm to be used for school exposures. As the positivity rate increases and hospitals are stressed, local public health and teacher response to these new guidelines need to be considered.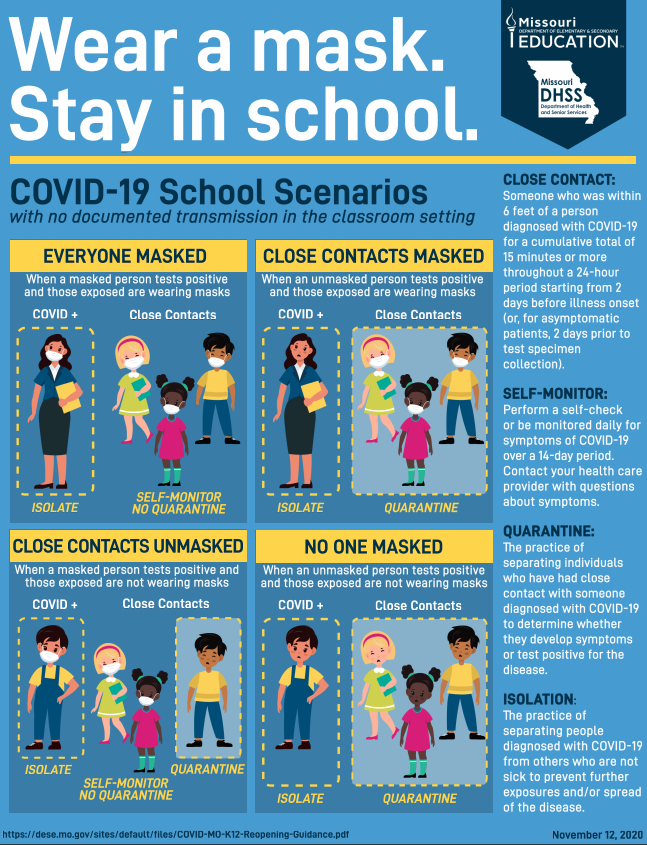 Testing capacity is still an issue, but newer platforms for testing (salivary, home tests) if they become more readily available, will also allow another means to promptly identify those who require isolation. Look for the microbiology departments at each institution to continually revise their options as each develops expertise with the new platforms.
How worried should we be about the current status of COVID coupled with an influenza outbreak?
In countries in the southern hemisphere, there has been extremely limited spread of influenza, owing greatly to their flattening the curve by effectively using masking and distancing. I predict that is not likely to be the case in the U.S., as widespread community spread continues. As the holidays approach, physicians and other members of our health care team need to step up messages to ensure that the general public hears and embraces basic recommendations to mask and avoid gathering in large numbers (e.g. >10). Look for restrictions in our community to be considered that would limit numbers of people inside establishments, and placing a curfew to close bars and restaurants at 10 p.m. In other communities where these simple measures have been implemented, there has been a rapid reduction in spread. Think about influenza as you see patients with febrile upper respiratory infection in the coming weeks. In the case of influenza, we have reliable and available testing, proven antiviral treatment and a safe and readily available vaccine that all 6 months and older should receive.
The first news regarding COVID vaccine effectiveness of the Pfizer vaccine is encouraging, but there are gaps in our knowledge and thus far, there has not yet been published scientific analysis of the data. Questions that remain include, most importantly, did the vaccine prevent serious disease and death, including in those with underlying conditions and in older age groups? We are getting close to identifying the first group to be immunized (likely health care workers), but the next 8 weeks are critical as widespread vaccine(s) coverage is not likely until April 2021. And finally, vaccines don't save lives, vaccination does—hopefully, we will see individuals who will accept and receive a safe and effective COVID vaccine once it is available.