The Link: Special Issue
May 29 2020
Multisystem Inflammatory Syndrome in Children (MIS-C)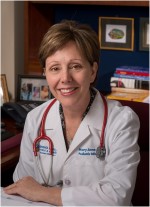 Mary Anne Jackson, MD |Dean and Professor of Pediatrics - UMKC School of Medicine | Medical Editor, The Link Newsletter
Multisystem Inflammatory Syndrome in Children (MIS-C) is an inflammatory response with organ dysfunction, thought to be triggered by prior exposure to SARS CoV-2. On May 14, 2020, the Centers for Disease Control issued a health advisory, to alert providers to this condition, which has now been identified in at least 19 different states and Washington D.C. They established the case definition that includes the following:
An individual aged <21 years presenting with fever**, laboratory evidence of inflammation, and evidence of clinically severe illness requiring hospitalization, with multisystem (>2) organ involvement (cardiac, renal, respiratory, hematologic, gastrointestinal, dermatologic or neurological); AND
No alternative for plausible diagnoses; AND
Positive for current or recent SARS-CoV-2 infection by RT-PCR, serology, or antigen test; or COVID-19 exposure within the 4 weeks prior to the onset of symptoms.
Nonspecific symptoms are present early on in the clinical presentation of MIS-C that may mimic a number of bacterial, viral, rickettsial and non-infectious etiologies.(Table 1) Conditions to consider include toxic shock syndrome and Kawasaki disease with or without shock presentation; and the tick-borne infections, Rocky Mountain Spotted Fever (RMSF) and ehrlichiosis. Drug reactions and measles may be considered in the setting of appropriate epidemiologic clues. Another rare, but potentially fatal disorder that can mimic MIS-C, is hemophagocytic lymphohistiocytosis. (HLH). HLH is caused by cytokine overproduction related to natural killer and cytotoxic T-cell dysregulation, and may be triggered by infections, malignancies or autoimmune diseases. Children may also present with fever and severe abdominal symptoms, mimicking gastroenteritis or appendicitis.
As we enter into the summer months, and while still under the veil of significant COVID-19 disease, providers must formulate a differential diagnosis in the child presenting with fever, particularly when associated with rash and/or mucous membrane changes; utilize clinical and laboratory clues to identify those with multi-organ dysfunction; initiate appropriate therapy; and consult with experts early on to achieve best patient outcomes.
Fever appears to be a presenting feature in all cases of MIS-C. The criteria for fever is any fever >38.0°C for ≥24 hours, or report of subjective fever lasting ≥24 hours. Most practitioners routinely encounter children with this degree of fever, the vast majority of whom do not have a serious condition. Most will recover without any treatment. The key to making the diagnosis of MIS-C requires providers to identify signs or symptoms that precede overt shock, and that would pinpoint any features of multi-organ involvement. Worrisome signs and symptoms in the setting of fever would include lethargy, tachycardia, prolonged capillary refill, weak peripheral pulses, cool extremities or decreased level of consciousness. Clinicians should also be aware that children with MIS-C may present with features similar to Kawasaki disease or with gastrointestinal symptoms.
The table included outlines clinical and laboratory features which may be used to formulate a differential diagnosis and provides the outline for the initial evaluation. CBC with differential, electrolytes, kidney and liver function tests, CRP, ESR and ferritin. Chest radiograph and echocardiogram should be obtained if concerned for respiratory or cardiac dysfunction. Infectious work-up should include blood cultures and bacterial cultures from any pertinent sites (e.g., urine, skin). Consideration should be given to obtaining PCR and/or antibody testing for SARS-CoV-2, as well as other respiratory viruses as indicated by epidemiologic clues. In tick-exposed patients, rickettsial serologies are not reliable in the acute febrile phase, and doxycycline should be initiated as soon as possible in all patients, regardless of patient age, for whom rickettsial disease is on the differential.
Prognosis for MIS-C is overall good, but depends on commencing the appropriate diagnostic evaluation and assuring access to appropriate supportive care. For other diagnostic mimickers, instituting empirical antimicrobials is crucial. Empiric antibiotics should be broad spectrum and focus on the potential that the patient has sepsis or another systemic infection. Appropriate therapy will target Staphylococcus aureus, Group A streptococcus, and rickettsial pathogens; vancomycin, doxycycline and cefepime provide good broad-spectrum coverage in critically ill patients. Decisions regarding immune globulin, corticosteroids, biologics, anticoagulation and other interventions for MIS-C should be made in concert with experts in pediatric infectious diseases, cardiology, rheumatology, hematology and critical care. So far, while more than 100 cases of MIS-C have been reported, we still have huge gaps in our knowledge that allow us to understand and better guide our care.
Table 1
Click here to download a PDF version