The Link: Special Issue
January 2020
Novel Coronavirus from China & Influenza Update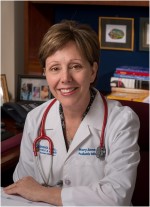 Mary Anne Jackson, MD | Interim Dean and Professor of Pediatrics - UMKC School of Medicine | Medical Editor, The Link Newsletter
Be Alert for a Novel Coronavirus from China
January 25, 2020 marks the Lunar New Year and you may encounter families who are returning from visiting Asia where families have participated in celebrations. Often, for those visiting friends or relatives outside of the U.S., the stays are longer, local foods are consumed and pre-travel vaccines (e.g., Japanese encephalitis, typhoid vaccines) and medications (e.g., malaria prophylaxis for some destinations) are less commonly accessed. So beyond the typical diseases one might consider in a febrile returning traveler, providers should be aware of the most recent disease alert that has emerged from China related to a pneumonia outbreak caused by a novel coronavirus (2019-nCoV). Chinese investigators have completed genetic sequencing of the implicated virus and the CDC now has a Real-time Reverse Transcription-Polymerase Chain Reaction (rRT-PCR) test for disease confirmation.
As of January 24, 2020, upwards of 1,000 individuals have been diagnosed with febrile respiratory disease during the COVID-19outbreak, which spread from China to an increasing number of countries in Asia. The first case identified in the United States was reported on Jan. 21, 2020 in a 30-year-old man who traveled from Wuhan to the Seattle community. A second case in the U.S. has been confirmed in a traveler arriving to Chicago and 50 individuals are under investigation who traveled into the U.S. from the COVID-19 epicenter.
The clinical triad of fever, respiratory symptoms and bilateral lung infiltrates has most commonly been reported. Ten percent of patients in the initial cohort have been critically ill, and most patients have had symptom onset within two weeks of exposure at the Wuhan South China Seafood Wholesale Market and Hua Nan Seafood Market, in Wuhan City. The seafood market, which was closed as of Jan. 1, 2020, sells a variety of wild animals including chickens, bats and marmots, as well as animal organs. Among those reported in the initial description of the outbreak were some dealers or vendors working in the seafood market.
Contact tracing, which has been ongoing for close contacts, initially suggested limited person-to-person spread. However, cases are now becoming more widespread and there have been cases both among close contacts and in health care workers.
The global community is on high alert and the U.S. is now limiting travel from Wuhan to five designated U.S. airports which will screen travelers on arrival. Those airports include San Francisco and JFK airports, which both receive direct flights, and LAX, Chicago O'Hare and Atlanta, which have indirect flights.
Health care providers need to consider the diagnosis of COVID-19 if one encounters a patient who has traveled to Wuhan, China, particularly within the prior two weeks and presents with respiratory symptoms. Strict infection control precautions are recommended for the patient, their family contacts and for health care workers. These should include contact and airborne safety measures. If the patient requires hospitalization, providers should call ahead before sending the patient and should notify the hospital infection control personnel and local health department immediately.
Influenza Update
As we entered the third week of January of the influenza season, activity continued to escalate locally, though there was a slight decrease in the total number of U.S. jurisdictions reporting high activity over the last two weeks. While B/Victoria viruses continue to account for the 57% of strains characterized, influenza A proportionately increased in week 2 of this year, and 93% are A(H1N1)pdm09 strains. Influenza A H3N2 strains continue to circulate at low levels.
The CDC estimates that 12 million Americans have had influenza illness, and there have been 120,000 hospitalizations. The highest risk for hospitalization has been among those with cardiovascular, lung or metabolic diseases. Thirty-nine children have died from influenza, 28 (71%) associated with influenza B. In a typical season, one-third of deaths are related to influenza B. The higher rate of B virus associated deaths in children this season relates to the fact that most individuals are susceptible to the circulating Victoria lineage strain, B strains have predominated since the season onset and B strains are known to cause severe disease in children. Among the pediatric deaths from this season, two-thirds of children who died were otherwise healthy, and 83% died from influenza pneumonia without a confirmed bacterial superinfection. In contrast, in most seasons where influenza A predominates, half of children who die have a co-morbid condition and half have a confirmed concurrent bacterial superinfection.