Outbreaks, Alerts and Hot Topics
March 2020
SARS-CoV-2 Update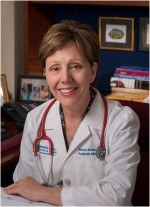 Mary Anne Jackson, MD | Interim Dean and Professor of Pediatrics - UMKC School of Medicine | Medical Editor, The Link Newsletter
Respiratory viruses commonly cause mild upper respiratory tract infections (URIs) which manifest as "cold symptoms." Less commonly, these same viruses cause moderate-to-severe disease, even pneumonia and death in vulnerable populations, e.g., the very young, the elderly and those with chronic medical conditions. Common causes of routine respiratory illnesses with year-round prevalence include rhinoviruses, causing mostly common colds; adenoviruses, causing pink eye and/or sore throats; and human coronaviruses (CoV), causing mostly common colds.
Seasonal viruses (those that have fairly discrete months in each year where prevalence is increased) include parainfluenza viruses, causing croup, laryngitis and URIs; respiratory syncytial virus (RSV), causing wheezing infection of small airways called bronchioles in infants/toddlers; enteroviruses (e.g., EV-D68); and influenza. The vast majority of respiratory virus-induced illnesses are self-limited and mild, consisting of fever, runny nose, sore throat and/or cough. Thus, most individuals with respiratory infections do not seek medical care.
Influenza as baseline for comparison. However, one seasonal virus in particular produces an outsized illness burden in infected individuals and for health delivery systems, i.e., influenza. Influenza more often causes intense symptoms, both systemically (high fever, body aches, prostration, headache) and locally in the respiratory tract (sore throat, cough, shortness of breath, and/or pneumonia), so health care utilization spikes parallel to influenza season each year. Further, influenza-related complications and deaths are more frequent in vulnerable populations with underlying medical conditions or who are older than 65 years. Around the world, each season, there are roughly 1 billion influenza cases and over one-half million deaths. Interestingly, while it is one of only two vaccine-preventable respiratory viral infections (besides measles), half of those eligible for vaccine choose not to be vaccinated each year in the U.S.
Remember lessons learned from the 2009 H1N1 pandemic. This pandemic first appeared in March 2009, but it was three months later before a pandemic was declared. Molecular tools for diagnosis were developed, but the volume of samples overwhelmed most labs initially. The volume of patients in emergency rooms, acute care clinics and physicians overwhelmed resources. Most cases proved to be mild with 1/400 requiring ICU care, and 1/2,000 dying. It took six months for a vaccine to become available. Between 4/2009 and 4/2010, 60 million cases occurred; 275,000 were hospitalized; and 12,500 deaths were attributed to this pandemic virus, with children and the working adult population (rather than the elderly) most impacted. Still, we were able to prepare and respond and care for patients with many of the same issues that are likely to occur with COVID-19.
COVID-19 versus other Severe Acute Respiratory Syndrome (SARS) viruses. This is the third described coronavirus that originated in an animal species and then evolved to infect humans. The first zoonotic coronavirus, now known as SARS-CoV-1, was recognized in Asia in 2003; the second, called Middle Eastern Respiratory Syndrome (MERS) virus, circulated in Saudi Arabia in 2012 (remember the camel association). Both of these previously emerged coronaviruses were associated with more severe respiratory disease and higher death rates than currently estimated rates for SARS-CoV-2, aka COVID-2019.
Why increasing concern over SARS-CoV-2?
This is a new virus, so no individual anywhere has any immunity to the virus, and all of us are susceptible to infection, if exposed to an infected individual.
Infected persons appear to be contagious during late stages of the incubation period before they know they are infected.
Because COVID-19 spreads person-to-person, the potential for transmission prior to appearance of symptoms reduces the chances that medical providers could prevent spread or prevent infection, even if an effective medication or a post-exposure vaccine were currently available. On March 11, the World Health Organization (WHO) declared the outbreak a pandemic, due to the widespread community-transmission of the disease.
The disease. Investigators are working as quickly as possible to characterize the disease, to define what treatment works best and to design measures to stop the spread of disease (mostly infection prevention strategies and social engineering (quarantine and organizational shut-downs).
What we do know is that the clinical symptoms look very much like influenza with fever, cough, headache, body aches, vomiting, diarrhea and fatigue being most common. The symptom that currently seems to best predict a complicated course is shortness of breath. This occurs in a small segment of COVID-19 infected patients, similar to influenza, and likely heralds the onset of a severe form of pneumonia.
Current numbers suggest more than 200,000 COVID-19 cases globally with more than 8,000 deaths (coronavirus.jhu.edu). Most of the deaths have occurred in the elderly or in those with chronic medical conditions. A piece of good news is that the virus currently appears to produce milder symptoms in children and, in fact, it is highly likely that a substantial proportion of the healthy population will have mild disease.
Because of limited testing resources that initially were directed at the most symptomatic patients, those with mild URI symptoms in otherwise healthy individuals who recovered after experiencing what looked like just a traditional common cold, were not even identified. Of note, the community-transmission of COVID-19 (no known direct contact with an infected individual) is now being recognized in many states. Public health officials from the state of Washington now suggest the viruses may have been circulating for at least six weeks. It is likely that the virus has been circulating elsewhere in the U.S., but has been unrecognized.
Travel information. The Department of State advises U.S. citizens to reconsider travel abroad at this time due to the global impact of COVID-19. The CDC has issued travel advisors for a multitude of countries, here, and recommends that travelers defer all cruise travel worldwide. This changes daily, so check the CDC website to see other locales where the recommendation is to POSTPONE travel to if one has an underlying medical condition or is over age of 65. Additional travel advisories will likely occur in coming weeks. Travelers returning from high-risk areas should self-quarantine for 14 days.
Before you seek care for possible COVID-19. Experts advise anyone who feels they need to seek care and they suspect they have COVID-19 should to call ahead to their primary care provider, particularly if within 14 days of high-risk travel or post-contact with confirmed SARS-CoV-2 infection. This is worth repeating. Anyone who feels they need to seek care and they suspect they have COVID-19 should to call ahead to their primary care provider. If it is felt that the urgent or emergent care is needed, the provider should call for a referral ahead of time This is absolutely necessary so that the practice, facility or emergency department can take appropriate infection-prevention precautions to protect others utilizing the same medical provider service. And keep in mind key symptoms include fever, cough or shortness of breath.
Most of those with confirmed/suspected COVID-19 can be managed successfully at home with supportive care. There is no specific COVID-19 treatment at this time and patients with mild symptoms do not require testing. For patients requiring the ED or Urgent Care at Children's Mercy due to severe symptoms, please first call your primary care provider who can call the hospital's COVID-19 Patient Testing Hotline at (913) 696-TEST (8378) prior to your arrival.
The devil we know. Lastly, also keep in mind, that amid public health concerns for SARS-CoV-2 (COVID-19) infections, influenza continues to dominate as the cause of febrile respiratory illnesses in the US with an estimated 29 million influenza illnesses, 280,000 hospitalizations and over 100 pediatric deaths so far. Influenza season is likely to persist for at least 3-4 more weeks. As influenza B detections are trending down, a second wave of influenza A (H1N1 strain) continues to circulate in our community. Although, based on weekly data from the microbiology laboratory, it appears to be declining as well.
Our advice for patients who are concerned about any respiratory virus infections includes good hand hygiene, staying home if you're sick, covering your cough (mouth in the inside crook of your elbow) and avoiding large gatherings if you are elderly or your immune system's competence is currently reduced by cancer or medications.
For pediatric office settings, here is information utilized when the 2009 H1N1 pandemic occurred. Actions you can take now include:
Have an infection control plan that is up to date.
Create an inventory of supplies and equipment related to PPE.
Provide reassurance and best information for families.
Ensure that the "worried well" know it is not necessary for them to seek care.

And that if you are well, wearing a mask in public is neither necessary nor effective.

Ensure the principles of telephone triage are maintained (see below).
Ensure adherence to routine infection control practices, including hand hygiene, gloves and face protection.
Communicate travel advisories and use questions related to travel in triaging.
Advise that most patients experience only mild illness and can be cared for at home. Families should know if/when they should access care.
Maintain respiratory etiquette stations for their families .
Ensure families know to call ahead of seeking care if their child has febrile URI.
Triage sick patients out of common waiting areas.

Consider seeing sick patients at end of day.
Make sure exam room doors are closed when patients are being seen.

Emphasize use of appropriate precautions, including masks and good hand hygiene for their personnel seeing patients.
Ensure surface and equipment cleaning be routine and occur immediately following the patient visit.
Collaborate with hospitals when referring patients who require urgent/emergent care, or hospitalization, and ensure calls are placed before referring patients for care.
Have a surge capacity plan.
Ensure timely updates on the pandemic situation for your office personnel.
The Minnesota Department of Health shared a script that could be used for physician offices during the H1N1 pandemic:
"During an influenza pandemic, clinic office telephone lines should be set for telephone triage in which the listener is provided updated information regarding the symptoms of the disease, what precautions to take, and directions on how to access additional information (i.e., hotline numbers, website information, etc.).
"Thank you for contacting (clinic name). Please understand that during a severe pandemic, hospital and clinic resources will be stretched beyond capacity and attention must be focused on those who are ill. As such, we ask for your cooperation and that you only remain on the line if you believe that you, or someone you are caring for, is in need of medical attention. Symptoms are similar to influenza and include fever, headache, muscle aches, weakness, and respiratory symptoms such as a cough, a sore throat, or difficulty breathing. The disease may be spread from person to person by means of inhaling infectious particles expelled when an infected individual talks, coughs or sneezes, or by touching an infected individual or a contaminated surface and subsequently touching your eyes, nose or mouth. Those at highest risk of becoming infected include the elderly, and those with underlying immunodeficiency or other medical ailments. The best methods to prevent the spread the disease include social distancing, proper hand hygiene, and covering your cough. Please refer to (website) or consult the CDC pandemic site for additional information regarding pandemic infections. If you are experiencing any of the symptoms previously mentioned, please remain on the line to speak to a clinic employee."
Other Phone triage tips included information related to:
Respiratory viruses are easily spread from person to person by coughing and sneezing or by touching your eyes, nose and mouth with hands that are contaminated with infected secretions.
Antibiotics won't help respiratory viruses. We will help you care for your symptoms and let you know if or when other treatment is needed.
Do your part to prevent the spread of viruses by making sure you are washing your hands, and covering your cough.
Patients with symptoms who need to be seen will be asked to wear a mask upon arrival at the clinic.