Pediatric Bioethics
June 2019
Highlights from the Vatican-Sponsored Conference on Perinatal Palliative Care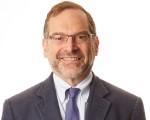 John D. Lantos, MD | Director of Pediatric Bioethics | Professor of Pediatrics, UMKC School of Medicine
On May 25 at the Vatican, Pope Francis gave a speech about advances in prenatal diagnosis, fetal therapy and perinatal palliative care. He discussed the ways in which advances in fetal therapy allow more accurate prenatal diagnoses of congenital anomalies than has ever before been possible. In spite of those advances, he noted, doctors are not always sure whether those prenatal diagnoses will lead to accurate prognostications of a baby's postnatal course. He wrote, "Each illness follows its own course and not even doctors can always know how it will evolve in each individual." The Pope expressed an appreciation of the fact that fetuses are now, "little patients who can often be treated with pharmacological, surgical, and emergency care."

He recognized that not all fetal disease can be treated. Some diseases are untreatable and the babies who have them will not survive. In such cases, he endorses "perinatal comfort care." He described such care as "an approach to care that humanizes medicine" by allowing "the little one to feel human warmth and love." He concluded that, "It is in taking care of these children that parents are helped to process their mourning and to comprehend it as not only loss, but also as a stage in a journey that will be traveled together. That child will remain in their lives forever. And they will have had the opportunity to love their child."

This remarkable affirmation of prenatal diagnosis, fetal therapy and perinatal palliative care came at the end of a conference entitled "Yes to Life! Taking care of the precious gift of life in its frailty."
(http://www.laityfamilylife.va/content/laityfamilylife/en/eventi/2019/yes-to-life-.html) The conference was organized by the Vatican's Dicastery for Laity, Family and Life and by a private organization named "Il Cuore in una Goccia" (A Heart in a Drop), a name drawn from a saying of Mother Theresa, who said, "We know only too well that what we are doing is nothing more than a drop in the ocean. But if the drop were not there, the ocean would be missing something."

The Pope's recommendations are harmonious with long-standing Catholic moral theology regarding the distinction between ordinary and extraordinary treatment. According to the Catechism of the Catholic Church, "Discontinuing medical procedures that are burdensome, dangerous, extraordinary, or disproportionate to the expected outcome can be legitimate; it is the refusal of 'over-zealous' treatment. Here one does not will to cause death; one's inability to impede it is merely accepted." (https://www.catholicnewsagency.com/news/pope-francis-abortion-is-never-the-answer-91636).

I was honored to be invited to speak at the conference. In my remarks, I reviewed the development of fetal medicine over the last 50 years. I talked about the ways in which our ability to diagnose fetal disease has changed our understanding of prenatal care. I spoke of our experience in building a Fetal Health Center at Children's Mercy. Our center embodies many of the ideals that Pope Francis articulated in his statement and that were central themes at the conference. Each family and each fetus is given a comprehensive diagnostic evaluation. Where therapies are available, they are offered. We discuss with parents the uncertainties of prenatal diagnosis. We usually defer making irreversible decisions until after the baby is born and postnatal diagnostic evaluations allow confirmation (or contradiction) of the prenatal diagnosis and prognosis. In many cases, our pediatric palliative care team is involved to help parents understand that, even when there are no curative treatments for their baby, we will always treat their baby with dignity and compassion.

Other speakers talked about the development of perinatal palliative care in Europe and Asia. Many of the speakers discussed the tension between our steadily growing abilities to diagnose fetal disease, and our continued inability to accurately predict which babies would survive and which would die.

There are over 300 perinatal palliative care programs in the world today. A few decades ago, there were none. Amy Kuebelbeck was one of the earliest proponents of such programs. She was at the conference and noted, "It was incredible to hear Pope Francis say the words perinatal hospice (actually, in Italian, "hospice perinatale"). I wish all of the medical professionals who have pioneered this care or who are now providing it could have been in the room too. Their cumulative work—along with the beautiful stories of many families—is inspiring people around the globe and helping more people than they may ever know." (https://www.facebook.com/permalink.php?id=356531287776279&story_fbid=2177111375718252).