Outbreaks, Alerts and Hot Topics
September 2019
Updates on Hepatitis A Vaccine Recommendations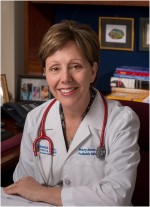 Mary Anne Jackson, MD | Interim Dean and Professor of Pediatrics - UMKC School of Medicine | Medical Editor, The Link Newsletter
There is new information on hepatitis A epidemiology and hepatitis A vaccine recommendations have been updated by the CDC's Advisory Committee on Immunization Practices. Hepatitis A virus (HAV) infection is characterized as highly contagious, associated with significant morbidity in adults, but is an asymptomatic infection in 70% of children, and it is vaccine preventable. Higher rates of infection have been reported among Hispanics; the highest rates were traditionally noted among children ages 5 to 14 years old. In contrast to hepatitis B virus, HAV does not cause chronic disease. Disease transmission occurs with ingestion of contaminated food and/or water, or by person-to-person contact.

Introduced and implemented into the routine vaccine schedule more than two decades ago, HAV vaccine was first targeted to at-risk individuals and children 12 to 23 months of age living in communities with highest risk. In 1999, recommendations were added for those with at least twice the national average risk, and to be considered for children living in states or counties with average risk. In the early 2000s, the recommendation for routine HAV vaccination was changed to include every infant at age 12 months. The outcome has been that the main driver for outbreaks is no longer children who are infected, but asymptomatic. Instead, unimmunized adults, particularly the homeless, are most at risk to become infected and to spread disease, but implementing HAV vaccine in this population is difficult. In addition, for those with HIV infection, HAV vaccine may not be protective, leading to a post-exposure recommendation to provide immune globulin prophylaxis in this population, regardless of vaccine history or immune status.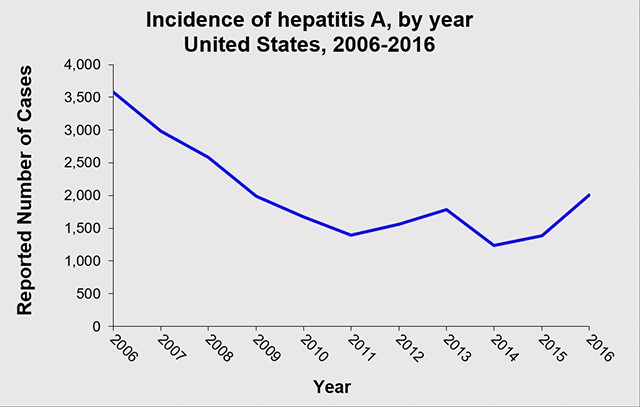 Since HAV vaccine first was introduced, a 95% reduction in cases has been reported. In 2011, the lowest number of cases were reported, only to see a slightly increased trend in 2012 and 2013, with 1,562 and 1,781 cases. Two outbreaks in 2015 were linked to imported foods, with a total of 4,000 cases reported.

With the first reports of hepatitis A community disease clusters emerging in 2016, there have now been more than 23,000 cases of community-acquired hepatitis A infection reported in 29 states, including Missouri. By comparison, in 2000, there were 14,000 cases of hepatitis A reported with periodic outbreaks noted. The CDC has now analyzed the most recent data and noted a 300% increase in infections in 2016 to 2018 compared to 2013 to 2015, describing the current situation as a multistate outbreak that exploded in 2018. Spread has been mostly person-to-person, mainly in homeless individuals, those who use drugs and contacts of these two groups. It is estimated that as many as 1.42 million persons have experienced homelessness in 2017 in the United States, and these individuals have shorter life expectancy, poor access to health care, delays in clinical presentations, greater use of acute hospital services and higher morbidities.

In the recent multistate outbreaks, over 50% of persons infected with HAV have required hospitalization, and more than 200 deaths have been reported. The case fatality rate is much higher than what has been reported in the past, likely related to a higher rate of underlying liver disease or other co-morbidities in the population infected with HAV. Most infected individuals in the most recent outbreaks, fall into five high-risk groups: drug-using individuals, the homeless, those recently incarcerated, men who have sex with men, and people with chronic liver disease.

Updated recommendations include the following and will become official with publication in MMWR, anticipated to occur any day now. These recommendations underscore the importance of all health care providers screening for at-risk patients, and providing vaccine.

1. All children ages 12 to 23 months should be immunized with a second dose. Dose #2 should be given after at least six calendar months following dose #1. "Catch up" immunization should be provided for all children through age 18 years who have not completed a two-dose series as soon as feasible.
a. Two doses of HAV vaccine may be administered for any older child, adolescent or adults.

2. Two doses of vaccine, with the second dose at least six calendar months after dose #1, should be administered for all individuals ages 1 year or older with HIV.

3. Administer two doses of vaccine with the second dose at least six calendar months after dose #1 for all at-risk individuals including:
a. Persons in contact with infected individuals, especially when oral-anal sexual contact occurs
b. Any traveler 6 months of age or older to countries with intermediate or high-risk endemicity (this includes basically any country except Canada, Japan, New Zealand, and Australia; most but not all countries in Europe are considered low risk)
c. Household members or close contacts of adopted children newly arriving to the U.S. from countries with intermediate or high-risk endemicity (recommended 2009)
d. Men who have sex with men
e. Persons who are users of injection and non-injection drugs
f. Persons who have clotting factor disorders
g. Persons working with nonhuman primates
h. Persons with underlying liver disease
i. Anyone ≥1 year of age experiencing homelessness (added February 2019)
Providers should be alert and consider the diagnosis of hepatitis A in any suspect patient who presents with jaundice, dark urine or clay-colored stools or compatible symptoms (nausea, vomiting, abdominal pain, fever, fatigue, anorexia, joint pain). In such cases, confirmation of the diagnosis is established by positive hepatitis A antibody by serology.
References
1. Recommendations of the Advisory Committee on Immunization Practices for Use of Hepatitis A Vaccine for Persons Experiencing Homelessness. MMWR, Feb. 15, Vol 68, #6.
2. https://www.cdc.gov/hepatitis/hav/havfaq.htm.