Outbreaks, Alerts and Hot Topics
October 2020
COVID Lessons Learned So Far and Looking Ahead at the Coming Influenza Season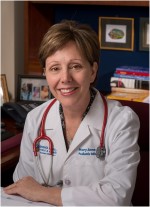 Mary Anne Jackson, MD | Dean and Professor of Pediatrics - UMKC School of Medicine | Medical Editor, The Link Newsletter
Child COVID Cases Leveling Off


A summary of national data demonstrates a leveling off of COVID cases in children who still represent only a fraction of those with severe infection requiring hospitalization. Looking at reports generated by state and local health departments (49 states including NYC, DC, Puerto Rico and Guam, but not New York state) through the week ending Sept. 10, there have been 549,432 child cases, accounting for 10% of all U.S. COVID cases (https://services.aap.org/en/pages/2019-novel-coronavirus-covid-19-infections/children-and-covid-19-state-level-data-report/ ).
Children nationally account for 1.7% of hospitalizations and 0.07% of deaths. Within the state of Missouri, more than a million individuals have been tested, including 83,494 children 0-17 years of age and 7.8% have tested positive. This is generally consistent with data from Children's Mercy, where approximately 5% of tests are positive in a cohort of more than 15,000 children. Among those hospitalized at Children's Mercy, most continue to have mild disease and short stays (<48 hours). We continue to see nationally and within the Kansas City community, a disproportionate number of Hispanic children who are hospitalized with COVID infection and who are diagnosed with MIS-C. Between 5/21 and 9/10, there have been 105 reported COVID-19-associated deaths; no child deaths have been reported in either Kansas or Missouri.


Hot Spots Continue to be Reported in Rural Counties


The number of cases in Missouri and Kansas continue to rise and multiple counties within the states are reported to be national "hot spots." Rural counties seem to be particularly hard hit and there are 20 counties currently in the red zone. Physicians practicing at hospitals in the central and south portions of Missouri have recently reported more inpatient COVID cases during September than they encountered in previous weeks of the pandemic. Shortages of PPE continue to be an issue.


The Upcoming Influenza Season


While influenza cases predictably occur every year, each season is unpredictable in terms of the time of onset (usually January, but can be as early as November), which virus(es) will circulate and the effectiveness of the seasonal vaccine. As we approach influenza season, it is important that our patients and their families know that COVID cases continue to challenge hospital systems, and morbidity and mortality from influenza is vaccine-preventable. Every year between 410,000 and 740,000 individuals are hospitalized with influenza and between 24,000 and 62,000 deaths occur. Children under the age of 5 years account for 7,000-26,000 of hospitalizations for seasonal influenza each year. Last season, when influenza B viruses predominated, children 4 and younger had the highest rates of hospitalization (80 per 100,000) ever recorded, and there were 187 child deaths. Last season, the CDC estimated that receipt of influenza vaccine (45% overall effectiveness) was associated with a 55% reduction in physician visits for children, and a reduction in need for pediatric intensive care by 74%. A four-year review of pediatric deaths demonstrated that receipt of vaccine resulted in a 50% reduction in death among those with underlying conditions, and a reduction of nearly two-thirds in children without high-risk conditions (https://pediatrics.aappublications.org/content/139/5/e20164244 ).
In the midst of the ongoing COVID pandemic, it is even more important than ever, that individuals receive the influenza vaccine this season. So far, what we know about the influenza season in the southern hemisphere where cases occur March through July, is that activity is at much lower levels than normally seen. Based on testing by World Health Organization laboratories, 56% of influenza isolates tested were influenza A H3N2 viruses, and 44% were influenza B viruses, including both B-Yamagata and B-Victoria lineage. Higher than normal rates of influenza vaccination have been reported in southern hemisphere countries, and country-wide community mask and social distancing to reduce SARS-CoV-2 transmission, appears to be reducing influenza transmission. The other piece of good news is that the southern hemisphere countries are also reporting a reduction in other viruses, including RSV.


COVID Vaccine Considerations


Messaging for our patients should include a reinforcement of the need for our SARS-CoV-2 mitigation strategies to mask, socially distance and avoid high-risk activities. Also, as you recommend influenza vaccine to all 6 months of age and older, reinforce that the United States has developed a robust system to ensure vaccines are safe and effective. The system that we utilize assures us that vaccines are more adequately tested and validated than that for any other medicine we prescribe. And if you are asked about COVID vaccine, acknowledge that the development has been accelerated; however, the process retains the key safeguards that are necessary. What is important now is that as we complete the Phase 3 trials. It is crucial that the results of the trials are transparently shared and that we are confident these show the vaccine(s) to be safe and effective before the vaccine is licensed and implemented. Vaccine developers are committed to ensuring we get to the finish line by meticulously sticking to the standards we know. Without the trust that the standards are followed, we may have a vaccine, but we will not have an immunized population. Lastly, let parents know that children have not been included in COVID vaccines trials to date and once available, the vaccine strategy will be to target adults who are at highest risk for severe infections.