Outbreaks, Alerts and Hot Topics
October 2019
The Latest on Vaping-Associated Lung Injury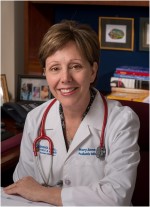 Mary Anne Jackson, MD | Interim Dean and Professor of Pediatrics - UMKC School of Medicine | Medical Editor, The Link Newsletter
First produced in China in 2003, e-cigarettes rapidly became available globally and use increased as products were touted as safe alternatives to combustible cigarettes. Consumer use of e-cigarettes between 2009 to 2010 increased, from 0.6% to 2.7% of adults who said that they had tried such products. A four-country (U.K., U.S., Canada and Australia) survey of e-cigarette use published in 2013 showed nearly 50% of 5,939 respondents were aware of e-cigarettes, and 7.6% had tried them. A CDC report in September 2013 reported a doubling of use among middle and high school students, with an estimate that 1.78 million students had tried e-cigarettes by the end of 2012. In a recent survey, 20.8% of high schoolers and 4.9% of middle schoolers in the U.S. reported e-cigarette use in the past 30 days (Expert Review of Respiratory Medicine 2019, 13(5):403-405).
Concerns related to the safety of e-cigarettes have been raised for several years by multiple agencies. The International Union Against Tuberculosis and Lung Disease published a position statement in 2013 strongly supporting regulation of the manufacture, marketing and sales of e-cigarettes, as safety of such products had not been demonstrated (Am J Respir Crit Care Med. 2014 Sep 15;190(6):611-8. doi: 10.1164/rccm.201407-1198PP).
The Forum of International Respiratory Societies in 2014, published a health alert regarding electronic nicotine delivery devices citing the lack of safety studies, the potential health risks to users, and the potential for adverse effects to non-smokers related to emissions from e-cigarettes (Am J Respir Crit Care Med. 2014 Sep 15;190(6):611-8. doi: 10.1164/rccm.201407-1198PP).
In 2016, Vivek Murthy, the U.S. Surgeon General, published a report on use patterns, and health effects of e-cigarettes. E-cigarette use among youth and young adults was identified as a major public health concern. He noted that the potential for harm due to exposure to heated and aerosolized liquids in e-cigarettes was not clearly understood (https://www.cdc.gov/tobacco/data_statistics/sgr/e-cigarettes/pdfs/2016_sgr_entire_report_508.pdf).
Flavorings, chemicals and other substances, including marijuana, are reported additions to these products. One of the first studies to investigate the potential for inflammatory lung disease related to vapors produced by e-cigarettes was published in 2015 (PLoS One. 2015; 10(2): e0116732). Cinnamon-flavored e-liquid in this mouse model study was associated with cellular toxicity, and the role of propylene glycol was outlined as a potential to enhance the exposure of toxins into lung tissue.
Other substances, including heavy metals (aluminum, copper, magnesium, zinc, chromium, manganese, lead and nickel), volatile organic products or modifications of e-cigarettes to include illicit "street" compounds, additionally have the potential to facilitate lung injury.
While most pods or cartridges are single-use, the products can be refilled and this modification has been raised as a potential for harm. The process of "dripping" refers to directly dropping e-cigarette liquid substances onto the hot coils of the e-cigarette to increase the concentration of the product. "Dabbing" refers to the process where superheated substances are added. Both of these modifying additions have potential to promote lung injury.
Symptoms of vaping-associated lung injury generally evolve over days and most commonly include shortness of breath, chest pain, cough, and may be preceded by gastrointestinal symptoms or include other non-specific symptoms including fatigue, fever or weight loss. Recurrent right side spontaneous pneumothorax has been reported in an adolescent, which each time followed vaping (J Med Case Rep. 2019; 13: 283).
Radiologic descriptions are variable and the types of respiratory support requirements have ranged from supplemental oxygen to ventilator support. Corticosteroids and antibiotics have been the most commonly utilized therapeutically, with inconsistent response.
Providers are encouraged to consider a wide range of infectious, rheumatologic and neoplastic conditions in the differential diagnosis, if faced with a patient presenting with respiratory symptoms in the setting of a vaping exposure and to include consultation from specialists in pulmonary medicine, infectious diseases and medical toxicology. Additional testing, including bronchoalveolar lavage and lung biopsy, should be considered as the diagnosis of lipoid pneumonia has been confirmed in some exposed patients.
The current case definition requires history of respiratory illness and use of e-cigarette products within 90 days of presentation. Providers should focus on documentation of the following details:
Product use of additional substances, including nicotine, cannabinoids, flavors or other substances
The source of the liquids as commercially available pods, bottles or cartridges
Whether any homemade liquids were used
Whether there was re-use of the old cartridges or pods
The specific brand name and manufacturer of the product; product name, model and serial number of the product, device or e-liquid
If the device was modified by the user (including exposure of the atomizer or heating coil)
Site of product purchase
Whether the substance used was aerosolized, dabbed or dripped
Whether the individual had shared the product with others
Local or state health departments should be notified to report possible cases (VapingAssocIllness@cdc.gov). If there is product remaining, these should be submitted for testing. Include both the device and liquid.
An investigation into the national outbreak of severe acute respiratory illness associated with e-cigarette use or vaping by the Centers for Disease Control and Prevention is ongoing. The summary of data collected from 805 cases submitted by 46 state health departments and one territorial health department was released on Sept. 27, 2019 and details patient and illness characteristics along with specific patterns of e-cigarette or vaping product use.
Vaping-associated respiratory illnesses occurred most commonly in males in the age range of 18-24 years (median age 23 years), 91% of whom were hospitalized, and 12 deaths were confirmed (median age 50 years). Tetrahydrocannabinol was used in 76.9% of vaping or e-cigarette products, although a specific chemical exposure causing the outbreak could not be defined. https://www.cdc.gov/mmwr/volumes/68/wr/mm6839e1.htm?s_cid=mm6839e1_e&deliveryName=USCDC_921-DM9775.
Clinicians should warn youth, teens, pregnant women and adults who've not previously used nicotine products to never use e-cigarettes, and also counsel current users not to obtain products off the street or to modify or add other substances to the product.