Outbreaks, Alerts and Hot Topics
November 2019
Reported Pertussis Cases Down Slightly in 2018, but We Still Have Work to Do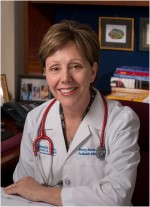 Mary Anne Jackson, MD | Interim Dean and Professor of Pediatrics - UMKC School of Medicine | Medical Editor, The Link Newsletter
The 2018 CDC pertussis surveillance reports the lowest number of U.S. pertussis cases in the last five years; still there were 13,439 cases reported. There are several reasons why we will continue to see cases of whooping cough in our practice. The current vaccine does not confer optimal long-term coverage for all age groups, and while vaccine reformulation may be the hope for the future, it is likely years away. The strategy to protect our youngest patients, maternal Tdap vaccination, is underutilized and pediatric providers can play a role in promoting and educating pregnant women about the importance of Tdap vaccine during pregnancy.
Whooping cough or pertussis is a highly contagious infection caused by the bacterial pathogen, Bordetella pertussis. More than 80% of susceptible individuals will develop infection following exposure, and there is a continual population of susceptibles as natural infection does not confer life-long immunity, there are communities where unvaccinated individuals cluster, and a population of individuals with waning immunity. Cases of pertussis have been tracked at Children's Mercy since 1984, and we continue to diagnose a case every one to two weeks every year (Table).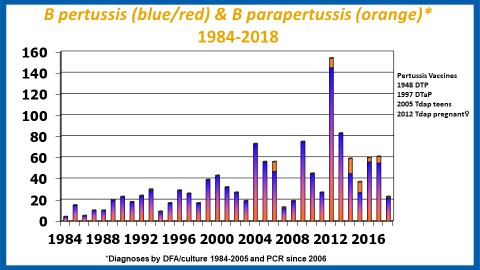 Pertussis has a classic presentation that includes three stages of disease. The total duration of symptoms often lasts three months. The incubation period is one to two weeks, but can be as short as four days and as long as six weeks. Common cold type symptoms without fever are seen in the catarrhal stage and typically last one to two weeks before the onset of the second stage of disease that is characterized by paroxysms of cough. Transmission is greatest during the catarrhal stage and continues through the early part of the paroxysmal stage, and lasts up to three weeks. Treatment of pertussis includes macrolide therapy, but unless instituted in the first week of illness, there is no impact on the clinical course of the patient.
During the paroxysmal stage of disease, which lasts four to six weeks, the infected patient has upward of 15 to 20 bouts of paroxysmal coughing each day. Each coughing spell is generally followed by vomiting, or choking, and ends with the classical whoop. However, in between coughing paroxysms, the vast majority of patients have a deceptively well appearance.
Complications of pertussis that are seen in the paroxysmal stage include apnea, pneumonia, respiratory failure, pulmonary hypertension and encephalopathy. For younger infants, apnea which is reported in one of every three may be associated with seizures, and is often the trigger for hospitalization. More than 40% of infants 6 months of age and younger, with pertussis in 2018 were hospitalized (https://www.cdc.gov/pertussis/downloads/pertuss-surv-report-2018-508.pdf) and young infants, especially those born preterm, continue to suffer the greatest morbidity from disease.
A recent review of clinical features of whooping cough in a cohort of 247 cases (82% less than age 6 months) diagnosed between January 2013 and December 2014, identified severe disease in 13 cases. Characteristics of those with severe disease included less than 3 months of age, unvaccinated status, a history of exposure, and the presence of fever, pulmonary infiltrates and lymphocytic leukocytosis; three (1.2%) died (Zhonghua Er Ke Za Zhi. 2015 Sep;53(9):684-9.) While the majority of patients do recover, for those with severe disease, hospitalization averages 13 days.
The current vaccines provide ~85% effectiveness, but immunity wanes over time. An effective whole cell pertussis vaccine was introduced in the early 1940s, with vaccine effectiveness estimated to be 90%. After introduction of whole cell DTP vaccine, the incidence of disease declined steadily over four decades. Acellular pertussis vaccine was introduced in 1997 as a vaccine product with fewer adverse events. A systematic literature review concluded that the average duration of vaccine protection after DTaP vaccine, which has an estimated vaccine effectiveness of 85%, is three years. Waning immunity is such that most 10-year-olds who have had their last prior vaccine at age 4 to 6 years, would be susceptible to infection (Pediatrics February 2015, 135 (2) 331-343).
Classical disease is relatively easy to identify, if a classic paroxysm of cough followed by whoop is witnessed by the clinician. But, pertussis is often mild in teens and adults so infection may not be recognized or diagnosed, and the burden of disease is greatest in this population. In contrast to the typical clinical presentation in younger patients, adolescents and adults may more likely have mild respiratory disease with cough that is not distinctive from other respiratory pathogens, including most respiratory viruses. Given the high burden of disease in the teen and young adult population, and that epidemiologic evidence suggests that many infant cases are attributable to exposure to these household contacts, Tdap vaccine for teens was introduced in 2005 and has also been recommended for adult caretakers of young infants.
Maternal Tdap immunization between 27 to 36 weeks of gestation clearly has the most benefit in prevention of severe pertussis and pertussis deaths in infants. Reimmunization, recommended for all subsequent pregnancies, has been recommended since 2012. A recent survey of Tdap vaccine coverage in pregnant women in 16 states and New York City showed variability in vaccine coverage among different demographic groups that ranged from 38% in New York City, to 77% in Nebraska, with a median of 55% who received Tdap vaccine as recommended. However, the vast majority had not received vaccine during pregnancy as recommended, and 20% did not know their vaccine status.