Outbreaks, Alerts and Hot Topics
December 2019
More on Measles ...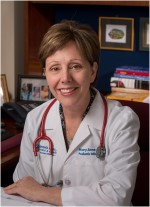 Mary Anne Jackson, MD | Interim Dean and Professor of Pediatrics - UMKC School of Medicine | Medical Editor, The Link Newsletter
As of Oct. 3, 2019, more than 1,250 cases of measles, a 25-year high, had been reported in the United States, placing us on the brink of losing our measles elimination status. Cases were reported in 31 states during 2019, including Missouri. Seventy-five percent of those cases were linked to the New York communities and involved Rockland, Orange, Sullivan and Westchester counties, with a total of 406 cases confirmed over the last year. In response to the New York outbreak, more than 85,000 MMR vaccines were given, and in June 2019, non-medical exemptions were removed from the school vaccination requirements. While the New York state outbreak in Rockland County was declared over on Oct. 3, 2019, a second outbreak elsewhere in New York state is currently under investigation.
There are certain common denominators in the surge in cases we've seen this past year. Most cases in the U.S. have occurred in unvaccinated individuals. Most are related to travel internationally to countries where large measles outbreaks are occurring (e.g., Ukraine, Israel and the Philippines) and many involve communities where unvaccinated people tend to reside closely, attend religious services, or socialize together.
Pockets of unimmunized individuals are identified across the U.S. While 2017 CDC-reported vaccine coverage rates for ≥1 MMR vaccine were 91.5% for children in the 19- to 35-month age range, many states had rates below this metric. This includes Missouri and Kansas, where 85.8% of Missouri children and 89.8% of 19- to 35-month-olds in Kansas were immunized with at least one MMR vaccine.
MMR vaccine is effective. One MMR vaccine confers protection in 95% of individuals and two vaccines increases protection to 97%. But, to maintain herd immunity, 92 to 95% of a population needs to be vaccinated. The image below illustrates herd immunity impact in the situation of a highly immunized versus underimmunized population. When so-called "holes in immunity" occur because of even slight decreases in coverage, outbreaks will occur and will be difficult to contain. We know for every case of highly contagious measles that occurs, there will be 18 secondary cases.
Children who develop measles have prodromal high fever and accompanying respiratory symptoms for three to four days until onset of rash, and are contagious for this period and for four days after onset of rash. Complications occur in one-third of cases, especially in those less than 5 years of age and pregnant women. Significant gastrointestinal involvement with diarrhea that can be severe occurs in 8% of patients; otitis media in 7%; and pneumonia, which is the most common cause of measles-related death, occurs in 6% of cases.
Two of the most severe complications are neurologic in nature, with one occurring during infection, and a second as a late-stage complication. Encephalitis occurs in 1:1,000 cases. Survivors often have sequelae and the reported case fatality rate is 15%. Subacute sclerosing panencephalitis (SSPE) occurs rarely, but is a devastating late complication of measles where mutant measles virus persists, and evades cell-mediated immunity in the brain. This leads to a progressive, fatal demyelinating condition, with onset five to 10 years after recovery from measles infection. Beginning with subtle behavior changes, this disease progresses over months to myoclonus, seizures, loss of vision and impaired cognitive function, with death within one to three years. Confirm the diagnosis by demonstration of high titers of measles antibody in the serum and cerebrospinal fluid.
Pregnant women who develop measles are at risk for miscarriage, stillbirth, premature labor, and low birth-weight infants. In April 2019, ACOG released a practice advisory that outlined management guidelines based on a University of Washington consensus statement and algorithm to inform care for pregnant patients living in, or traveling to areas with active outbreaks. https://www.acog.org/Clinical-Guidance-and-Publications/Practice-Advisories/Management-of-Pregnant-and-Reproductive-Age-Women-during-a-Measles-Outbreak?IsMobileSet=false
A recent publication by Mina, et al., sheds light on the finding that not only are 100,000 annual measles deaths globally directly related to the viral infection, but "immune amnesia" that follows measles virus infection likely accounts for the many cases of secondary infection-related deaths.
These data confirm that even following recovery from measles virus infection, children lose between 11 to 73% of infection, or immunization-induced antibodies. This likely explains why globally, so many children die of measles. The antibody loss likely explains deaths due to pneumococcal infection or influenza that follows measles virus infection, and is additional evidence for the importance of vaccine protection for this potentially devastating viral infection (Science 01 Nov 2019: Vol 366 (6465), pp 599-606).
Assume 1,000 people are exposed to measles, and that 93% of the population is immunized. Among those immunized, 25 children will develop measles and in the underimmunized children, 63 will develop measles. Now assume that within another 1,000 people, 80% of the population is immunized. In this case where coverage dips below that where herd immunity is protective, 22 who are immunized will develop measles, and 180 in the unimmunized population. Given that an additional 18 secondary cases occur for every case, public health and the medical community are now confronted with great difficulty in bringing that outbreak under control.
So as we ensure that all vaccinations are given, add a discussion about immune amnesia as we present to parents how vaccinations protect the individual child, and the community around them.