Outbreaks, Alerts and Hot Topics
December 2019
Puppies the Source of Drug-Resistant Campylobacter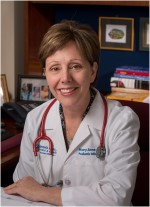 Mary Anne Jackson, MD | Interim Dean and Professor of Pediatrics - UMKC School of Medicine | Medical Editor, The Link Newsletter
The Newest Outbreak
The CDC announced on Dec. 17, 2019, that an investigation of a multistate outbreak of Campylobacter jejuni infections has been launched. So far, 30 cases (plus an additional eight cases where nonculture-based testing was positive) in 13 states have been reported since Jan. 1, 2019. Ownership of a puppy purchased at Petland stores was confirmed in 80% of cases; 12 cases occurred in individuals who worked at Petland. Clinicians should be alert to the possibility of similar cases occurring with this new outbreak, especially as we wrap up the holidays where puppies may have been purchased for gifts.
Whole genome sequencing confirms that all strains from this most recent outbreak are genetically related to a 2016-2018 outbreak that was also linked to puppies purchased at Petland stores. In that outbreak, which was first reported Sept. 15, 2016 and continued through Jan. 7, 2018, 113 cases of Campylobacter jejuni infections were reported, and virtually all isolates demonstrated multi-drug resistance. Ultimately, cases were reported in 17 states, including Missouri and Kansas, and 23 individuals were hospitalized. There was not a common breeder or
supplier identified in the outbreak. Those infected had been exposed to different breeds of puppies, so it was suspected that puppies had been infected during transport to different pet store locations.
Similar to the 2016-2018 outbreak, susceptibility testing of the recent strains reveals resistance to azithromycin (90%), ciprofloxacin (96%), clindamycin (90%), erythromycin (90%), nalidixic acid (96%), telithromycin
(90%), gentamicin (70%) and tetracycline (100%). A puppy pet store study was initiated and found that among 149 puppies, 95% of the puppies had received one or more courses of antibiotics before reaching the pet stores. Those antibiotics included metronidazole, sulfadimethoxine, doxycycline and azithromycin.
Physicians should note that Campylobacter are inherently resistant to penicillins, amoxicillin-clavulanate, cephalosporins, metronidazole and trimethoprim-sulfamethoxazole.
Clinical Presentation
Infected individuals in the most recent outbreak range in age from 8 months to 70 years. Bloody mucoid diarrhea is the common clinical presentation, while dehydration is the most common complication that may prompt hospitalization. Usually in cases where a new infected puppy comes into a home, clinical symptoms follow two to five days after exposure. Symptoms typically last five to seven days.
Etiologic Diagnosis
If clinicians identify patients with diarrhea, history can often narrow the differential diagnosis. Clues to diagnosis include the character of the stool, presence of blood (Salmonella, Shigella, Yersinia, Campylobacter, shiga-toxin producing Escherichia coli), frequency and duration of symptoms, whether abdominal pain is present and presence and height of fever. Review the patient's exposure to daycare, food history, recreational water exposure (Giardia, cryptosporidia), travel, antibiotic exposure (Clostridioides difficile) and exposure to puppies, cats or reptiles (Salmonella). In cases where the patient has fever, bloody diarrhea and abdominal pain and there has been exposure to puppies, particularly if purchased at Petland, a stool culture should be obtained, and susceptibility testing should be performed. Neither Campylobacter antigen testing nor multiplex stool PCR allow for susceptibility testing, which is necessary in such cases.
Treatment
Clinicians should know that supportive care, including rehydration and attention to electrolyte dysfunction, is sufficient in most patients. Treatment should be considered for those requiring hospitalization, especially infants and young children, senior adults, pregnant women and those with an immunocompromising condition. Based on the prevailing susceptibility data, intravenous meropenem is the drug of choice for empiric therapy while awaiting results of stool culture and susceptibility data.
Prevention
For those families considering a new puppy, when visiting an adoption center or a pet store, asking about handwashing, how the animal areas are cleaned and what protective equipment is used for employees is recommended. The CDC suggests that looking for a bright, alert, playful puppy should be encouraged, but that even those that appear healthy could be infected. Handwashing with soap and water after puppy play, after handling their food, and after cleaning up after accidents (with water and bleach solutions) should be performed routinely.