Outbreaks, Alerts and Hot Topics
April 2019
Current Outbreaks Place Children at Risk
Mary Anne Jackson, MD | Interim Dean - UMKC School of Medicine | Medical Editor, The Link Newsletter
1. Influenza
The good news is that this influenza season is winding down. Outpatient visits for influenza-like illness (ILI) remain above the national baseline for all 10 regions, as of the first week of April. The cumulative burden of influenza estimated by the CDC since Oct. 1, 2018 includes 38 million influenza illnesses, 17.8 million medical visits, approximately 500,000 hospitalizations and 30,000-50,000 deaths.
Twenty-five states still report moderate or high ILI activity and disease is widespread in 33 states, including Missouri. Hospitalization rates overall are 56/100,000 population but the highest rates were in >65-year-olds, 50-64-year-olds and 0-4-year-olds (181, 72, and 66/100,000 population respectively). Ninety percent of hospitalized adults have an underlying condition, either metabolic disease, cardiovascular disease or obesity. In contrast, only half of hospitalized children have an underlying condition and asthma is most frequently reported.
On average, 100 child deaths from influenza occur each year and this year, 82 children have died, with most - nearly 70% - occurring in 2-11-year-olds. Fifty percent of children who have died from influenza have no risk factors for severe influenza disease. Typically, most have not received the influenza vaccine.
Influenza seasons typically last between 11 and 20 weeks. This season, we are 20 weeks into the outbreak and there has not been the typical influenza B wave we usually see at the tail end of the season. Influenza A strains continue to predominate; and while influenza A H1N1 predominated early in the season, an increasing proportion of disease currently is A H3N2-related. Because influenza A H3N2 strains notably cause more severe disease particularly in those 65 years and older, the CDC issued a March 28, 2019 health advisory. The alert includes recommendations to continue to consider influenza in the differential diagnosis for all patients with febrile respiratory illness. In patients with fever, chills, myalgia and cough, influenza remains a likely diagnosis and results of rapid tests for influenza may be negative if collected beyond three to four days of illness.
Prescribe antivirals for those who require hospitalization, those with progressive illness, and for those who develop pneumonia. Influenza patients at high risk for complications should also be treated with antivirals regardless of whether they require hospitalization. This includes those who are immunocompromised, adults older than 65 years, children younger than 2 years, those with certain chronic underlying conditions,1 pregnant or postpartum women (within two weeks of delivery) and residents of chronic care facilities.
2. Salmonella typhimurium infections
There is a national outbreak of salmonellosis linked to ownership of pet hedgehogs. So far, cases have been reported in 11 states, including Missouri; median age of those infected is 13 years (range 2 years to 95 years). Two individuals have been hospitalized. A common source supplier has not been pinpointed as of yet.
Larry Pickering, et al., described the infectious risks to children related to ownership of a nontraditional pet and or exposure to such animals in public settings. In a Committee on Infectious Diseases paper published in 2003, nontraditional pets were described as amphibians, fish, wildlife mammals, domesticated livestock, weasels, lagomorphs, rodents, feral animals and reptiles. Such pets were noted often imported to the U.S. and subsequently distributed by pet stores or are privately sold.
More than a million Salmonella illnesses are reported annually in the U.S. While contaminated food is the source in the majority, infection transmitted via pet reptiles (turtles, lizards, snakes), amphibians (frogs and salamanders), poultry (chicks, ducklings, geese, turkeys), rodents (mice, rats, hamsters, guinea pigs), and farm animals (goats, calves, cows, sheep and pigs) is well described - and most animals are asymptomatic carriers. There is increased risk for Salmonella to cause meningitis in children and infants under 1 year of age. Hedgehogs are just the most recent to make the headlines, and another reason for pediatricians to discuss pet ownership with their patients.
3. Measles
Since Jan. 1, 2019, there have been 465 measles cases reported in 19 states, including Missouri. On April 9, New York City Mayor De Blasio announced a public health emergency, noting 285 measles cases since October 2018. Those infected range in age from 1 month to 66 years - and over 90% of cases are in children. The index case was an unimmunized child who acquired the disease in Israel before returning to the U.S.
Because of the high contagion, 90% of susceptible individuals will develop measles if exposed. When vaccine coverage rates dip below 92%, measles spreads easily and containing the outbreak is difficult. Spread is inevitable to vulnerable patients, especially those less than 1 year old or immunocompromised, in whom complications including pneumonia and encephalitis are most common. Subacute sclerosing panencephalitis (SSPE), which has a routinely fatal outcome, occurs in ~1/600 measles infections at less than 1 year of age. SSPE symptom onset follows 5-10 years after measles infection. Patients initially develop subtle symptoms, then myoclonic jerks followed by cognitive decline, vision loss and progression to a vegetative state with death within three years.
The standard vaccine schedule is 97% protective and includes two doses of measles vaccine: at age 12 months and 4-6 years old. An accelerated schedule can be used during outbreaks and should be utilized for infants and children traveling internationally.
Current outbreaks of measles throughout the U.S. have been fueled by declining MMR vaccine coverage. Metropolitan cities where more than 400 kindergartners are not immunized because of nonmedical exemptions have been identified as "hot spots" for the spread of measles. Those cities at risk for measles outbreaks include Kansas City, Mo., as well as Seattle, Wash., Spokane, Wash., Portland, Ore., Phoenix, Ariz., Salt Lake City, Utah, Provo, Utah, Houston, Texas, Fort Worth, Texas, Plano, Texas, Austin, Texas, Troy, Mich., Warren, Mich., and Detroit, Mich.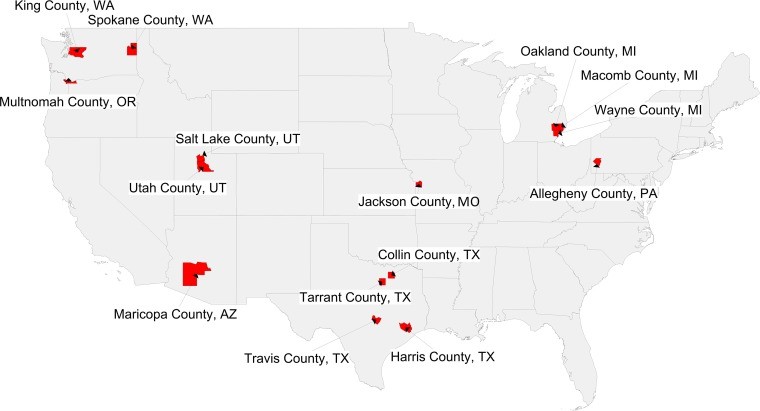 Many states (Arizona, Iowa, Maine, Minnesota, New Jersey, New York, Oregon) are working toward elimination of nonmedical exemptions to improve vaccine coverage and protect their children. Meanwhile, the state of Missouri is looking at bills to expand vaccine exemptions. Pediatricians need to continue their efforts to counter anti-vaccine and anti-science rhetoric as they speak with legislators and ensure they know that expanding access to medical exemptions places our children and our communities at risk.
References
1. Chronic Pulmonary and Cardiovascular Conditions (except hypertension alone), Neurologic and Neurodevelopmental and Neuromuscular Conditions, Those on Long-term Aspirin Younger than 19 years, American Indians and Alaska Natives, Those with Extreme Obesity.
2. The State of the Antivaccine Movement in the United States: A Focused Examination of Nonmedical Exemptions in States and Counties. Olive JK, Hotez PJ, Damania A, Nolan MS (2018) PLoS Med 15(6): e1002578. https://doi.org/10.1371/journal.pmed.1002578.