Outbreaks, Alerts and Hot Topics
August 2019
Group B Streptococcal Infection in Newborns—New Guidelines for Pediatricians and Obstetricians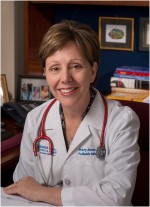 Mary Anne Jackson, MD | Interim Dean and Professor of Pediatrics - UMKC School of Medicine | Medical Editor, The Link Newsletter
In July, the American Academy of Pediatrics and the American College of Obstetricians and Gynecologists released updated guidance for prevention and treatment for early and late-onset group B streptococcal diseases. Those guidelines replace those published by the CDC in 2010.
Background
Nearly 95% of cases of invasive bacterial infection with early onset, defined as onset prior to day 7 of life, occur ≤48 hours of birth. Group B streptococcus (GBS) is the major cause accounting for 45% of culture-confirmed early onset disease (EOD) in term infants and 25% in low birth weight infants. GBS EOD causes significant morbidity with reported mortality rates for affected newborns being 2% for term infants, and 19% for preterm infants.
Late-onset disease (LOD) which is invasive GBS infection with onset at 7-89 days of life typically manifests as bacteremia in 93% of cases, and in most cases, a defined focus of infection is not present. For those where focal disease is identified, meningitis occurs in ~30%, and death occurs in 8% of preterm and 3% of term infants.
There are 10 different GBS serotypes defined by differing capsular surface polysaccharide variants, with serotype III accounting for 25% of colonizing and 62% of invasive infant strains. In EOD, five serotypes, most commonly Ia and III, account for 27% of cases each (total 54%), with serotype II, V and Ib accounting for 16, 14 and 9% respectively. Notably, serotype IV has emerged in the last decade as a cause of EOD, increasing from 3 to 11% of strains. In LOD, serotype III strains account for 56 percent of cases with a type III subset (a hypervirulent strain designated as multilocus sequences type 17) is reported most commonly in meningitis cases.
In terms of pathogenesis, maternal colonization is the prerequisite for EOD, with subsequent ascending contamination of amniotic fluid, placenta, cervix or vaginal canal fluids leading to infant colonization and/or infection. GBS maternal colonization is reported to be present in 20-30% of pregnant women. Colonization develops in 50% of infants born to colonized mothers, and 1-2% of colonized infants develop invasive infection.
Risk factors for ascending contamination include prolonged duration of rupture of membranes, birth to a colonized African American mother, preterm birth or a birth following a prior delivery with a confirmed GBS-infected infant. Additionally, obstetric practices may inadvertently promote ascending infection (intrapartum vaginal examination, invasive fetal monitoring, membrane sweeping or in cases where an obstetric procedure disrupts the amniotic fluid cavity). Maternal fever during labor may herald EOD. While presence of GBS in breast milk occurs in 25% of colonized mothers, it is not clear whether human milk colonization is associated with the intensity of maternal and infant colonization, or is a source for infection.
Prior implementation of a universal culture-based approach, plus recommendation for intrapartum antibiotic prophylaxis (IAP), has resulted in a decline in EOD from 1.8 cases per 1,000 live births (1990 data), to 0.23 per 1,000 live births in 2015. The prevailing postulate is that IAP reduces the burden of maternal vaginal colonization, interrupts surface and mucous membrane infant colonization and that newborn blood antibiotic levels exceed the minimum inhibitory concentration for GBS. Together, these two IAP effects effectively prevent bacteremia and invasive disease. Penicillin G or ampicillin is the IAP drug of choice; cefazolin is an alternative. Penicillin reaches peak cord blood concentrations by one hour and ampicillin concentrations are detectable in cord blood and amniotic fluid within 30 and 45 minutes respectively, following maternal receipt.
Neonatal management guidelines are outlined below:
Only penicillin G, ampicillin or cefazolin are considered adequate IAP.
Recommendations for GBS EOD risk assessment of infants, are differentiated based on whether the infant is born at ≥35 weeks versus those born at ≤34 6/7 weeks' gestation.

The neonatal EOS calculator or enhanced clinical observation may be used to assess those infants born at ≥35 weeks' gestation.
For infants born at ≤34 weeks' gestation, blood culture and empirical antibiotics should be given to infants born preterm because of cervical insufficiency, birth after preterm labor, preterm ROM, nonreassuring fetal status, if there is any concern for intra-amniotic infection, when the infant is born after labor induction to a maternally colonized woman who has not received adequate IAP, or infants with respiratory or cardiovascular instability.

Diagnosis of EOD and LOD in infants is confirmed by GBS isolation from blood or other normally sterile site. CBC and C-reactive protein do not perform well to predict EOD. LOD should be suspected based on clinical signs and symptoms, may occur in infants whose mothers do not have a known colonization history, and is not prevented by IAP.
Key points from ACOG recommendations for screening and prophylaxis emphasize that universal GBS vaginal-rectal screening should be at 36 0/7 weeks to 37 6/7 weeks' gestation. Penicillin or ampicillin is the drug of choice when IAP is indicated.
Penicillin skin testing is recommended for those with a history of penicillin allergy. Cefazolin should be used for IAP if the mother has history of penicillin allergy and is at low risk of anaphylaxis (non-urticarial rash, nonspecific symptoms, family but not personal history).
For those at high risk for anaphylaxis,* when GBS screening cultures are submitted, laboratory requisitions should explicitly state penicillin allergy is present and clindamycin susceptibility testing should be performed. Clindamycin should be used for IAP only if the isolate is susceptible (note: clindamycin effectiveness to prevent EOD is estimated to be only 22%; even if the isolate is susceptible clindamycin is not an appropriate choice for GBS UTI or bacteriuria, as it is poorly excreted in urine). If clindamycin resistance is confirmed, vancomycin (20 mg/kg every 12 hours; max dose 2 gm) should be administered when IAP is indicated.
IAP should be given if a woman has a positive screen, if GBS bacteriuria occurs during pregnancy, or if she has delivered a prior infant with GBS disease.
If prenatal GBS screening is unknown, IAP is indicated:
if maternal GBS NAAT testing is positive intrapartum
if birth occurs <37 weeks' gestation
for those with Preterm PROM
if ROM for ≥18 hours
for women who present with intrapartum fever of ≥38º
if the mother's GBS status is unknown and she presents in labor at ≥37 0/7 weeks' gestation and has history of GBS colonization in a prior pregnancy.
IAP should use broader spectrum antibiotics, i.e., ampicillin and an aminoglycoside, if intra-amniotic infection is suspected.
IAP is not necessary in the setting of a planned cesarean birth prelabor with intact membranes (note: single dose cefazolin is recommended as presurgical prophylaxis).
*High risk of anaphylaxis: urticarial rash, intense pruritus, anaphylaxis, angioedema, laryngeal edema, respiratory distress, hypotension or immediate flushing, prior Stevens-Johnson syndrome, toxic epidermal necrolysis, drug-induced hypersensitivity syndrome, recurrent reactions to multiple beta lactam antibiotics or positive penicillin skin test.

References
http://bit.ly/2Xka5OH(Obstet Gynecol. 2019;134:e19-e40.