In the News
October 2019
AAP to Honor Dr. Jackson with Lifetime Achievement Award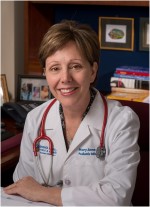 Mary Anne Jackson, MD, FAAP, FPIDS, FIDSA, is a rarity among physicians. Her curriculum vitae reads like a virtual "Who's Who" in pediatric infectious diseases. She's served as an associate editor of the American Academy of Pediatrics' Red Book, a must-have reference for pediatricians across the nation.
Plus, she's recently added the title of Interim Dean, University of Missouri-Kansas City School of Medicine, to her long list of accomplishments. She is also a Professor of Pediatrics and Pediatric Infectious Diseases specialist at Children's Mercy Kansas City.
But what you won't find on Dr. Jackson's CV are the adjectives her colleagues use to describe her—strong, kind and fearless—an individual they're proud to call mentor, teacher and colleague—a champion for women in medicine and children everywhere.
A Passion for Science
Dr. Jackson grew up on the opposite side of the state in St. Louis, Mo. The oldest of five children, her mother was an intensive care nurse and her father an optician.
Early on she recognized she had a passion for science, a passion that would lead her to enroll and be accepted into one of the nation's first accelerated BA/MD medical school programs.
When she entered the University of Missouri-Kansas City School of Medicine in 1972, 40 percent of Dr. Jackson's classmates were women, unusual for the early '70s.
As a medical student, Dr. Jackson's original goal was to become a pediatric oncologist, but that was during an era when only 20% of children survived childhood cancer.
While performing rotations at Children's Mercy, she learned that most of the children who did not survive died from infection, not the original cancer diagnosis. That sparked a life-long interest in infectious diseases.
After finishing medical school, Dr. Jackson traveled to Cincinnati Children's Hospital to perform her pediatric residency. While there, she had the opportunity to work shoulder-to-shoulder with many of the icons in pediatric medicine, and got her first taste of research.
During her residency, Dr. Jackson met two pioneers in infectious diseases from the University of Texas Southwestern, Drs. George McCracken and John Nelson.
She relocated to the University of Texas Southwestern to perform her fellowship in infectious diseases and became even more interested in research and academic medicine.
"I knew at that point I wanted to pursue a position in academic medicine. I had the opportunity to return to Children's Mercy as faculty in 1984," Dr. Jackson said.
At the time, Dr. Jackson joined Drs. Fred Burry and Lloyd Olson in Infectious Diseases, making it a division of three. She was officially named division director in 1996.
Paying it Forward
Over the past 30+ years Dr. Jackson has been recognized locally, regionally and nationally as a master clinician and educator on topics in pediatric infectious diseases.
She has close bonds with the pediatric community in Kansas City and surrounding region. For more than a decade, she has edited "The Link," which provides up-to-date, cutting-edge educational content for local, regional and national providers of pediatric care.
Her ongoing research mentorship to dozens of residents, fellow trainees, and others in various pediatric fields, has helped to encourage individuals to access leadership roles in programs in pediatric infectious diseases, child abuse/maltreatment and general pediatrics.
Her long-term commitment to the pediatric community, as well as the quality of her mentorship and ongoing sponsorship, have been recognized by a diverse group of pediatricians across the country. A substantial number of her more than 200 publications have included mentees over the span of her career.
Two Children's Mercy faculty who have benefited from Dr. Jackson's mentorship are Angela Myers, MD, MPH, Director, Division of Infectious Diseases; Associate Director, Infectious Diseases Fellowship Program; and Associate Professor of Pediatrics, UMKC School of Medicine; and Denise Bratcher, DO, Chair, Department of Graduate Medical Education; Designated Institutional Official for Children's Mercy Kansas City; Professor of Pediatrics, UMKC School of Medicine; and Pediatric Infectious Diseases specialist.
Dr. Myers met Dr. Jackson 18 years ago during her pediatric residency.
"Mary Anne has been my mentor throughout my entire career at Children's Mercy," Dr. Myers said. "She looks for opportunities to bring people together that might not seem obvious to others. She has great problem-solving skills, has a very calm demeanor, assesses situations from different angles and offers well thought-out solutions. I have been so fortunate to find someone willing to mentor me who is brilliant and great with patients. She is a terrific role model for us all."
Dr. Jackson had a similar influence on Dr. Bratcher's career.
"I performed my residency at Children's Mercy, and had every intention of doing community pediatrics," Dr. Bratcher said. "But after spending a number of months on the infectious diseases team, I became fascinated by the variety of patients we saw. Dr. Jackson was a fabulous teacher. She was the first person I did a research project with. She has helped me identify educational and career opportunities along the way, including returning to Children's Mercy 20 years ago as an infectious diseases specialist."
Making a Positive Impact
This past year, Dr. Jackson has transitioned to become the Interim Dean at the University of Missouri-Kansas City School of Medicine. Though the program has had 10 deans in its history, Dr. Jackson is the first UMKC School of Medicine graduate, and is one of only 26 female medical school deans in the nation.
"Even though more than 50% of physicians are now women, there are only 25 female pediatric chairs at 134 programs," Dr. Jackson said. "One of my roles is to try to identify appropriate leadership opportunities for our faculty, and advocate for them."
Since being named Interim Dean, Dr. Jackson has begun a transformation of programs to enhance student and faculty engagement, worked to find solutions to ongoing issues, and is continuing her commitment to pediatric infectious diseases at Children's Mercy.
"In the short time that Dr. Jackson has been in the role as Interim Dean at UMKC, she has distinguished herself as a champion of inclusion and equity," said Denise Dowd, MD, MPH, Interim Director of the Division of Emergency Medicine; Associate Medical Director, Office of Faculty Development; and Professor of Pediatrics, UMKC School of Medicine. "She has already made an important contribution to the School of Medicine's leadership."
But what inspires Dr. Jackson as a leader and role model?
"I am always looking for the next step we can take to have a positive impact," she said. "At the School of Medicine, how do we create a more diverse, inclusive environment that allows us to recruit and retain the best faculty so that we support our students at the highest level possible?
"At Children's Mercy, how do we look at each faculty member's skill set and promote them for opportunities nationally where they can improve outcomes for all children?
"And in my role on the National Vaccine Advisory Committee, how can we improve vaccine coverage opportunities for children at the border?"
Recognizing Her Body of Work
As Dr. Jackson looks ahead to the challenges in medical education and pediatric infectious diseases, she's also being recognized for her outstanding body of work.
Recently, she celebrated 35 years at Children's Mercy, where she's widely acknowledged as the architect of one of the nation's most robust infectious diseases programs. In fact, the division now includes 15 faculty, two pharmacists and seven research coordinators.
They focus on research to prevent antibiotic resistance, judicious use of antibiotics, and optimal use of vaccines. Dr. Jackson also is passionate about medical education, developing a fellowship program to train pediatric infectious diseases doctors; and research collaborations with foundations, the CDC and the NIH to investigate the impact of new vaccines.
Among her many achievements while division director was the description of a national outbreak of the polio-like virus called enterovirus D68.
"Dr. Irene Walsh was the first to contact me about an unusual respiratory disease cluster in the ED," Dr. Jackson said. "That allowed me to connect with Dr. Rangaraj Selvarangan in Microbiology, and then I was able to send specimens to the CDC to confirm the virus. Thanks to their teamwork, Children's Mercy identified the first cases of the virus in the 2014 outbreak. We collaborated with the CDC and reported on our experience. That was very impactful," she said.
And on Oct. 28, the American Academy of Pediatrics Section on Infectious Diseases Executive Committee will award Dr. Jackson the 2019 Award for Lifetime Contribution in Infectious Diseases Education.
The award recognizes Dr. Jackson's outstanding commitment to the education of pediatricians in infectious diseases, as well as her work as associate editor of the Red Book, and her involvement with national-level committees, such as the National Vaccine Advisory Committee.
"Mary Anne has influenced many people throughout the course of their training and careers, and has done a lot for our community in terms of children's health," Dr. Bratcher said.
"But through her work with the Red Book and service on national committees, she has done a great deal to improve the health of the children of this nation, and to ensure pediatricians everywhere have the tools necessary to take the best care possible of children."