Evidence-Based Strategies for Common Clinical Questions
August 2019
Playing Head Games: Updated Guidelines in Sport-Related Concussion Management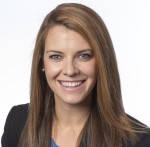 Author: Ashley Daniel, MD | Chief Resident, Children's Mercy Kansas City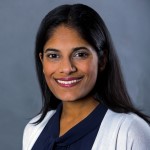 Column Editor: Rupal Gupta, MD | Medical Director, Operation Breakthrough Clinic | General Academic Pediatrics | Assistant Professor, UMKC School of Medicine
During the 90 minutes of strenuous physical effort and emotional intensity involved in this year's FIFA Women's World Cup championship game on July 7, four players on two separate occasions suffered head-on-head collisions. In both instances, the players required evaluation by team medical staff, and one even required interventions to stop the bleeding from a gash on her forehead. All four players returned to the match within minutes of their respective collisions. However, USA defender Kelly O'Hara was later pulled from the match due to sequelae from her head injury. Though protocols exist for assessment of concussion symptoms after such an injury, athletes across all sports often try to "tough it out" or outsmart the assessment in an effort to remain on the field. Although there is now greater awareness in athletics around the dangers of concussions and the existence of protocols for management of a head injury, adaptation of the newest guidelines could not only help shorten the recovery period, but also reduce the fear that reporting a concussion will result in extended time out of participation in both the sport and everyday life.
Though sport-related concussions affect athletes playing nearly all sports and at all levels of sport, the existence of American Academy of Pediatrics (AAP) guidelines around the topic is relatively new, first published in 2010.1 This area of sports medicine is rapidly advancing and evolving as the need for identifying the best ways to diagnose, treat and prevent concussions increases. From 2010 to 2016, an annual average of 283,000 athletes under 18 years old presented to emergency departments for care after a sport-related concussion, with a steep increase noted as compared to 2006 rates.2 The actual incidence is likely higher than reported numbers.
While most concussion symptoms resolve within a few days to weeks, younger individuals tend to experience longer duration of symptoms, with up to 20% of children experiencing symptoms for more than three months after injury.3 Symptoms typically fall into five categories: somatic (i.e., headache, nausea/vomiting, light/noise sensitivity); vestibular or oculomotor (vision or hearing problems, dizziness); cognitive (confusion, mental "fogginess," difficulty concentrating or remembering); emotional (irritability, sadness, emotional lability, anxiety); and sleep-related (fatigue, sleeping too much/too little).1 Given this broad range of potential post-concussion effects, symptoms can interfere with all aspects of a child's or adolescent's life. Recent studies have additionally found that athletes who have been diagnosed with a concussion in the previous competitive season were less likely to report a future concussion.4 This may be partially due to internalized pressure to play through the next injury after experiencing the loss of competitive opportunities, social isolation from the team, or other disruptions to daily living after their last concussion.4 However, applying effective management strategies can expedite recovery time and reduce the risk of impact to school, social life, activities of daily living and emotional health.
Prior iterations of guidelines from organizations such as AAP, National Athletic Trainers' Association, and American College of Sports Medicine previously recommended complete restriction of routine physical activity, screen time, social contact with peers, academic participation and daily routines through the recovery period. Those recommendations have since evolved, and now include reduction, rather than elimination, of regular activities in the days after a concussion. Immediately following a suspected concussion, an athlete should be removed from play for the remainder of that same day. Interestingly, athletes who continued to play were found to be 8.8 times more likely to require more than 21 days to recover from their concussion than those removed from play.5
While the recommendation for immediate rest from physical and cognitive activity remains unchanged, growing evidence shows there may be negative consequences to extremes of cognitive, social and physical rest in subsequent days. The AAP's most recent concussion management guidelines, updated in November 2018, reflect this new growing body of evidence. Though it can be beneficial for an athlete to receive academic adjustments to reduce workload when returning to school, prolonged school absence and elimination of schoolwork is discouraged.1 Prior guidelines also recommended avoidance of electronics, computer, television and cell phones, but complete elimination of electronics can result in feelings of social isolation and separation from routine interactions, which may exacerbate depressive or anxious post-concussive symptoms.1 Adolescents who undergo strict physical rest for the initial five days after a concussion have been shown to have higher symptom severity over the first 10 days post-concussion, as compared to patients who only have a one to two-day period of initial rest.6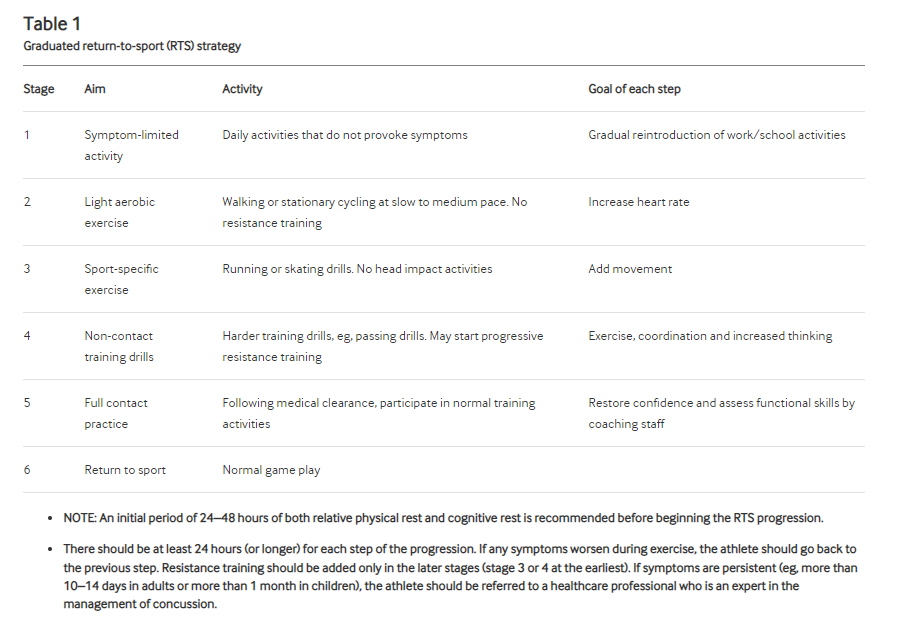 Returning to sport after a concussion is best accomplished through a graduated stepwise program (Table 1).7 This approach was most recently updated at the Berlin Concussion in Sport Group in 2017, and recommends an initial 24 to 48 hours of physical and cognitive rest before beginning gradual escalation of activity. Each stage should last at least 24 hours, and if symptoms return at any stage, the athlete should return to the previous step. A physician must medically clear the athlete before progressing to Stage 5. A similar stepwise protocol exists for return to school.7
Thus far, there is limited data regarding increased likelihood of an athlete to report a possible concussion based on these updated recommendations. Certainly, athletes may experience other pressures that might dissuade them from reporting a head injury. However, if pediatricians, athletic trainers, and coaches implement changes to the recovery period that reduce disruption to daily life and competition, over time more athletes may see that leaving the field is the best first step to a quicker recovery.
References

Sport-Related Concussion in Children and Adolescents. Halstead ME, Walter KD, Moffatt K. Pediatrics. 2018; 142(6):e20183074.


Emergency Department Visits for Sports- and Recreation-Related Traumatic Brain Injuries Among Children — United States, 2010–2016. Sarmiento K, Thomas KE, Daugherty J, et al. MMWR Morb Mortal Wkly Rep 2019;68:237–242. DOI: http://dx.doi.org/10.15585/mmwr.mm6810a2External.


Current State of the Literature on Psychological and Social Sequelae of Sports-Related Concussion in School-Aged Children and Adolescents. Wilmoth, K., et al. Journal of Experimental Neuroscience, 2019;13:1-9. doi:10.1177/1179069519830421.


Concussion Under-reporting and Pressure from Coaches, Teammates, Fans, and Parents. Kroshus E, Garnett B, Hawrilenko M, Baugh CM, & Calzo JP. Soc Sci Med 2015; 134: 66–75. doi:10.1016/j.socscimed.2015.04.011.


Removal from Play after Concussion and Recover Time. Elbin RJ, Sufrinko A, Schatz P, et al. Pediatrics 2016;138(3)e202160910.


Physical Activity Level and Symptom Duration Are Not Associated After Concussion. Howell DR, Mannix RC, et al. The American Journal of Sports Medicine 2016;44(4):1040–1046. doi:10.1177/0363546515625045.


Consensus Statement on Concussion in Sport—The 5thInternational Conference on Concussion in Sport held in Berlin, October 2016. McCrory P, Meeuwisse W, Dvorak J, et al. Br J Sports Med 2017;51:838-847.