Communications Toolkit Resources for Physician and Provider Practices
Children's Mercy is committed to ensuring community physicians and providers are equipped to communicate key messages during all phases of the COVID-19 pandemic, specifically as you begin to expand services.
This toolkit has been created to house resources, templates and assets that can be leveraged in relaying messages to your patients and families about the safety measures, precautions and changes you have implemented in your practice. Additionally, resources are available to communicate developments at Children's Mercy.
Resources for your practice
Communicating with families about COVID-19 recovery/safety measures
Staying proactive when dealing with COVID-19 is a tall order. Stringent safety measures aren't enough – you have to let patients and parents know that protocols are in place, so they feel secure seeking out the care they need and know what to expect.
Your office can take this opportunity to clarify for parents when an in-person visit is needed, as well as rescheduling policies. This is also a good time to briefly remind families of your individual practice's mission in caring for children.
Every doctor's office is different, but the language samples below are designed to give you starting points to reach out about safeguards in place, other ways to get treatment, and new procedures for in-person visits.
Communication templates
Sample communications have been developed for your use; leverage and customize these templates to reflect your key messages. Download all templates in the PowerPoint files below.
Ways to connect

Topics to address

An email update to contact list
In-office signage about cleaning and safety protocols
Window clings at building entrances about face coverings
Text messages at appointment confirmation and arrival
Direct mail about when to come in, what to expect, and telehealth options
Social media for new safety procedures and tips, with all content on practice website

Temporary office hours
Sick vs. well office hours or assigned areas
Waiting room/check-in changes
Visitor screening (temperature check, etc.)
Facial protection for visitors
Cleaning practices
Telehealth options
Rescheduling appointments
| | | | | |
| --- | --- | --- | --- | --- |
| Communication templates | | Flier template (blank) | | Signage template (blank) |
| | | | | |
| | | | | |
Below are guidelines and resources to equip families to navigate the region's re-open plan for children.
| | |
| --- | --- |
| What to Expect at Your Next Appointment | Tips for Returning to Community Activities Safely |
| | |
| | |
Children's Mercy resources
Resources to communicate "what Children's Mercy is doing" with your patient population.
Children's Mercy has been at the forefront of telemedicine by providing services for regional areas throughout Kansas and Missouri for more than eight years, and we are expanding the telemedicine services we offer in light of this pandemic. Whenever possible, we are offering patients the option of a telemedicine visit.
Children's Mercy & Telemedicine: Infographic
Leverage this graphic/resource to communicate the expertise and capabilities offered at Children's Mercy.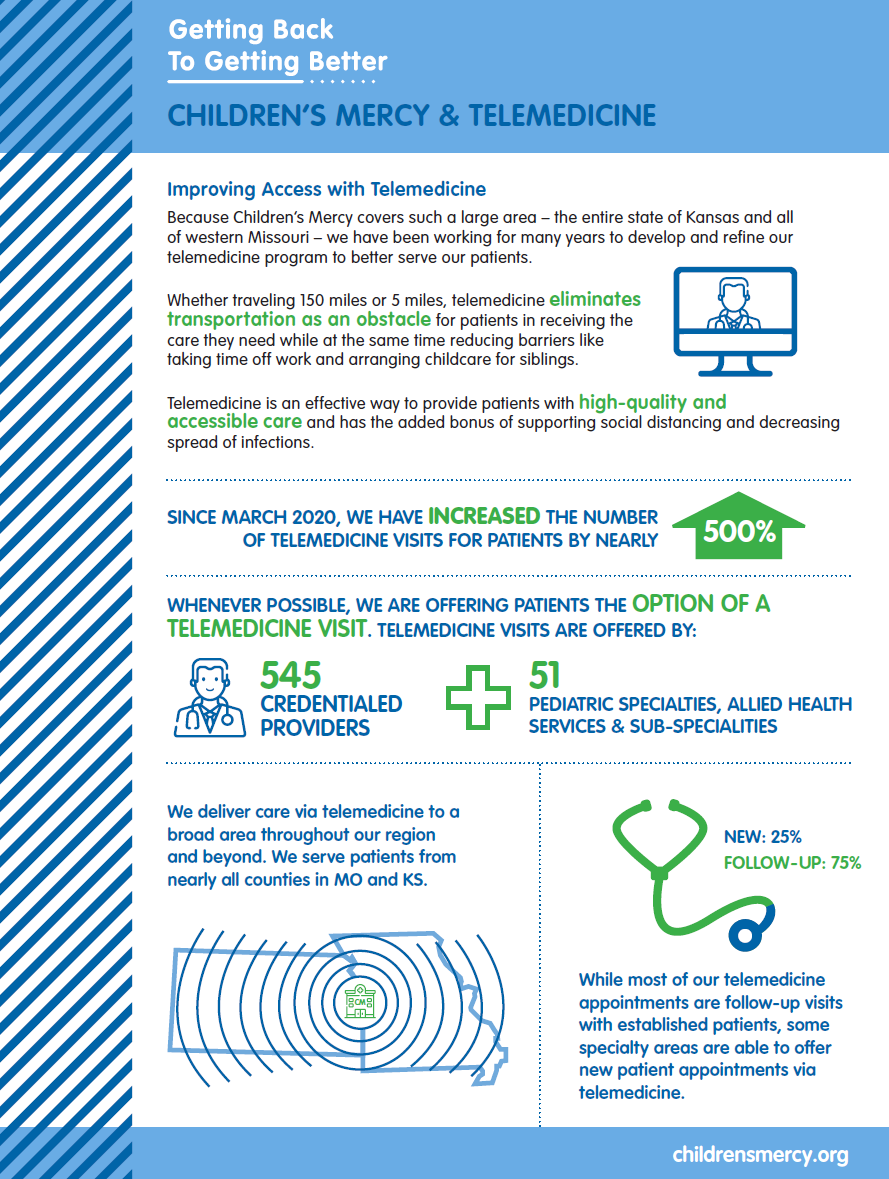 Individual graphics
Download and use individual graphics as stand-alone assets.
Children's Mercy has taken numerous safety measures to protect patients, families and staff. These resources can be used to communicate these measures.
| | |
| --- | --- |
| Sign: Safety at Children's Mercy | Sign: Masking and social distancing |
| | |
| | |
| Respiratory precautions for parents/guardians (English and Spanish) | |
| | |
| | |