Making Needle Procedures More Comfortable at COVID-19 Vaccine Clinics
The Comfort Promise from Children's Mercy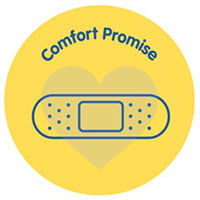 Kids tell us that one of the things they worry about when coming to Children's Mercy is getting a shot or poke. We understand. Needles hurt. We want to make it better.
When we give children ways to cope during needle procedures, it can help them:
Have a sense of control.
Be part of their own care.
Cope with future health care events.
Have a better overall experience.
At Children's Mercy, we have a plan called the Comfort Promise that will help make your child's vaccination easier.
The nurse (RN) or physician administering your child's vaccination will offer ALL children:
Comfort Positioning: We know letting kids sit upright helps provide them with comfort and a sense of control. We would like you or another caregiver (such as a RN or child life specialist) to hold your child in your lap or sit in their chosen secure and comforting position during the procedure. This provides an opportunity for you as the parent to comfort them while also helping them to remain still and safe during their procedure.




Distraction: We will help you distract your child by helping them focus on something fun. Common choices include music, phones, listening to a favorite playlist, using a hand-held game, or watching a video. Playing counting games or games such as I Spy, singing and telling jokes are also fun and do not require supplies.



And then right before the injection:

Cold spray: Numbs the skin.


ShotBlocker®: Distracts pain signals to the brain.


Our Comfort for Needle Procedures handout offers additional things families can do or practice before arriving to the clinic, like applying a numbing medicine, in order to make the vaccination experience better.
Children with complex needs
If your child's needs are more complex (e.g., he or she has a needle phobia or sensory issues), we would like to talk to you before you arrive to the vaccination clinic.
Please call (816) 983-6870, Monday-Friday, 8 a.m. to 4 p.m. to leave a message for a team member to call you back to discuss a needle plan for your child.
You may also contact us at childlifeambulatoryteam@cmh.edu or via the Children's Mercy Patient Portal: Child Life Messages.
We promise to do everything we can to eliminate pain – one poke at a time.