Cleft Lip and Palate: Virginia's Story
Meet Virginia

When Hope and Weston Loehr first learned their baby had a bilateral cleft lip and palate at their 24-week ultrasound, the news was pretty shocking. "We had no family history of the diagnosis, so it was a lot to process," said Weston. But the Loehrs decided to learn everything they could about the condition so when their little one arrived, they would be ready to give her everything she needed.
Hope remembers their first visit to Children's Mercy Kansas City to meet with a pediatric plastic surgeon who specializes in cleft and craniofacial repairs. "Our first meeting with the Plastic Surgery team at Children's Mercy was when I was around 30 weeks' gestation," Hope recalled. "The first thing the surgeon asked us was 'what did you learn on the Internet?'" she said with a smile. "But then he explained everything to us. He went through a PowerPoint with pictures of kids with all the different variations of cleft lip and palate and how things changed over time with the different procedures."


Customized treatment for Virginia

Facial differences like cleft lip and palate are actually fairly common. In the United States, about 1 in every 1,000 babies is born with cleft lip and palate. The condition occurs very early in pregnancy when a baby's upper lip and/or palate (the roof of the mouth) don't form completely, resulting in an opening that is not typically there. We don't know the exact cause of cleft lip and palate, but most likely it involves a combination of genetic and environmental factors that are difficult to predict or change.
There are lots of different types and degrees of cleft. Some babies have a unilateral cleft lip and/or palate, which means only one side of the mouth and nose are affected. Others, like Virginia, have a bilateral cleft, which means both sides are affected.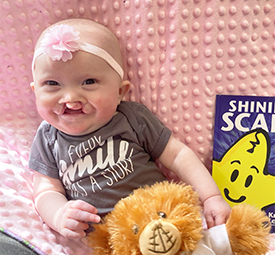 While the treatment process is similar for most kids, Children's Mercy cleft and craniofacial orthodontist Heather Hendricks, DDS, tailors her treatment plan to each child's individual needs.
"Down the line, every kid is different," Dr. Hendricks shared. "It's very rewarding to be able to help infants from the very start of their lives, and it's so fun to interact with them as they grow and develop. The interaction every time I see Ginny is incredible – she's got a personality! Her family is really invested in what's best for her."


Teaming up to provide great care

Dr. Hendricks is part of a team of providers who work together to help families like the Loehrs create a unified care plan for their baby.
"It was very reassuring to have a team of doctors and nurses right there saying 'OK, we're going to hold your hand the whole time' through all of this," Hope shared. In fact, it was at that first prenatal consultation with the Plastic Surgery team that Hope and Weston nicknamed their unborn daughter "Baby Happy," because their care team wanted to be able to call her by name even before she was here. "It was such a personal touch," Hope said.
When Baby Happy—now officially named Virginia—arrived, Hope and Weston felt like her facial differences were just one small part of her big personality. Weston said, "Virginia is just like any other baby. You might hold her or feed her a little differently, but everything else is pretty typical. She loves to go on walks, she's very observant and she will turn anything—even a coffee filter—into a toy!"


Getting creative during COVID

Virginia's arrival during the COVID-19 pandemic meant that their family's visits to Children's Mercy and the care plan for Virginia at home had to be modified to maintain safety protocols. "Virginia has had two surgeries so far: a lip adhesion procedure that acts like a stronger version of the face tape, and a lip repair procedure that repaired the muscle under her lip," Weston shared. "She's scheduled to have her palate repair later this year."
In between surgical procedures, the Loehrs used specialized orthotics called face tape and nose hooks to help stretch the skin - one of the innovative additions to cleft care that was developed at Children's Mercy. "Ginny is NOT a fan!" Weston shared, "but it's a labor of love and we know it's going to help her in the long run."
The specific methodology for home treatment with face tape and nose hooks was actually created by Dr. Hendricks early in the pandemic. Using some of the techniques from previous treatments, Dr. Hendricks developed a customized nasal clip that can be built for each individual child at their very first visit to the clinic.
"On average, families who are coming to Children's Mercy for presurgical orthopedics have a round-trip drive of around 4 hours, so being able to start their treatment the same day is a really great thing for them," Dr. Hendricks said. "I am very transparent with families that this is going to be a lot, but that by the end of this, they'll become pros and can probably give ME a few tips! After that initial adjustment period, parents become very proficient, and they know they can always reach out to me with any questions."


Learning and growing

Hope and Weston went through all the ups and downs while learning to use the home devices with Virginia. "We made every mistake with her face tape and nose hooks," Hope recalled, "yet each mistake was a learning opportunity. Dr. Hendricks always addressed our mistakes in a positive and encouraging manner, and reaffirmed that we were doing a great service for Virginia."
As parents, Hope and Weston found creative ways to make the face tape and nose hooks less painful and more playful for Virginia. They would dangle toys, sing and dance with her, and allow her to play with her face tape materials to become more comfortable with them. And when she's having a rough day, Hope said, "we just put our dog Penny in front of her and she's instantly happy."


Little adjustments, big differences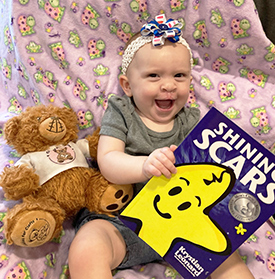 Hope and Weston follow a few other special care processes for Virginia, including using specialty bottles with a one-way valve and keeping her upright during and after each feeding to help with swallowing and prevent ear infections. "She can't suck, so she chomps on her bottles, but she's a great eater," Hope reported, and once she was old enough for solids, "she eats anything and everything!" At 9 months old, Virginia is meeting all her milestones with speech, social emotional, and motor development, including crawling and supported walking.
While Virginia has more surgeries ahead of her due to the severity of her palate defect, Hope and Weston are confident that with the help of their Children's Mercy team, she will continue to grow up healthy and strong. "We are so grateful for the level of care and love we've received from everyone at Children's Mercy. They really do empower parents to help their child thrive," Hope shared.
"It's easy to lose focus while you're pregnant when you have a medical concern," Hope added. "Don't let a diagnosis steal your joy away from having your baby. Once you have your baby and hold her, you know you can handle anything."
Stories
Cleft lip and palate: Joaquin's story
Shao Jiang, MD, pediatric plastic surgeon, repairs Joaquin's previous cleft lip and palate surgery, which was performed in another country. Dr. Jing's goal is to reduce scaring and improve function for Joaquin.
Plastic and Reconstructive Surgery Menu
Orthodontics
Cleft, Craniofacial, & Special Care Orthodontist; Adjunct Assistant Professor of Dentistry, University of Missouri-Kansas City School of Dentistry