Female Athlete Clinic
Young female athletes face some unique challenges that can affect or interfere with their ability to play and perform in their sport. One common concern is a condition called relative energy deficiency in sport (RED-S).

What is RED-S?

RED-S includes a combination of symptoms, including the group of symptoms known as the female athlete triad.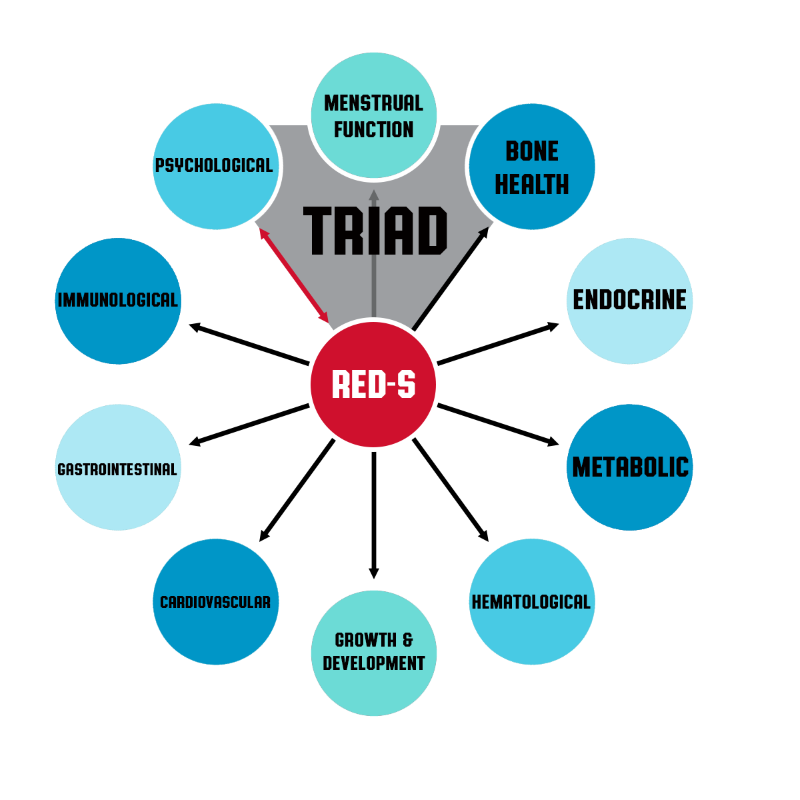 Read a text-only version of the symptoms of RED-S image.


Identifying symptoms of RED-S

The Female Athlete Clinic provides a risk assessment and treatment plan for young women who are experiencing symptoms of the female athlete triad or relative energy deficiency in sport. Athletes may experience one or more of these symptoms, which include:
Recurrent fractures and/or loss of bone density.

Concerns about menstrual irregularity (changes to the menstrual cycle) or amenorrhea (not having periods as expected) due to the demands of sports.

Decrease in athletic performance, fatigue, low energy that results in difficulty completing practice or competition.
Additional symptoms may include intentional or unintentional weight loss, mood changes, and/or mental health concerns related to nutritional deficiencies and high-stress competition, such as:
Performance anxiety related to athletics
Preoccupation with body image, weight, and/or eating
Rigid thought processes and behaviors
Difficulty coping with failure
Comprehensive care in a supportive environment

The Sports Medicine team at Children's Mercy created a clinic specifically to support female athletes ages 12-21 who have symptoms of the female athlete triad and/or RED-S. The clinic team includes a pediatric sports medicine doctor, an adolescent medicine doctor, a dietitian and a mental health provider who work together to provide comprehensive evaluation, treatment and support for adolescent girls and young women and their families.
The clinic, housed at the state-of-the-art Sports Medicine Center at Village West, allows families to see four specialists in one clinic. Our goal is to coordinate care to reduce your time away from school and work for appointments while still providing evidence-based, coordinated care for all aspects of your student-athlete's health concerns.
Your care team

The clinic team works together to get a complete picture of your student-athlete's physical, mental and emotional health. The team includes:
Natalie Stork, MD

, Primary Care Sports Medicine and Non-Operative Pediatric Orthopedics Physician

– Dr. Stork will focus on the sports medicine aspects of your child's care, including fractures, muscle and bone concerns, and how to safely return to sport when appropriate.


Michaela Voss, MD, Adolescent Medicine Physician – Dr. Voss brings her expertise in working with adolescents and young adults to the team. She can assist with medical management of common concerns in this population such as menstrual irregularities, medication for anxiety or depression, and additional physical complications related to energy imbalance and malnutrition.


Lora Edwards, MEd, RD, LD, CSSD, Nutrition Services

– Lora will work with your child to ensure they are fueling their body appropriately to have sufficient energy available to them for sports and other daily activities.
Brooke Larson, LCSW, Social Work –Brooke can help your student-athlete identify and work towards goals to improve overall mental health through short-term therapeutic services. She can also help connect your family with mental health services and other types of support for young athletes in your community.
What to expect

Your first visit to the Female Athlete Clinic will last a full morning (3-4 hours). We recommend you bring snacks and items to keep you occupied during down times.

It is helpful to the Female Athlete Clinic team if you can bring any previous records from other doctors or specialists that relate to your current concerns, such as growth curves, labs or radiology tests.
Our clinic is held at the Sports Medicine Center at Village West, our comprehensive rehabilitation and training facility in Kansas City, Kan. View a 360o interactive map of the Sports Medicine Center at Village West.
During your first visit, you'll meet with all four of our team's specialists individually. They will ask you questions about your current problem or concern, training and activity schedules, injury history, nutrition and eating habits, menstrual cycles, mental health history and well-being. They will also screen for any other possible disorders.
The team may order lab tests or imaging to better understand your symptoms and current health.
Before you leave, your care team will discuss their findings with you and talk about a plan of care going forward.
Services
Comprehensive evaluation for symptoms of relative energy deficiency in sport and the female athlete triad.

Lab tests and imaging as needed.

Referrals to endocrinology or other specialists when appropriate.

Physical therapy to rehabilitate stress fractures (bone stress injuries) and get back to sport safely.

Follow-up visits with nutrition and mental health providers at Children's Mercy or in your local community.
The symptoms of RED-S and the female athlete triad can sometimes overlap or occur alongside other medical conditions. We recommend you first see your child's primary care provider to determine which specialty clinic is the best fit for your family. They can then refer you to make an appointment at Children's Mercy if needed.