Liver Transplants: Cambree's Story
Meet Cambree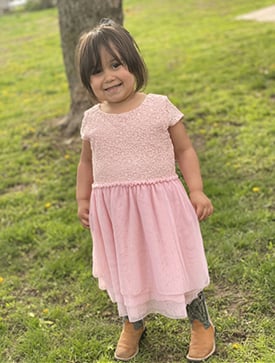 Wearing a pink frilly dress and cowboy boots, 4-year-old Cambree Alvarez may look like just another adorable preschooler, but looks can be deceiving. She's actually a warrior who's been fighting for her life, almost since day one.
"Cambree was born on March 30, 2017, and weighed 6 lbs., 8 oz.," said Cyrstie Conser, Cambree's mom. "She seemed really healthy at first, but by the time she was about 2 months old, she wasn't growing like she should, and her skin and the whites of her eyes were yellow."
Concerned, Cyrstie took her daughter to the pediatrician who ran some lab tests to check her liver enzymes. "The doctor said Cambree's liver felt enlarged, and her lab test results were abnormal. She thought Cambree might have biliary atresia and she said we needed to get to Children's Mercy Kansas City right away."
The family, who lives in Valley Falls, Kan., about an hour from Kansas City, packed their bags, not knowing what to expect. At Children's Mercy, Cambree and Cyrstie met with the Liver Care Center team to learn more about next steps.
The Children's Mercy Liver Care Center provides a medical home for children who are dealing with highly complex liver conditions. This includes approximately 1,500 patients with various types and stages of liver disease.
This team is committed to providing comprehensive care by partnering with families and working with specialists throughout Children's Mercy to provide kids with the best possible care.
Admit one

"Cambree was admitted to the hospital for tests that confirmed she had biliary atresia and that her liver was inflamed," Cyrstie said.
According to the National Organization for Rare Diseases, biliary atresia is a rare gastrointestinal disorder. Only 400 to 600 new cases are diagnosed in the United States each year. It also is the most common cause of end-stage liver disease and liver transplantation in children.
No one knows exactly what causes the condition, but it's characterized by an abnormal accumulation of bile in the liver. Bile is the liquid the liver secretes. It's essential to carrying waste products from the liver, as well as promoting absorption of fats and vitamins by the intestines.
In Cambree's case, the bile wasn't draining out of her liver and into her intestines as it should, so her medical team suggested a surgery to improve bile drainage called the Kasai procedure.
During the procedure, Richard Hendrickson, MD, FACS, FAAP, Pediatric Surgeon, removed Cambree's gallbladder and bile ducts, connecting her lower intestine to the liver. The procedure can improve bile drainage for some patients, but Cambree wasn't one of them.
Ryan Fischer, MD, the Pediatric Hepatologist who has helped care for Cambree since she was an infant, said she still ended up battling repeated infections.
"Between the ongoing infections and her chronic liver disease, it was only a matter of time before Cambree might have a life-threatening infection or a bleeding episode," Dr. Fischer said.
Roller coaster

Though Cambree was only 12 months old at the time, her odds of survival weren't good unless she received a lifesaving liver transplant.
"In March 2018, we spent two weeks in the hospital," Cyrstie said. "That's when the Liver Care Center team told us we needed to start evaluations for a transplant. Cambree's liver was super sick. On the MRI images, you could see how badly it was deteriorating."
So, Cambree was placed on the liver transplant waiting list the day before her first birthday, March 29. "Cambree was in dire need of a new liver. We spent the next month in and out of the hospital. It was just the beginning of a wild roller coaster ride full of ups and downs for us," Cyrstie said.
About one month later, on April 26, 2018, Cyrstie got the call she'd been waiting for—the team had a new liver for Cambree. Cyrstie packed their bags again and headed back to Kansas City, hoping this liver would save her young daughter's life.
Though the team's transplant surgeons successfully replaced Cambree's old liver with a new one, her transplant was complicated by clots in the blood vessels going to the new liver.
"These types of clots only happen in 5 to 10% of liver transplants. It's an uncommon, but serious complication," Dr. Fischer explained. However, it was a complication the Liver Transplant team was well-prepared to manage no matter how difficult the task ahead.
When additional procedures to clear the clots were unsuccessful, the team recommended a second transplant for Cambree. It was no exaggeration to say that her condition was critical and that she had little chance of survival without a second liver transplant. Luckily, one month later, that transplant came through.
"Cambree got her second liver on May 24, 2018," Cyrstie said. "But that didn't go as expected either."
Dr. Fischer agreed. "Cambree had some problems with clotting in her new liver as well. Slowly but surely, she fought through them though and recovered."
After countless complications, the tiny girl from Valley Falls was finally ready to head home. She'd been hospitalized at Children's Mercy for 103 consecutive days.
"That was a rough year," Cyrstie admitted. "Between infections, rejections, procedures, multiple biliary drains and then two transplants, we practically lived at the hospital."
But once Cambree went home, she only came back for routine check-ups.
"Little Miss Sassy Pants"

Now three years after her second transplant, Dr. Fischer describes Cambree as "the cutest Little Miss Sassy Pants" you'll ever meet. "Cyrstie never gave up on Cambree, and you can see where Cambree gets her fight. She never gave up either."
Cyrstie agreed. "Cambree is one of those little girls who is too smart for her own good. She's hilarious, silly, goofy, loves to dance, loves dresses and her cowboy boots. I am not sure where she gets all her spunk and attitude. She's dramatic. It's her way or the highway!"
And to top it off, she's doing great! "Cambree started preschool this year," Cyrstie said. "This is the first time she's really been around other kids. She has her moments, but all her teachers love her, and she's been pretty healthy this past year, in spite of COVID."
Going forward, Dr. Fischer said all signs point to success for Cambree, but the Liver Care Center team keeps a close eye on her.
"Cambree's treatment and recovery were a team effort. Her care required our nurses, doctors, surgeons, care assistants, pharmacists, child life, social workers, infectious diseases, nursing coordinators, chaplains and a family who is willing to sacrifice everything for their child," Dr. Fischer said. "Cambree's care was exceptional, top to bottom. Everyone devoted themselves to helping her get healthy again.
"For Cambree to be where she is now after what she went through is just jaw-dropping," Dr. Fischer added. "I don't use the word 'miracle' lightly, but in this case, her recovery was almost miraculous."
We are family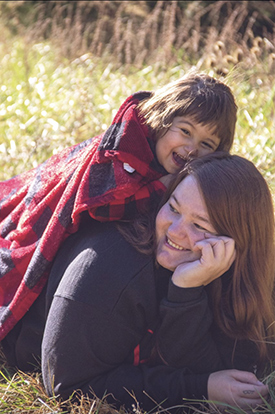 For Cyrstie, the Liver Care Center team's support throughout Cambree's illness meant more than they will ever know.
"Dr. Fischer always took the time to explain things to me," Cyrstie said. "I really liked how supportive the team was and how they included everyone in the family discussions."
Cyrstie even remembers the first time she met Dr. Fischer. "He was standing in Cambree's hospital room holding her and he said, 'We're going to get through this. This will be a long journey, but we've got this.'"
And they did.
"We've cried together, laughed together, been frustrated together," Crystie said. "This team has been my rock, along with my family and friends. It's been nice to have their support if I have a concern. I don't know what I would have done without them or our 5 Sutherland nurses," Cyrstie added.
Sometimes their support even extended beyond the hospital's walls.
"I was enrolled in college classes when Cambree got sick," Cyrstie said. "The Liver Care Center team always encouraged me to keep going, and I did. Now I'll graduate in September 2021 with my nursing degree. I hope to one day be a liver transplant coordinator so I can help other kids like Cambree."
But most importantly, Cyrstie said it's obvious the team adores Cambree and just wants the best for her.
"All I ever wanted was for Cambree to be a kid with no limitations, and thanks to the Liver Care Center team, she is. I will never forget them and what they did for Cambree … or for me," Cyrstie said.
Dr. Fischer is glad to see Cambree is thriving. "Our job is to help these patients recover as fast as they can so they can get back to being kids. It just warms my heart to see how well Cambree is doing."
Stories
Liver transplant: Brendan's story
Diagnosed with alpha-1 antitrypsin deficiency as an infant, Brendan Elam's condition was stable until he was about 7 years old. That's when his liver began to fail, eventually leading to the need for a liver transplant at Children's Mercy. Brendan's transplant and recovery went well, and today he's an active college student pursuing a degree in music education.
Meet Brendan
Liver transplant: Gable's story
At 22 years old, Gable Dull is living his best life, recently married, studying law and enjoying hunting and fishing. But nearly a decade ago, his future was uncertain. He was diagnosed with Wilson's disease, a rare inherited condition. A liver transplant at Children's Mercy Kansas City has helped him get healthy and stay that way.
Meet Gable
Transplant Hepatology, Telemedicine
Telemedicine; Transplant Hepatologist; Medical Director, Liver Transplant Program; Chief, Section of Hepatology & Transplantation; Director, Liver Care Center; Professor of Pediatrics, University of Missouri-Kansas City School of Medicine; Clinical Assistant Professor of Pediatrics, University of Kansas School of Medicine
Thoracic Surgery, General Surgery, Transplant
Surgical Director, Transplantation; Professor of Surgery, University of Missouri-Kansas City School of Medicine