Pectus Excavatum: Sophie's Story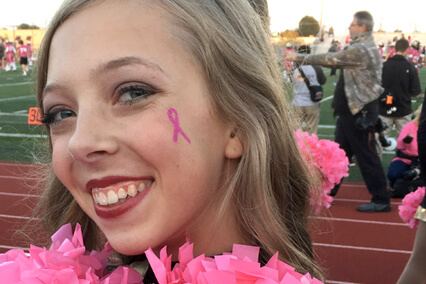 The first time 15-year-old Sophie Penland learned she had pectus excavatum was at her 5-year-old well-child check-up.
"I remember her pediatrician saying, "She has a little pectus,'" explained Sophie's mother, Donna Pendergraph. "We didn't know what that was at the time and it wasn't very bad, so we didn't think much more about it."
But Donna did look the condition up online.
She found pectus excavatum may be diagnosed anytime from infancy through puberty and is the most common chest wall condition seen in the United States, accounting for approximately 70 percent of chest wall deformities.
It affects the sternum, causing a caved-in or sunken appearance of the chest. The condition may be cosmetic. But more severe cases can impair breathing and heart function, as well as cause chest and back pain.
"Often, kids will go for a long time and aren't bothered by this until they reach their growth spurt during puberty," explained George W. Holcomb III, MD, MBA.
Sophie's case wasn't cause for concern until age 11 when the pectus became more noticeable. Because Donna knew a couple of families whose children had had pectus surgery at Children's Mercy Kansas City, she scheduled an appointment for Sophie here.
"We knew based on their experiences that Children's Mercy was the right place to go," Donna said.
After her first visit with the surgeon, Sophie and her family decided to opt for a "wait-and-see" approach. But over the next couple of years, the condition only worsened, eventually impacting her appearance and her breathing.
By the time she was 14, Sophie was ready to take action. Dr. Holcomb, one of the pediatric surgeons at Children's Mercy who specializes in minimally invasive surgery to repair pectus excavatum, performed Sophie's operation using the modified Nuss technique.
During the surgery, Dr. Holcomb made an incision on each side of Sophie's chest about 1.5 inches long. He slid a stainless steel bar curved to fit around the front of her chest under the breastbone from one of the side incisions, and passed it to the other side. This bar will be left in place for approximately three years to reshape her chest and will be removed during a same-day surgery.
"We perform the second largest volume of surgeries to correct pectus excavatum in the country," Dr. Holcomb said. "This surgery is the standard of care the world over and highly effective. The recurrence rate is less than 1 percent."
Sophie's surgery was very successful.
One year later, Sophie is a freshman at Lee's Summit High School where she's a member of the high school dance team and golfs. She spends five days a week at the studio practicing jazz, ballet, lyrical and modern dance, and three days a week practicing with the dance team.
Looking back, Donna said Sophie's Children's Mercy care team on was nothing short of amazing.
"Her nurses were on top of everything and were very helpful in managing her pain. They treated Sophie with respect and explained every procedure to her," Donna said.
"And Dr. Holcomb and his nurse practitioner, Amy Pierce, APRN, PPCNP-BC, were the best. They took the time to talk with us and answered each question we had. Sophie has done so well—you'd never know that bar is even in her chest. We are very thankful we went to Children's Mercy."